Introduction
Tronsmart is one of the few top names when it comes to producing quality and reliable power to charge your devices. Today I will be reviewing the Titan (UC5F), and while it may be only sporting older Quick Charge 2.0 compatibility, it certainly isn't anything to sniff at!
It is true that the latest Quick Charge 3.0 boasts even faster charging times, but 2.0 is capable of a 0-50% charge in around 30 minutes on most compatible smartphones today.
The Titan will power devices up to 12V at 1.5A. I will be testing it with only Android and Windows devices as these are what I have access to. Have no fear though, as it is also fully compatible with iPhones, iPads and other devices that charge via the USB standard.
Devices that are not Quick Charge 2.0 compatible will charge at 5V at 2A using Tronsmart's VoltIQ technology. It is a convenient solution to a problem I have experienced in the past on chargers that have multiple USB charging ports marked with different output ratings. VoltIQ solves this problem with all ports offering the same intelligently controlled maximum power for the device being charged.
Out of the box
The Titan is made of mostly textured plastic with the edge lines being glossy. It is solid feeling and has fair weight to it for its size. There are no USB cables included in the box, only the mains power cord and welcome documentation feature.
I feel it would have been nice if Tronsmart bundled at least a single short 6-12" USB cable. These are ideal for desktop use and minimise cable clutter.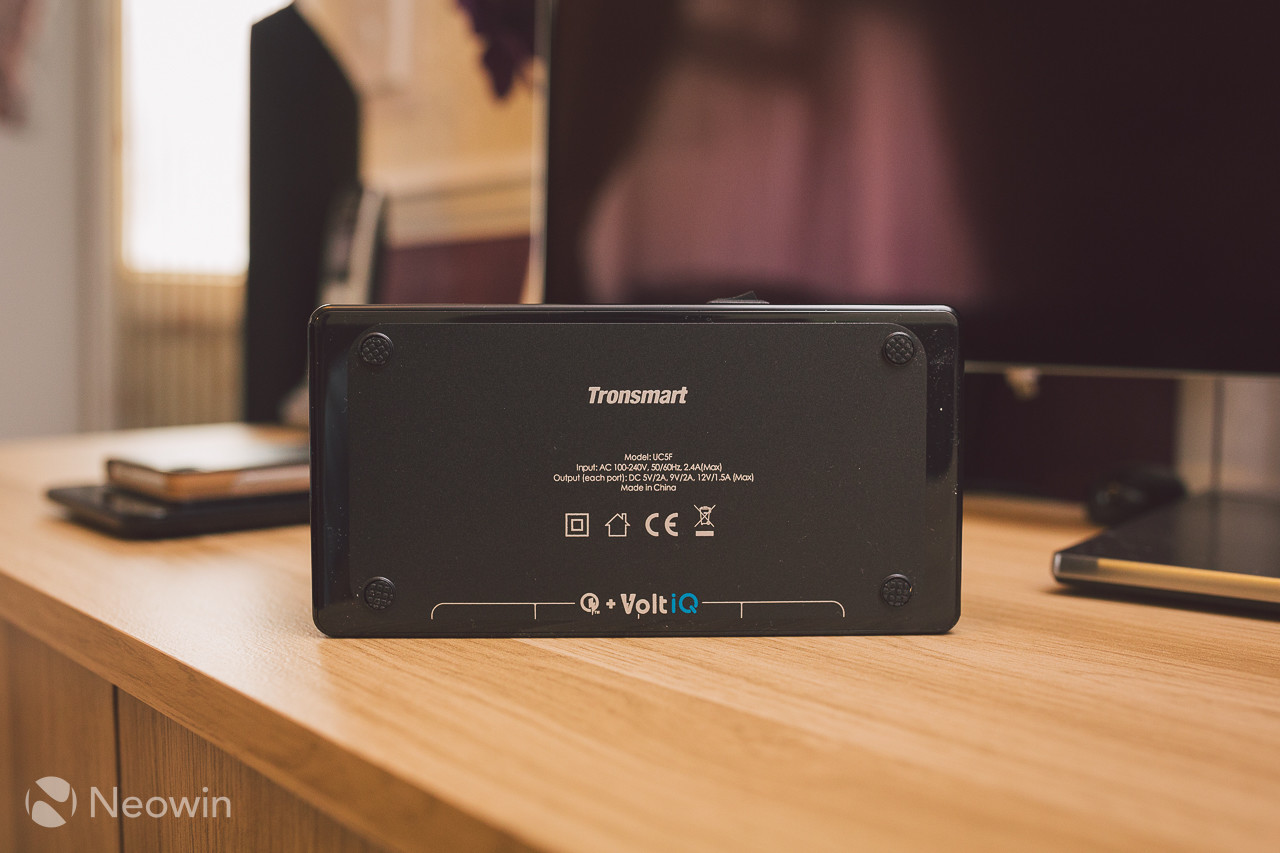 Specifications
Model:
Titan (UC5F)
Dimensions
15.9 x 8.4 x 2.9 cm
Weight

290 g

Colours
Black, white
Connections

Input: Figure 8 connector
Output: 5x USB, all Quick Charge 2.0 + VoltIQ

Power
Input: Mains 100-240V
Output: 5V 2A, 9V 2A, 12V 1.5A
Rating: 90W total, 18W per USB port
Performance
Is the Titan capable of living up to its claim? I plugged in two Quick Charge 2.0 phones (LG G4 and a Galaxy S7 edge), along with three standard MicroUSB powered phones and tablets. I then plugged in a USB power monitor between each device and took note of the voltage and current being sent to each one.
Unsurprisingly, Tronsmart didn't disappoint. Both the G4 and S7 Edge received 9 volts and 1.6x amps respectively. The other phone and tablets charged at 5 volts with a current variation between 0.5 and 1 amp depending on their unique power requirements.
Charging five devices at their maximum compatible voltage and current like this does cause heat build up. I've handled single and dual port chargers that get hot to the touch after a charging session. The Titan only gets warm. I registered a maximum of 32.8 °C at the lower front right side of the charger, while the rest of the case was much cooler at 22-25 °C.
Quirks
There is a single green upwards facing LED that denotes the Titan is switched on and ready. This LED is hard to see head on during the day. It is also a bit too bright in the dark. Even on a cloudy day it was able to place a green glow on my palm several inches above it.
Those who like to sleep in complete darkness might want look elsewhere if the plan is to use this by the bedside to charge devices overnight as there will be a green glow on the ceiling.
Turning it on and off is possible via a rocker switch at the back. It would have been nice to have a power button at the front or on the top since it's designed for desk use and people may be turning it on and off regularly.
Conclusion
The Titan is currently available on Amazon at £23.99 (or $36.99). I feel this is a very reasonable price for what you are getting. Competing 5xUSB QC2.0 compatible chargers cost nearly as much, but don't offer the same 90W total of the Titan. This is due to those chargers only having one or two QC2.0 ports with the remainder being intelligent IC controlled standard USB charging ports operating at 5V.
All of the ports on the Titan are Quick Charge 2.0, so you are actually getting better value for your money.
Special thanks to Tronsmart for this review sample. If you would like to see more Quick Charge 2.0 and 3.0 products from Tronsmart, then be sure to check out their pages here and here.
Pros
Charging performance Portability Competitive price
Cons
Power LED too bright at night Only a rear power switch No USB cables included