Weekend PC Game Deals is where the hottest gaming deals are amassed into an easy to follow format, every week, from all over the internet. So kick back, relax, and hold on to your wallets.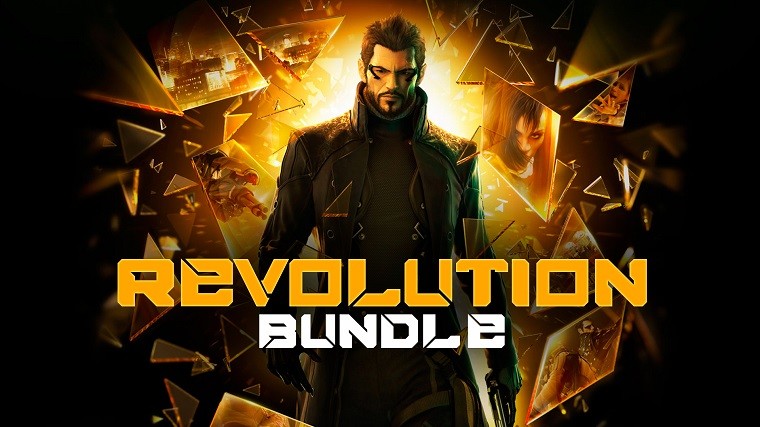 Starting things off, the Fanatical store has summoned up a Revolution Bundle with nine interesting games in tow this week, all split into four tiers.
Putting down $2.49 will get you Deus Ex: Game of the Year Edition, Jagged Alliance 2's classic and Wildfire editions, as well as Dungeon Rats. The $4.99 tier adds on a few more to that, coming with Learn Japanese To Survive - Hiragana Battle, STAR WARS: Knights of the Old Republic, Halcyon 6: Lightspeed Edition, and The Age of Decadence.
The final two tiers add a game each to the pile, giving you Deus Ex: Human Revolution - Director's Cut for $7.99 and Kingdom Come: Deliverance for $12.99. Over 10 days are left on the bundle's counter.
If its free games you're after, this week there's three of them to grab plus a DLC. Epic Games Store is back with its usual weekly promotion, and it's a double giveaway again, shelling out two award-winning platformers.
First up is Inside, Playdead's acclaimed 2.5D puzzle platforming game from 2016, which is joined by Celeste, the equally well-received platformer from last year. The duo is free to claim on the store until September 5, which is when Abzu and The End is Nigh will be taking their places.
Now we look towards Humble and the new DiRT Rally giveaway that's promoting its End of the Summer Sale. The popular rally sim is yours if you sign up to Humble's free newsletter, but there's only a day left on the giveaway and Humble's supply of keys can run out at any point. It would be a good idea to grab one as soon as possible.
Over on Steam and Uplay, Ubisoft is giving away a DLC for Assassin's Creed: Odyssey, specifically The Fate of Atlantis - Episode 1. You need to own the base game to claim this, and the promotion will come to an end tomorrow, September 1.
Highlights continue as Humble also put out the 2019 version of its Spooky Horror Bundle this week. The initial $1 tier gets you three games, Agony, Butcher, and The Town of Light, which are joined by Darkwood, Beholder 2, and Pacify if you jump to the Pay More than the Average tier that sits at around $4.30 currently.
The Inside-carrying $10 final tier is most probably not what you're looking for, considering Epic Games is currently giving the game away for free.
Alongside the ongoing Squad and Slay the Spire heralding Monthly Bundle, there is a Build Your Own Bundle promotion happening on the store for Bandai Namco games as well, which deepens the overall discount the more games you add to your cart.
Free Events
Free events come in all flavors this weekend, ranging from FPS and management games to MMORPG and VR experiences.
Ubisoft's tactical shooter Rainbow Six Siege is having another free weekend, and you can try it out until September 3. Joining it are Two Point Hospital, the humorous hospital building and management title, as well as the martial arts fighting game Absolver.
Meanwhile, The Elder Scrolls Online is free to play until September 2, giving you access to the base game and the Morrowind content. The rhythm-based VR workout game BOXVR is having a free weekend as well, alongside the FPS RTS hybrid Eximius: Seize the Frontline and the JRPG Stranger of Sword City.
Big Deals
And finally, we have arrived at this weekend's big deals list. Below we have a selection of handpicked games that are having specials right now across multiple stores:
DRM-free Goodness
The DRM-free GOG store is hosting a Back to School sale this weekend with over 250 games on sale to browse through. See our highlights below:
Keep in mind that availability and pricing for some deals may vary depending on the region you're in.
---
And that is it for our pick of this weekend's PC game deals folks, and hopefully, some of you have enough self-restraint to not add more games to your backlogs. Of course, there is an enormous amount of more deals ready and waiting all over the internet if you comb through it hard enough, so keep your eyes open for those, and have a great weekend.