Weekend PC Game Deals is where the hottest gaming deals from all over the internet are gathered into one place, every week, for your consumption. So kick back, relax, and hold on to your wallets.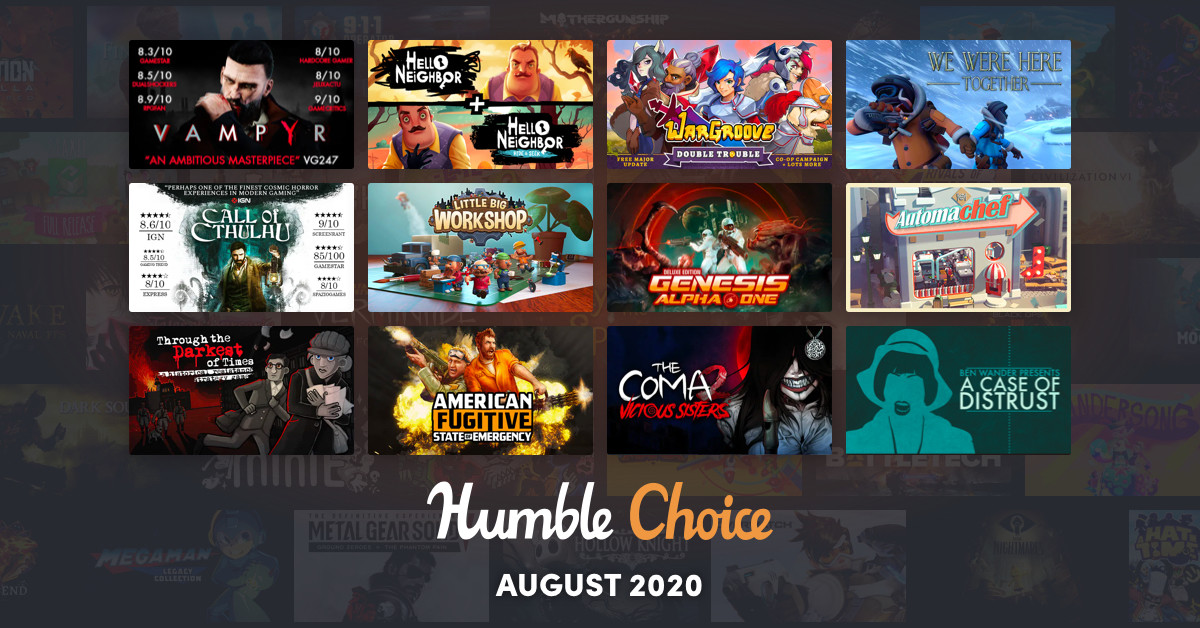 The Humble Choice games for the month of August have been announced, refreshing the selection with 12 new titles. Check out the games being offered this time, below:
While the Basic $14.99 package will still only let you choose three games from these, the $19.99 Premium and $12 Classic subscription holders are getting a special deal this time. Holders of the latter two tiers will receive all 12 games instead of having to choose only some. The current selection of games will bid farewell on September 4.
A regular old Humble gaming bundle materialized this week too, with a large amount of Bohemia Interactive wares being offered in a four-tier collection.
The $1 tier offers you Arma X: Anniversary Edition, Take On Mars, Carrier Command: Gaea Mission, Take On Helicopters, and Fairy Tale About Father Frost, Ivan and Nastya. The next price jump is a rather drastic one, however. Paying more than the average - the amount currently sits at around $17 - will net you Arma 3, Original War, UFO: Afterlight, and the Ylands Exploration Pack expansion.
If you pay $20, that base Arma 3 will be joined by the three expansions Apex, Jets, Marksmen, and the Tac Ops Mission Pack. The final tier comes in at $30, and adds on DayZ plus the Arma 3 alien-focused single-player expansion Contact.
Moreover, the Double Fine and Raw Fury bundles from last week have received some late additions, with the former gaining Iron Brigade, Stacking, Hack 'n' Slash, and Spacebase DF-9, while the latter now also including Dandara: Trials of Fear Edition and Uurnog Uurnlimited. You have less than a week left to make a decision on either of these publisher bundles.
The Epic Games Store's giveaway plans expanded this week with the delivery of two more freebies for account holders. Replacing the trio from last week, this week you can grab Wilmot's Warehouse and 3 Out of 10 episode one.
Wilmot's Warehouse is a casual puzzle game about sorting and delivering products, where your own managing style affects your performance. Meanwhile, 3 Out of 10 is a newly released comedy title that explores the "world's worst video game studio". There are five episodes in total, with each one releasing weekly, for free.
As for next week, Epic Games Store is planning to host Remnant: From the Ashes and The Alto Collection as standard weekly freebies, plus a special 24-hour giveaway for Creative Assembly's new strategy game Total War Saga: TROY.
If you're into Formula One racing, Humble has also kicked off a giveaway for Codemaster's F1 2018. The giveaway will end on August 10, but you should probably hurry to grab a key early incase Humble's stock runs out.
Free Events
Quite a few games from various genres have kicked off free events this week, some are available just for the weekend while several are being kept online for much longer.
Starting off with the Steam offers, you can try out Borderlands 3 until August 12, letting you and three more friends join up for a loot-filled adventure. The MMORPG The Elder Scrolls Online is also having a free-to-play promotion, giving you complete access through August 19. Fighting fans can try out Street Fighter V for free this weekend as well.
Meanwhile over on the Microsoft Store, the ongoing Big Gaming Weekend promotion is offering free access to Gears 5, Subnautica, and ARK: Survival Evolved until August 10.
Big Deals
Thanks to QuakeCon, you will find Bethesda games and bundles scattered throughout our two highlight lists today, alongside plenty of other games that have gone on sale for the weekend. You can also grab a free copy of Quake - and later, Quake II - if you log into the Bethesda Launcher during this weekend. Also, if you complete one match of the free to play Quake Champions this weekend during QuakeCon, you will get all Champions unlocked for free. It is available via Steam or the Bethesda launcher.
DRM-free Goodness
As expected, the QuakeCon sales have reached the DRM-free side too. Here are some highlights from that and more:
Keep in mind that availability and pricing for some deals may vary depending on the region you're in.
---
And that is it for our pick of this weekend's PC game deals folks, and hopefully, some of you have enough self-restraint to not add even more games to your growing backlogs this season. Of course, there is an enormous amount of more deals ready and waiting all over the internet if you comb through it hard enough, so keep your eyes open for those, and have a wonderful weekend.