For a long time, LG's gram laptops were machines that I consistently heard great things about - how they're incredibly light and still durable, while also having great battery life and solid performance. With that in mind, it shouldn't be much of a surprise that I was stoked to have the chance to review the 2020 models, especially when they feature Intel's Ice Lake processors with improved graphics compared to previous generations.
The LG gram 15 is unmistakably part of the gram family, with the same sleek and minimalist design, super light weight, and everything you could expect from a premium ultrabook. It's kind of amazing how LG managed to make a 15-inch laptop so light and yet so well-rounded.
Specs
CPU
Intel Core i7-1065G7 (1.30GHz/3.90GHz)
GPU
Intel Iris Plus Graphics
Dimensions
357.6 x 225.3 x 16.8mm (14.08 x 8.87 x 0.66in); 1132g (2.5 pounds)
Display
15 inches, 1920x1080, LCD, touch
Storage
1TB M.2 SSD
RAM
16GB DDR4 2400MHz - 8 GB x 1 (on-board) + 8 GB x 1
Ports
(3) USB 3.1 Gen 1
(1) Thunderbolt 3
(1) HDMI
Micro-SD
3.5mm combo audio
Power
Battery
80Wh four-cell lithium-ion (up to 17 hours)
Material
Magnesium alloy
Color
Dark Silver
Windows Hello
Fingerprint
OS
Windows 10 Pro
Price
$1,999.99/€1,829.99
Unlike some previous gram laptops, LG actually does offer a few variants of the gram 15, but there aren't a ton of options. It starts with an Intel Core i5-1035G7 and 8GB of RAM, which is still, at least, decent for most users.
Day one
Design
Like I said at the start, as soon as you look at the LG gram 15, you can tell it fits right into the family. While it can be considered boring or safe, the minimalist aesthetic is fantastic, with smooth lines all around making it a comfortable laptop to grab and carry around, plus a clean look that I think is fantastic. You don't even see an LG logo on the laptop until you open it up, because the outside is only engraved with the "gram" text on the lid, which is so small and subtle that it really doesn't detract from the design.
The gram looks super clean all around. There are no visible screws or vents on the bottom (vents are hidden in the hinge), so the whole chassis looks very sleek and premium, which I think pairs well with the dark silver color of this model. I also want to give credit to LG for including proper rubber feet and not sacrificing them for the sake of design. They feel solid and I don't have to fear them coming off over time, which I've had the misfortune of dealing with before.
The LG gram 15 is also remarkably light, and it's kind of incredible. For the first few days after I got the laptop, I was always surprised at how easily I could grab it with one hand, especially considering everything it offers. If portability is important to you, the company has really done something great here. Better yet, despite how light it is, it's super easy to open it up with just a finger, no need to hold down the base.
In terms of ports, the LG gram 15 is nearly a carbon copy of previous gram models. On the right side, there's two USB Type-A ports with USB 3.1 speeds, a 3.5mm combo audio jack, a microSD card slot, and the Kensington lock port if you want to keep the laptop locked at a desk or something without it getting stolen.
On the left, another USB 3.1 Type-A port, plus a Type-C port that can carry Thunderbolt 3 and charge the laptop, an HDMI port, and a barrel type charging port, which is sadly still the default charging method for this laptop. I personally don't have any Thunderbolt 3 accessories, so I only used it for charging, but it's a very useful port since it lets you use docks to connect to two displays at the same time, or you can use an external GPU if you want the extra graphics power.
I did notice that charging via the USB Type-C port didn't work right away when the laptop was turned off, which I though was weird, but once you turn it on, charging works as you'd expect, even if you turn off the laptop afterwards.
Display and sound
The display on the LG gram 15 is, as you'd expect, a 15.6-inch panel, and it uses IPS technology, coming in at a 1920 by 1080 resolution. I understand there's a few laptops now with QHD or 4K displays, and while I haven't experienced those for myself, I am perfectly happy with 1080p on a screen this size. Everything looks as sharp as I would expect it to, and I have no complaints here.
The display is also pretty good, having nice, vibrant colors that look natural and accurate. However, being a touchscreen, it does have a glossy finish, which might be a problem if you have bright lights around you. Having used it mostly indoors, I never really had any issues with it, in no small part due to how bright it got. I couldn't find a specific figure for the maximum luminance, but I usually used it at around 40% brightness with no problems as far as visibility goes.
I will say, though, that I don't like the feel of the screen. It feels a bit plastic-y when I use it as a touch screen, and my fingers don't glide around as easily as on some other devices. A different kind of plastic, or maybe a more matte finish, would have really helped the experience here.
Bezels are very minimal all around, including on the top, though the latter leaves enough space for a webcam and two microphones. The microphones work pretty well, and it's nice to be able to make calls without having to plug in a headset every time. The camera seemed pretty impressive at first, but whether it got actively worse or my perspective just changed, I don't feel as great about it anymore. It's fine, but not really amazing.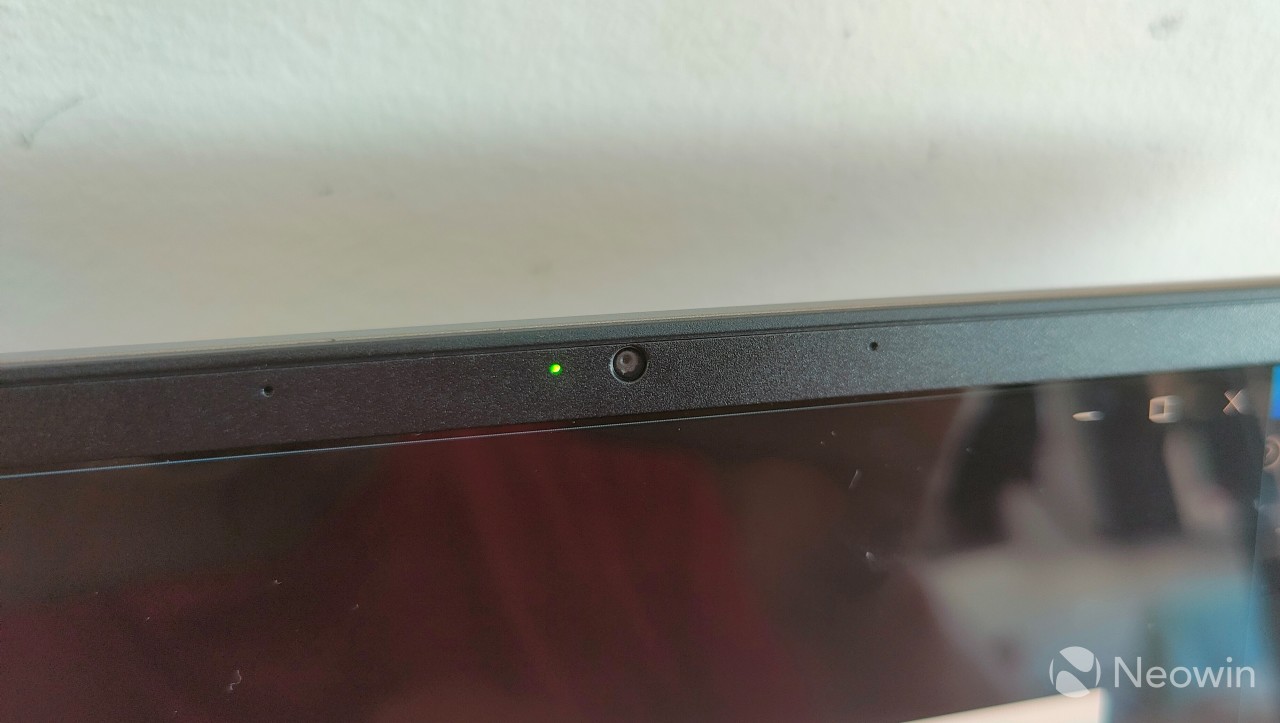 The speakers on the LG gram 15 are on the bottom of the chassis facing down, and the experience isn't the best. To be clear, I used it on its own just fine during my review period, but putting it next to laptops with top-firing speakers, it's immediately apparent that these just aren't as loud and immersive. The laptop does support DTS:X Ultra, and you'll want to use the included app to enable it for a little extra oomph.
Keyboard and trackpad
The keyboard on the LG gram feels pretty good, in my opinion. It's comfortable to type on, with good travel for my unexperienced fingers, and all the keys actuate when I want them to. I never find myself having to redo things like capital letters because I didn't press the Shift key hard enough - something I often experienced with the Dynabook Tecra X50, for instance.
In terms of the layout, there's some good and some bad. You get a full numpad, which actually comes in quite handy when I need to work with numbers, and it's great to see it in a relatively small chassis like this. The power button above the numpad has a fingerprint sensor, and it reads your fingerprint as soon as you turn on the laptop, so you don't have to touch it again when you get to the lock screen. It's also the most accurate fingerprint sensor I've used so far on a laptop, almost always recognizing me on the first try.
However, the use of bright orange for the secondary functions of certain keys might not resonate with everyone, and it doesn't really fit with the otherwise minimalist look. It does make it very easy to spot the functions you're looking for, so it's not totally unwarranted. One real complaint I do have is that the left Shift key is almost the same size as a regular letter key, with it being split in half to accommodate the symbols. I could get used to it given more time, but I did end up pressing the wrong key a few times during my review. This isn't a problem with the U.S. version of the laptop, though, it's the Portuguese layout that's problematic.
As for the trackpad, it's pretty great. It's not the biggest one I've used, but it's also not the smallest, and the use of Precision drivers is just wonderful. I love all the extra controls you get with Precision, and all the gestures work well.. It's not the smoothest trackpad out there, but it's good enough.
Performance and battery life
The LG gram 15 has some top-of-the-line specs, with an Intel Core i7-1065G7, 16GB of RAM, and a 1TB M.2 SSD. That CPU is part of Intel's Ice Lake family, based on a 10nm process and featuring Iris Plus Graphics, the best in Intel's lineup until Tiger Lake comes out. As you'd expect, a top-tier configuration like that nets you pretty good performance, but I honestly came away disappointed in this laptop. Part of that is my own fault, as I'll explain in a bit.
I like to create my own "benchmarks" for performance so I can measure up situations where the results actually matter, so I tried to render my hands-on video of the OPPO Reno4 Pro from last week and I compared it to the Dynabook Tecra X50 and the 2017 HP Envy x360. The video was rendered using Blackmagic's DaVinci Resolve, updated to the latest version at the time, which was 16.2.5.
| | HP Envy x360 (2017) (Intel Core i7-8550U, GeForce MX150 GPU) | Dynabook Tecra X50 (Intel Core i7-8665U, Intel UHD Graphics 620) | LG gram 15 (2020) (Intel Core i7-1065G7, Intel Iris Plus Graphics) |
| --- | --- | --- | --- |
| Render time (MM:SS) | 17:55 | 23:01 | 26:41 |
I wasn't too surprised that the laptop with a dedicated GPU performed significantly better, but it was surprising to me that the gram actually took longer to render the video than the Tecra X50. I asked LG about this, and it pointed me to the obvious, as both of the laptops I mentioned are heavier and larger than the gram. Being light needs to carry some sort of sacrifice, and in this case, it may have been the thermal performance, which keeps the CPU from going full throttle.
In traditional benchmarks, the LG gram does score better than last-gen laptops, but the results are still lower across the board than other laptops with the same processor, like the Dell XPS 13. Again, it's important to keep in mind just how light the gram is, and this 15-inch laptop is significantly lighter than the XPS 13, which only has a 13.3-inch display.
| | |
| --- | --- |
| PCMark 8: Work | PCMark 8: Home |
| | |
| | |
| PCMark 8: Creative | PCMark 10 |
| | |
| | |
If you're looking for top-tier performance, though, it's hard not to look at laptops with AMD's new Ryzen processors. As my colleague Rich Woods has pointed out, the Ryzen 5 is most comparable to the Core i7-1065G7, and that's when the Intel chip is on a laptop with better performance than this one. The scores on this laptop are lower than the Lenovo Flex 5 in all of the tests we ran.
For what it's worth, traditional productivity work, like writing and browsing the web, works just fine here, and like I've mentioned, it's a super portable machine thanks to how light it is. I have noticed some smaller issues, like the laptop taking a while to connect to the internet again when waking up from sleep and in video calls. I've been told my video feed is blurry to the point of being incomprehensible, which is weird because the image looks normal on my end. I'm not sure if it's an issue with connection stability, but it doesn't happen as often on other laptops.
Even though the laptop is incredibly light, the battery life on this thing is great. The LG gram can last me through the entire work day, browsing the web with multiple tabs open at the same time, and taking video calls or just watching YouTube videos in the background for what can sometimes be hours. This is usually with around 40% brightness and the Windows power setting set to "better performance", so you can definitely squeeze more time out of it with more careful usage.
Conclusion
There is a lot to love in the LG gram 15, and it definitely holds up to my expectations in most ways. The design is clean and sleek, it's super light and portable without sacrificing the ability to open it easily with just one finger, and despite the light weight, battery life is pretty great. On top of that, it has a nice display with touch support, a very comfortable and accurate keyboard, and a decently-sized trackpad with Precision drivers that make it a joy to use.
The reason I look at it with some disappointment is because I came into it very excited about the potential performance improvements I would get from Intel's 10th-generation processors, and the LG gram scored below other laptops with the same CPU. In video rendering, I even got better results with the previous-generation Intel CPUs. The gram 15 still performs pretty well, I just had higher expectations and I had forgotten to factor in how light it is. Knowing how well AMD's Ryzen lineup is doing now, though, I do hope LG will consider switching teams for the next generation of gram, as it could be a major boon for this form factor.
All in all, there are definitely good reasons to grab the gram 15, particularly if mobility is a priority for you, thanks to how light it is and how long the battery lasts. It usually costs $1,999 with a 1TB SSD, but that variant is currently discounted to $1,699 on LG's website, making it a much better deal.
Pros
- Super light and portable - Great battery life - Beautiful display - Keyboard and trackpad - Fast fingerprint sensor
Cons
- Performance - Plasticky display