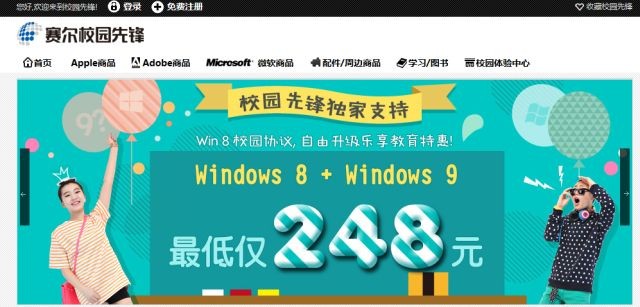 While we know that Microsoft is working on the next major update for Windows beyond Windows 8, there is one website in China that is apparently offering a way to get the next Windows upgrade if you buy Windows 8 right now.
The site is the Chinese-based Purcell School Pioneer, which worked with Microsoft's China offices to give special software deals for students. In this case, Purcell is promoting a yearly subscription plan that will give students access to Windows 8 Pro for as low "As Low As RMB248". That's about $40 in the US. Here's the kicker. This deal apparently also offers those students a free upgrade to Windows 9, as long as the subscription plan is valid.
So technically, this deal will allow Chinese students to get that upgrade to Windows 9 ... if they stick with the subscription and if Microsoft actually releases Windows 9 during that period. It's a little shaky in terms of the sales agreement, but it's still the first place we know of that is already promoting sales of Windows 9. If recent rumors are to be believed, the service pack-like Windows Blue will be released later this summer, with Windows 9 launching in the fall of 2014.
Thanks to FaiKee for the tip!
Source: Purcell School Pioneer | Image via Purcell School Pioneer