Apple's latest Plus-size iPhone rocks two rear cameras, 3GB of RAM, a 7MP front camera that (finally) records 1080p video, and it has no headphone jack. It also looks almost exactly like its last two predecessors.
As you probably know, this is typically the year that we get a redesign of the iPhone. It tends to happen biennially, with an 's' model in-between. This year saw only modest changes, and Apple knew it, which is why we got two new colors.
It's similar to when the 5s was released, but instead of replacing black with Space Gray, the company replaced Space Gray with black. Additionally, there's a Jet Black model.
Due to some extremely ridiculous circumstances, I started out with the black model and then moved on to the Jet Black. In fact, when the device was first announced, I started calling the black iPhone 'Loser Black', because it's the one that you get when you can't get Jet Black.
I found my early prejudices to be completely untrue, and the Jet Black model isn't really any sexier than its matte sister, and its more prone to scratches and extremely prone to fingerprints.
Anyway, on to reviewing the 128GB iPhone 7 Plus.
Specs
| | |
| --- | --- |
| CPU | 2.23GHz quad-core A10 Fusion |
| Body | 158.2x77.9x7.3mm, 188g |
| Display | 5.5", 1080p, 401ppi, IPS LCD |
| Camera | Dual 12MP, Front 7MP |
| Video | 4K - 30fps, 1080p - 60fps, Front 1080p - 30fps |
| Aperture | f/1.8, f/2.8, Front f/2.2 |
| Sensor size | 1/2.6", 1/3.6" |
| Camera features | OIS, PDAF, 2X optical zoom, quad-LED two-tone flash, front-facing LCD flash |
| Storage | 32GB, 128GB, 256GB |
| RAM | 3GB |
| Battery | 2900mAh |
| Price | $769, $869, $969 |
There are a few things to note from the specs. Obviously, Apple has killed off the 16GB model, doubling each storage tier. This is great news, considering that flagship Android and Windows phones have started at 32GB for years.
Moreover, the company doubled the storage amounts offered in the 6s and 6s Plus, in case you were considering going a step down on the Apple ladder.
Day One
Day one with the iPhone 7 Plus was with the matte black model. As I mentioned earlier, I wouldn't have Jet Black until about a week later. You'll see from the unboxing that I was immediately happy with it.
The obvious problems
That black model ended up having all of the problems that you've probably heard about. Have you heard about how the new iPhone starts hissing when it's under heavy usage? Good, well this one would hiss while it was asleep on my desk. To make matters worse, it wasn't even a constant noise, but more like a quiet cricket.
Yes, it also got very hot when it was under heavy usage. This came as a surprise to me. I was reminded of when Apple announced the iPhone 6 and its 20nm A8 processor; the company promised that it was so efficient that it wouldn't heat up, even under heavy usage, and that promise turned out to be true. I didn't have a problem with the 6s Plus either, so needless to say, I was shocked when I had the issue with the 7 Plus.
Finally, the device had serious Bluetooth issues, mainly in my car (it's a 2011 Toyota Corolla, not a BMW). This got to be very frustrating, as it pretty much sounded like a CD skipping. I ended up having to plug a Lightning cable into the USB port in my car, like a savage.
So I went and exchanged it for the Jet Black model (what you see above are not the ridiculous circumstances). I was skeptical of the Jet Black model's susceptibility to scratches and fingerprints, but what other reason do I have to purchase this stuff if not to test it out for you?
I ended up not having any of those problems with the new one, and I'll update this review if I do. Note that if you do have any of these issues, take your phone to the Apple Store, even if the model that you purchased is sold out. There's a 14-day return policy in most regions, and if you take your device to the Genius Bar in that time, they'll take note of it.
Yes, there is no headphone jack...
I have a confession to make. I was one of few that were in favor of killing off that relic. I've moved on to Bluetooth headphones about a year ago, and now if I use wired headphones, I feel like I'm tripping over the cable. Surely, we should be moving beyond this.
But I digress, as we're not here to debate whether or not Apple made the right call. We should be discussing how it impacts the user experience with the device itself.
One of the biggest misconceptions that I've heard from people is that Apple killed the headphone jack so you would be forced to buy AirPods if you want to listen to music. This is completely untrue. The iPhone 7 and 7 Plus come with a pair of headphones that plug into the Lightning port, a Lightning-to-3.5mm adapter, and you can use any pair of Bluetooth headphones that you want.
And about those Lightning headphones...
In case you were wondering, the Lightning headphones work on any device that they can connect to. To answer your next question, no, you cannot plug them into your iPhone 6s and be able to use two pairs (one Lightning, one 3.5mm) at once. If you've ever tried to share one of your headphones with someone, I apologize for crushing your dreams.
You also (obviously) can't use them while charging the device, although I'm not sure how common of a use case this is. Personally, if my phone is on the charger, I'm likely playing music through a speaker.
Don't worry though; there are quite a few accessories that you can purchase that solve this problem. I chose Apple's own iPhone Lightning Dock (mainly for the purposes of taking the pictures that you see). It's $49 and it comes in silver, gold, rose gold, Space Gray, and black. Sorry, Jet Black iPhone owners (including myself).
I'm happy with the black model though. The matte base draws more attention to the glossy iPhone, and even if it didn't, the thing sits on my desk where literally no one else will ever see it.
And back to the Lightning headphones, I did have some issues with them in the beginning, such as the speakers not working after recording video and weird stuff like that (see Apple Watch Series 2 unboxing). All of these issues were fixed in iOS 10.0.2, and I haven't had problems since.
On wired headphones
There's something simple and intuitive about wired headphones that Bluetooth headphones can't yet do, and Apple aims to solve it with AirPods. They just work. Want to switch between devices? Pull it out of one port and put it in another. It's that simple.
On the other hand, Bluetooth headphones can be a pain when switching. You might have to pair them with a new phone, or pull a little bit of jiggery pokery through settings.
Is that an adapter in your pocket, or are you just happy to see me?
Truthfully, the Lightning to 3.5mm adapter is pretty convenient. Most of us have a single pair of headphones that we prefer to use all of the time, and the adapter simply stays on the end of that, essentially turning them into Lightning headphones. I honestly never found myself walking around with the adapter in my pocket on its own.
...and yes, the home button is not a button
Have you ever pressed the home button on your iPhone and thought to yourself, "I feel like I had to move my finger a millimeter more than should be necessary"? Good news! The home button on the new iPhone is completely stationary.
This means that the button is capacitive, and no, it won't work with gloves on. Well, I should say most gloves, as I tried it out with latex gloves and not only did the button work, but somehow Touch ID worked too (we'll solve that mystery on another day).
This is another area where I'm really not sure how big the use case is, and how much we're making a big deal out of nothing. For one thing, Touch ID didn't work on previous models with gloves on (obviously), and you're lucky if you can even interact with the touchscreen. If this is actually a problem for you, I'd stay away from the iPhone 7/7 Plus.
What's cool about the new home button is that you get three options in settings, each of which offer different amounts of haptic feedback when you press it. Go with whichever you're comfortable with.
It definitely takes a little bit of getting used to, but ultimately, I'm a fan of the new button.
Display, design, and Jet Black
Let's talk about this right now; the display is stunning. It's definitely among the best LCDs that I've ever used. The colors are vibrant and accurate.
Surely, there are some that would prefer AMOLED, which is what Samsung uses in its flagships. There are pros and cons to each. An AMOLED display tends to provide more vibrant colors and blacker blacks, but it's more susceptible to burn-in.
The other criticism that's bound to pop up is the 1080p display, whereas Android flagships are typically 1440p. I've always been in favor of 1080p for anything up to about 6" (and 720p for anything up to 4.5", but that's neither here nor there). I believe that Apple's definition of Retina is correct, and anything more than that is a useless drain on the battery and the GPU, and it affects gaming performance (see pretty much any Android flagship from 2015).
As mentioned above, the design is extremely similar to last year's iPhone, so if you're looking to show off your new device, go for black or Jet Black. The antenna lines have moved as well, as they run along the top and bottom of the device. The other obvious difference is the camera bump.
The dimensions are exactly the same as last year's model. It's no thinner, thicker, shorter, or taller than the 6s Plus. It's a bit lighter, coming in at 188g, whereas the 6s Plus came in at 192g. Sadly, your old cases won't fit, due to the camera changes.
The Jet Black model is great for showing off, but everything you've heard about it is true. It's prone to scratching, and you'll get fingerprints all over it. I've been using it without a case (for the most part; I use a case when mounting it to a tripod) since I got it, and there are no scratches.
If you still want to show off but don't want to deal with fingerprints or possible scratches, go for the black model. But heck, if you're on the iPhone Upgrade Program, you're only going to have this thing for a year.
Battery life
One of the reasons that I tend to stick to the Plus model of the iPhone is that it has better battery life than anything I've ever used (I've used a lot of phones), and the 7 Plus is no different.
Last week, I was in Atlanta for Microsoft's Ignite 2016 conference, and on the third day, I had no way of charging my phone. Despite almost constant messaging through Skype and other usage, I had about 20% of my battery left when I got back to the hotel.
Note that I can rave about the 7 Plus's battery life, but I am in no way speaking for the iPhone 7. In my experience, the regular-sized iPhone has awful battery life, but again, I haven't used it so I'm not speaking for it.
Rear camera
Just in case you've been living under a rock and you didn't know, the iPhone 7 Plus has two cameras on the back. Both are 12MP, but that's pretty much where the similarities end. With the second camera, Apple promises 2x optical zoom, which isn't something that you'll often find in a smartphone camera.
Optical vs digital zoom
If you've ever used a digital camera, you can adjust the lens to zoom. The two lenses will move further apart or closer together, creating the zoom effect. This is optical zoom.
Smartphones almost exclusively use digital zoom. A smartphone camera can only see so much, so when you use digital zoom, you're losing quality. That's why when you zoom in really close, the photo looks really terrible. Video is a bit easier, because you have a 12MP sensor, but you only need a little over 2MP to record 1080p.
Smartphones are simply too thin to move two lenses further apart to create optical zoom. That's why Apple has come up with this solution.
The best example of lossless digital zoom is the Nokia Lumia 1020, which had a 41MP camera. Even a 4K display is only about 8.3MP, so such a high resolution photo allows you to zoom in several times over without noticing any loss in quality.
I was skeptical about the second camera, as the primary sensor has an f/1.8 aperture and the secondary one is f/2.8. In theory, low-light performance at 2x zoom should be significantly worse than at 1x, and if that's the case, you'd actually be better off taking the photo at 1x and cropping it to 2x after the fact, rather than using the optical zoom, assuming that you're in a low-light setting.
Let's look at some samples:
As you can see, the camera itself is phenomenal. The 2x sensor gets a little noisy in low light, but ultimately, it gets the job done. In my opinion, the ability to get a lossless 2x zoom with a single tap is a smartphone camera feature that is without parallel.
Once you get beyond 2x, the image obviously starts to degrade, and at 10x, it looks terrible, which is not surprising in the least. That's how digital zoom works.
Portrait mode
Let's be clear about something right now. Portrait Mode is a feature that's in beta. Everything that's said here should have an asterisk next to it, as it's likely to get better.
I was super excited when I heard about the depth effect that the iPhone 7 Plus would provide in Portrait Mode. After all, what makes a smartphone camera great? Well, it should produce great pictures for one thing, and it should also be fast, so you don't miss the moments that you're trying to capture. The iPhone has always been great at these two things. Tack on a 2x lossless zoom and you're really getting somewhere.
But then, Apple is promising the ability to add a bokeh effect in photos shot in Portrait Mode. Big deal, right? Plenty of smartphone cameras have bokeh, but the unique thing that Apple would be offering here is the ability to choose what kind of bokeh your photo will have.
Unfortunately, the feature sucks right now. Luckily, the iPhone saves the original photo as well as the one with depth effect.
I'd advise you to enlarge these photos and examine them closely. Notice how the edges of the flowers (and scarecrow-Trump's hair) are blurred. The problem is that this is all done through software, so the phone is doing its best to figure out where one object ends and the next begins.
The feature also uses the 2x lens, so you'll end up having to move pretty far away from the subject; however, if you're too far away, it won't work then either.
Oh, and it has a front camera too
This year, Apple jacked up the front camera sensor from 5MP to 7MP. To be honest, you probably won't be able to tell the difference. Perhaps the most important change is that it will finally record 1080p video at 30fps. Indeed, despite the 6s having a 5MP front sensor, it only recorded 720p video.
You still get to use the display as an LCD flash, which is great, because the low light quality really hasn't improved. Have a look:
The front camera gets the job done, and it's a far cry from the 1.2MP sensor that we got on the iPhone 6 just two years ago. That's really all that there is to say about that.
Oh, and by the way, I'm beginning to realize that I'll be complaining about this in every iPhone review that I write for the rest of my life, but every time you upload a photo that was taken with the front camera, it shows up upside down. That sucks. Fix it, Apple.
Performance
I know it's a shocker, but this is the fastest iPhone to date. The A10 Fusion is the first quad-core chipset that Apple has ever used in an iOS device. The A8X was triple-core, but that's the most cores that the company has ever used.
First up is Geekbench, which performs CPU tests. Geekbench 4 was recently released, and I've noticed that it provides different results from Geekbench 3, so I'll be providing results from both apps.
As you can see, these results pretty much beat anything else that's out there, especially in the single-core score.
Next up is AnTuTu, which tests just about everything. As you can see from the results, it once again blows away the competition. When we reviewed the Samsung Galaxy S7, it came in at around 129,000, so this is a big difference.
But graphics performance is important as well. After all, everyone likes to play games on their phone, and when we do, we want those games to perform well.
That brings us to our next test, which is GFXBench. GFXBench has become the standard for testing mobile GPUs, and the company offers multiple apps for iOS. There's GFX OpenGL, GFX 3.1 OpenGL, and GFX Metal. For the purposes of this review, I'm going to show GFX 3.1 OpenGL and GFX Metal.
First, let's look at GFX Metal.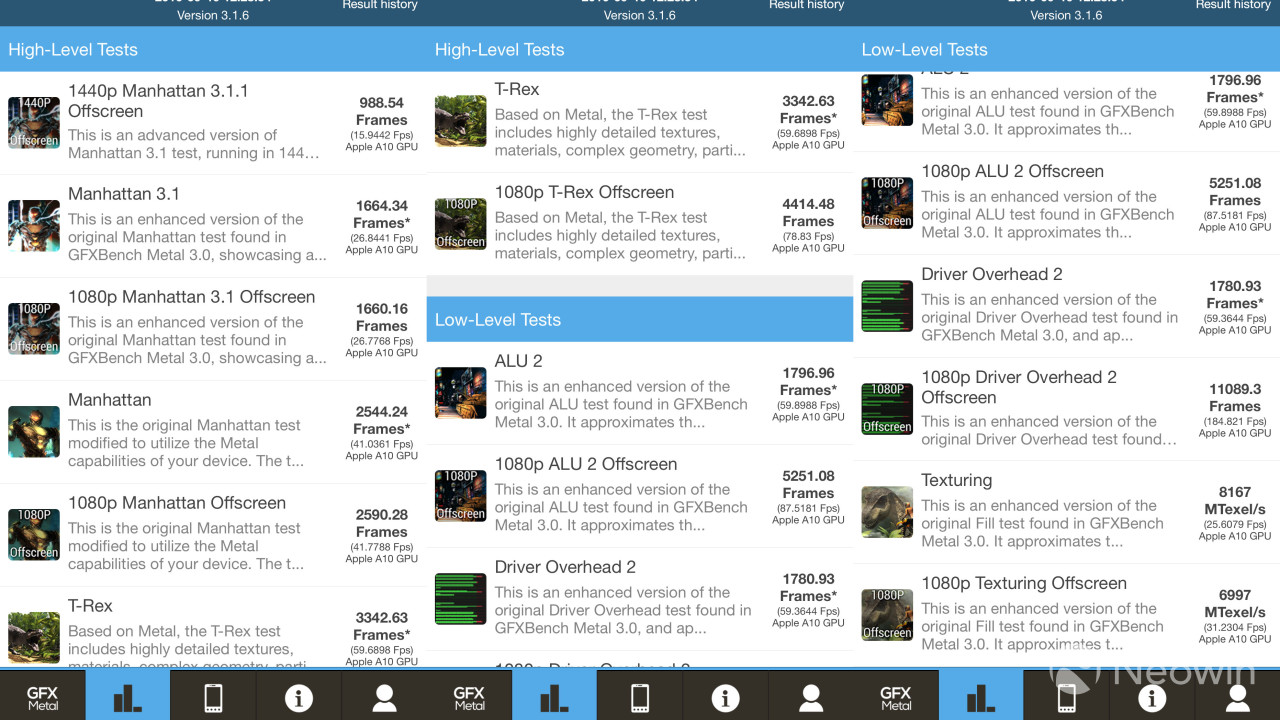 You'll notice that each test has a normal mode and an "offscreen" mode. There is a reason for this. If we run the same test on a 1080p display and on a 1440p display on devices with the same GPU, the 1080p device will undoubtedly perform much better. After all, a GPU has to push 2.1 million pixels for 1080p, and 3.7 million for 1440p.
With the offscreen tests, it's simulating the resolution that it says, so in the 1440p Manhattan Offscreen test, you're seeing what the results would be if the iPhone had a QHD display.
Finally, let's look at GFX 3.1 OpenGL.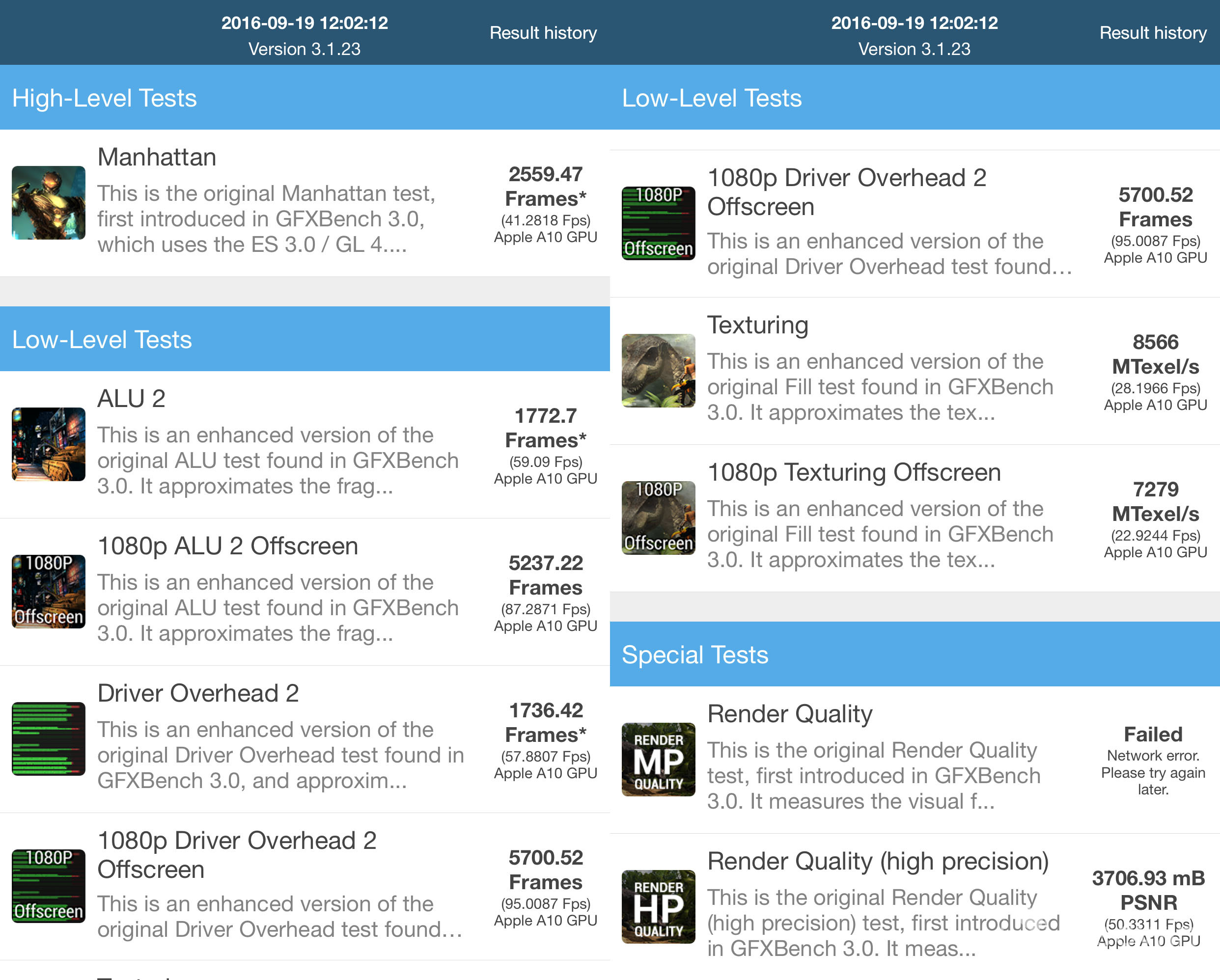 Conclusion
I asked on Twitter what people might want to see from this review, and the consensus seemed to be that people want to know if it's worth upgrading from the iPhone 6s/6s Plus. I would say yes, depending on what you want from a phone.
If you really care about the camera, then the iPhone 7 Plus is totally worth it. If you really care about that headphone jack, or your the type to only buy an iPhone when there are major design changes, maybe this isn't the phone for you.
Personally, I think that Apple has a winner here, which has been my thought for the last two generations. The dual-camera system, the quad-core processor, the stunning display, and even the home button all hit the mark.
If you're an iPhone fan and you're looking for something great, you can't go wrong with the iPhone 7 Plus.
Pros
Dual-camera system Brilliant display Powerful processor Battery life
Cons
No headphone jack Common bugs (hissing, Bluetooth, etc.)