Vernee made the news earlier this year with the announcement of its first phone, the Apollo. The device was to have a 1440p display, 6 GB of RAM, 128 GB of internal memory and various other high-end specs at a reasonable $399 price tag.
The Vernee Apollo still hasn't been released, marking this the fifth month since the initial pricing announcement. The company has since released two other phones, however. One is a low-end phone called the Thor and the other is a mid-to-high range phone called the Apollo Lite -- a 'Lite' version of the yet-to-be-released Apollo. This review will cover the Vernee Apollo Lite.
Design
The Vernee Apollo Lite measures in at 152mm long, 76.2mm wide and 9.2mm thick, putting it on the thicker side of smartphones made in 2016... or 2015... or 2014 - this doesn't make much sense given that the battery of the phone isn't very high capacity, either. The face of the phone is fairly clean, with only a proximity sensor, front-facing camera and a earspeaker visible on the top of the phone's face. There is a bright multi-color notification light located to the left of the proximity sensor, but it's not visible unless it's active. There are no markings under the 5.5" display - the phone only has on-screen buttons, leading to a clean, minimalist look.
On the left bezel you find two pin-pushed trays allowing the user to have either two SIM cards or one SIM card and one Micro-SD card. Along the right bezel is a volume rocker with a power button located directly under it. Along the top of the bezel you find a 3.5mm headphone port, and along the bottom side of the bezel is a USB Type-C charging/data port flanked by two speaker grills.
Turning the phone on its back, you'll find a protruding squircle-shaped rear-camera with its own silver bezel. Located immediately to the left of that is a dual-tone flash, and directly under the camera is a squircle-shaped fingerprint reader. At the bottom of the rear of the phone is a horrible "Model: Apollo Lite" statement under a larger Vernee logo. The phone itself is curved with the thickest point running through the middle of the phone that tapers off to each side.
The phone's entire rear housing and bezels are made up of three pieces, with the top and bottom made of plastic and the middle made of what Vernee claims to be a zinc-titanium alloy. This mixing of materials makes the phone look and feel a lot worse than what it should be, with the plastic bits not lining up with the metal bits and various other design issues. Aside from the obvious wear and tear issues you'd get from whenever you'd plug your headphones in and out or go to charge the phone, the cavities between the two materials serve as garbage collection chutes that are extremely difficult to clean.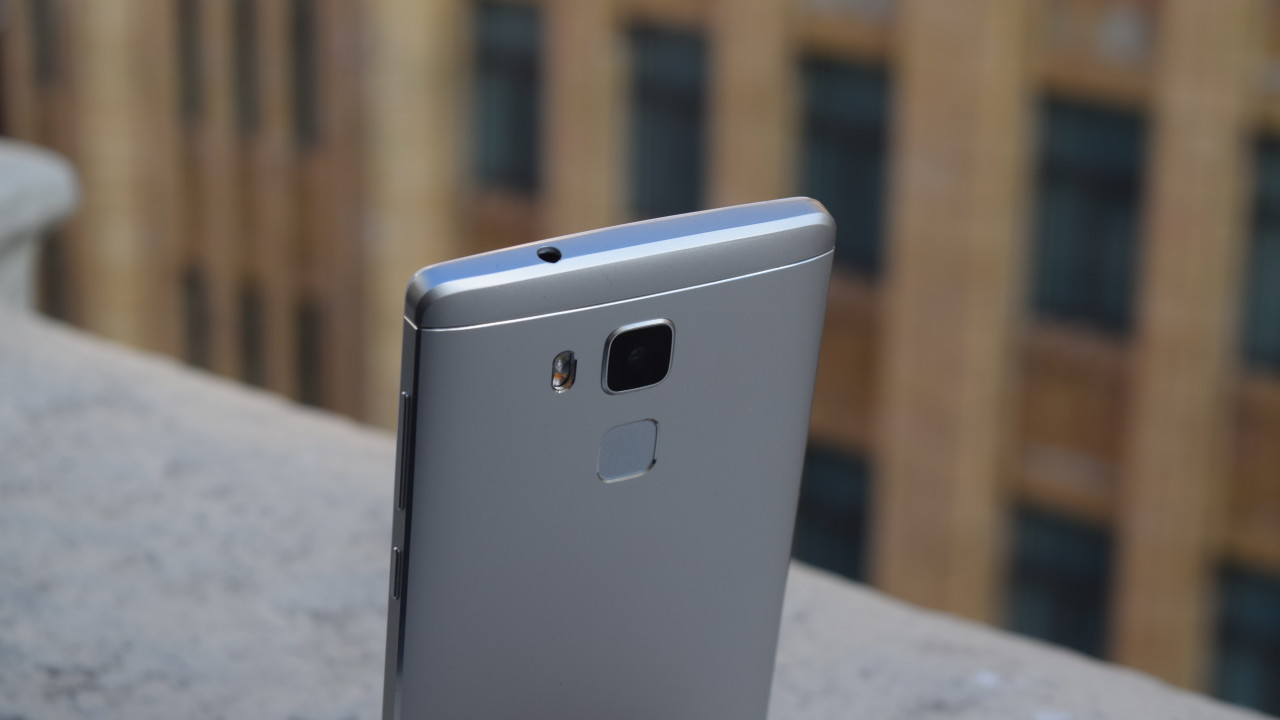 The phone comes in two colors: 'Moonlight Silver' and 'Space Grey.' The Space Grey variation comes with a black front-housing and deep purple rear-housing, and the Moonlight Silver variation comes with a white front-housing and grey rear-housing. This also means that the bottom and top parts of the Moonlight Silver's rear-housing are painted to simulate metal, making them look even sillier. The 2.5D curved display also has the black bezels of death that are heavily exaggerated in Moonlight Silver variation due to the contrast between the white face and the thick, black bezels that lay siege to the display.
Display
The Apollo Lite is a Lite version of the Apollo unit and one of the key parts it steps down in is the display. While the Apollo is announced to have a 1440p display, the Apollo Lite has your average 1080p display. It makes up for it in the quality of the panel, though, as the phone is packing a Sharp IGZO display panel which not only has great color and viewing angles but is also extremely battery efficient.
It's seriously one of the better displays I've seen on a 1080p smartphone, and definitely better than anything else I've seen come from the lesser-known Chinese manufacturers.
Unfortunately Vernee hasn't correctly optimized the display, so if you use it coupled with a "Vivid" picture mode in MediaTek's MiraVision, you end up with an extremely oversaturated display that is terrible to look at it. Without MiraVision's "Dynamic Contrast" setting, the colors look somewhat washed out. This isn't necessarily a plus or negative as the display looks great without MiraVision, but if the company didn't want to optimize MiraVision for the phone then they should have probably disabled the feature.
Vernee claims the display has Corning Gorilla Glass 3, which I unintentionally tested when I dropped the phone - I can happily report that the phone survived without cracking. But having it casually in my pocket has seen it get one small scratch, so caveat emptor.
Performance
Specs
The Apollo Lite has the deca-core Mediatek Helio X20 which, extending ARM's big.LITTLE core structure, has three sets of different cores in the SoC that are switched on or off depending on the demand. In detail, there are four low-power ARM Cortex-A53 cores that have a max clockspeed of 1.4 GHz - these cores are what the phone would depend on after a page or non-graphically intensive app has fully loaded. The next are four more A53 cores which are clocked at 2.0 GHz with a minimum clock speed of 1.84 GHz, and at the very high end are two ARM Cortex-A72 cores clocked at 2.3 GHz that are switched on when anything really intensive is taking place - such as gaming.
Ultimately the phone can have a single A53 core operating at just 221 MHz, making it really energy efficient, or all 10 cores operating at their full capacity making it quite a powerful phone.
Spec Overview
| | |
| --- | --- |
| Color | Moonlight Silver / Space Grey |
| Dimensions | 152 x 76.2 x 9.2mm |
| Weight | 175g |
| Operating system | Stock Android 6.0; V-OS |
| CPU | Helio X20 (MT6797) Deca-core |
| GPU | ARM Mali-T880 MP4 |
| RAM | 4GB LP DDR3 |
| Storage | 32GB internal, 128GB max microSD Card expansion |
| Battery | 3180mAh |
Detailed Specs
Display
Size
5.5 inch
Resolution
FHD 1920 x 1080 pixels, 401ppi
Type
SHARP IGZO IPS; 5-point touch
Material
Corning Gorilla Glass 3, 2.5D panel
Cameras
Rear camera
16MP Samsung S5K3P3, Dual tone flash
Front camera
5MP Samsung S5K5E8
Video
4K 2K@30fps, 1080p@60fps (only 1080p@30 fps appears to be enabled)
Connection
Network
2G: GSM 900/1900/2100MHz
3G: WCDMA 900/2100MHz
4G: FDD-LTE 800/1800/2100/2600MHz
SIM
Dual sim dual standby, Micro SIM + Nano SIM / Micro SIM + TF Card
Both SIM slots are compatible with 4G.
WiFi
WiFi 802.11 a/b/g/n, 2.4GHz / 5GHz
Bluetooth
Bluetooth 4.0
Positioning
GPS, A-GPS,Gyro, Compass, Hall
Gravity Sensor,
Ambient Light Sensor, Touch Sensor
Benchmarks
The Apollo Lite was a mixed bag of results with the benchmarks, where it excelled during CPU-based tests and flopped somewhat in GPU-centric tests. This is natural with the way that MediaTek's SoC is laid out and due to the lack of a powerful enough GPU that can compete with Qualcomm's offerings.
Vellamo

Browser benchmark (Chrome): 5781
Metal benchmark: 2829
Multicore benchmark: 3641

Geekbench 4

CPU benchmark (single-core): 1650
CPU benchmark (multi-core): 4573
Compute benchmark: 2720

AnTuTu v6: 87,475
Gaming
Gaming on the phone is great - I haven't experienced any lag across Asphalt 8, Modern Combat 5, Unkilled or Shadow Fight 2. The phone seems to handle 3D and 2D games with ease, and a lot of that probably has to do with the fact that it only has a 1080p display being driven by the Helio X20 SoC.
The Helio X20 was designed with the expectation that it would be able to drive a 1440p display, so handling a 1080p display requires less effort than what it's intended to be able to do. What this means for the Apollo Lite, however, is that performance becomes buttery smooth.
Android OS
The OS is largely snappy so you won't experience lag, but it's obvious that it needs a few updates to fix a few issues. These issues include things like notification layering on the lock screen where system menus would sometimes sit a few pixels over the notifications, camera performance issues detailed below, and issues with the display mentioned earlier. Things like Wi-Fi and LTE, however, are really stable.
The phone comes with an almost stock-standard version of Android 6.0.1, with minor changes such as MediaTek's MiraVision, the addition of "Turbo Download" (downloading files with both WiFi and cellular networks at the same time, maximizing the speed) and the ability to customize the on-screen buttons in terms of what direction they run in and which buttons appear on the display. Google Play Services are installed by the resellers on the international version of the product.
Something that is missing (and shouldn't be) is the new phone setup screen you'd get after a factory reset. This screen is the only point when you can utilize Google's "Set up a new phone" screen that would make migrating over from another Lollipop-or-newer phone really easy. I'm not sure why Vernee took it out, but it made setting up the phone take hours instead of minutes.
The GPS is nearly useless on the phone - something you'll find with many Chinese devices. The initial lock-on takes just a couple of seconds, but it very quickly loses signal and has trouble reconnecting. This is a personal deal-breaker, as I use Maps and similar navigation apps quite often and it's disappointing that this important feature is disregarded as an afterthought.
Since owning the phone, Vernee has pushed out three OTA updates. Whether or not these updates will continue and the frequency in which they'll continue at is anyone's guess, though.
Camera
The rear-facing camera is hit or miss, doing okay-ish in situations with lots of natural light and doing terribly in low-light situations. The camera lacks OIS and similar features you'd enjoy in better phones. The Samsung S5K3P3 sensor that Vernee has chosen for the Apollo Lite has an aperture of f/2.0 and takes photos in a native 16 megapixel resolution.
In situations with a lot of natural light the phone excels, but the moment there is an inadequate amount of natural light it begins to have issues with the white balance and contrast. This continues to get worse under artificial lighting and even worse still in situations where there is a lack of decent lighting altogether.
The shutter speed is something to write home about though - the thing is as fast as lightning and, assuming what you want to photograph is already focused in, the speed at which you take photos is limited by the speed at which you can press the button. It's awesome. The focus speed by itself isn't too shabby either but it's still not as fast as what you'd find on the LG G5, for example. This part of the camera could probably be attributed to PDAF - something that was a high-end feature about 18 months ago has found its way into much cheaper phones.
The front-facing camera is a 5 MP Samsung S5K5E8 that has an f/2.0 aperture. It has the same quirks as the rear-facing camera such as the fast shutter speed and issues with white balance.
A fairly significant problem with the camera is that although it is able to take 4K video and the phone is advertised as such, it's unavailable in the camera's settings menu. For whatever reason, Vernee has disabled the ability to capture 4K video at least in the time that I've had the phone.
Battery
The Vernee Apollo Lite features MediaTek's Pump Express 3.0, which is technology that is comparable to Qualcomm's Quick Charge. It makes charging quite quick, so if your battery begins to die out you can get up and running quite quickly again. It took just over an hour - about an hour and ten minutes in total - to get the phone charged to 100% from 0%.
That said, the ~3,200 mAh battery is good enough to get you through a day of whatever you'd throw at it. The IGZO display did quite well when it came to energy consumption, meaning you get more on-screen time in comparison to other display technologies. I was able to consistently get about three to three and half hours of on-screen time everyday.
Accessories
Vernee doesn't supply anything out of the box that you wouldn't normally get - i.e a data cable and wall charger. But they do have a number of accessories made for the Vernee Apollo Lite including cases and tempered glass screen protectors.
The charging equipment that came with the phone does have full support for MediaTek's Pump Express 3.0, however, with the charger being able to output a total of 18W (9V@2A).
Vernee has sent me a wooden phone stand with the device. The stand is carved out of softwood and has a laser-etched Vernee branding on the front of the stand. The stand itself looks extremely durable and high quality albeit that it's ultimately just wood, so it's not something you can get wrong without ruthless carelessness.
It has four rubber feet to rest on almost any surface without slipping or damaging what it sits on and the feet themselves hold up quite well. This isn't included with the Vernee Apollo Lite and will likely come as a standalone separate purchase, but it's definitely a good product that I found quite useful for resting my tablet on while on a flight. As of yet I haven't sourced a place to buy it.
Final Thoughts
The Vernee Apollo Lite seems to be quite a good phone, at least on paper, but it doesn't come without its drawbacks. There seems to have been compromises on build quality in order to push a design or price, when in reality the build quality is what should be driving the design and setting the price. The OS has various areas still left unpolished and the camera could use a little more work. The flaws that the phone has are largely concerning, though.
Bugs in the OS can be found in places that should have been accounted for - for example, if you hide the soft navigation buttons, in certain cases when there is a video open or some other sort of 'full screen' content it becomes really, really difficult to swipe the buttons back onto the display. Because there are no physical buttons, it means you would not be able to leave or switch out of the app without frustration.
The GPS needs a considerable amount of work to make it useful. At this point it would work for Twitter's location service and would play well when getting weather updates on Google Now, but serious uses of the GPS like navigating are a problem.
Build quality issues and design overlooks, like the cavity that separates the different parts of the rear panel. This is one of those things that if Vernee's designers and employees merely used the phone for a couple of weeks they would have noticed. This design issue isn't unique, and phones like the HTC 10 dealt with a similar issue without the same outcome.
All things considered, I'm giving the phone a 6.5/10. The specs that the phone has are great, though, and Vernee is also promising Nougat for the phone later this year. The asking price is quite cheap at under $200 and although certain things can be fixed with software updates (such as the phone's GPS) it hasn't been fixed as of yet and there is no indication if it ever will.
This is Vernee's first real product and they are a new company that shows a lot of promise, so hopefully its future products are more polished than the Apollo Lite.
Thanks to Vernee and Gearbest for supplying the phone for this review. If you're interested in getting an Apollo Lite, Gearbest has the white variation available for sale for $214.99 including shipping and the darker variation available for sale for $214.99 as well.