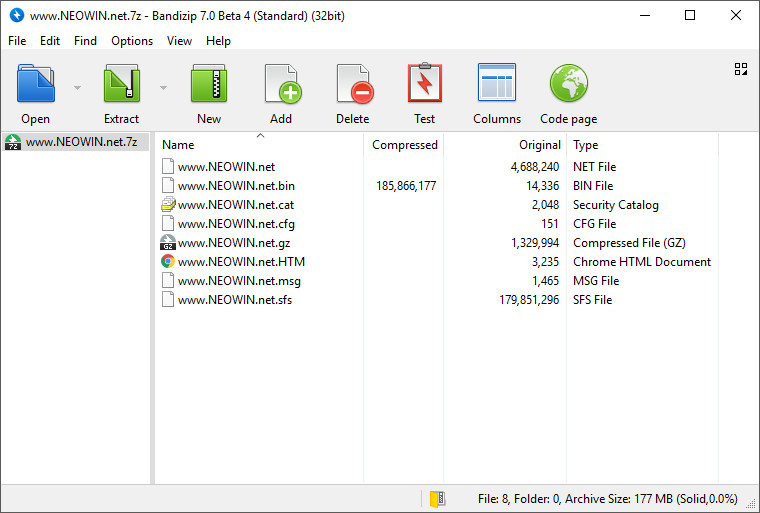 Bandizip is a lightweight, fast and free All-In-One Zip Archiver. Bandizip has a very fast Zip algorithm for compression & extraction with Fast Drag and Drop, High Speed Archiving, and Multi-core compression. It handles the most popular compression formats, including Zip, 7z, Rar, and so on.
Compression and Extraction:
Zip(z01), ZipX(zx01), TAR, TGZ, LZH, ISO, 7Z(7z.001), and EXE(e01)
Extraction Only Only:
RAR(part1.rar, r01), ACE, AES, ALZ, APK, ARJ, BH, BIN, BZ, BZ2, CAB, EGG, GZ, J2J, JAR, IMG, IPA, ISZ, LHA, LZMA, PMA, TBZ, TBZ2, TGZ, TLZ, TXZ, UDF, WAR, WIM, XPI, XZ, and Z.
Other features:
Support Unicode to display international characters which displays for filenames in archives
Bypass files that don't compress well using the "High Speed Archiving" function
Extract the files to the destination folder directly by "Fast Drag & Drop" function
Create self-extracting files (.EXE) and multi-volume (split) archives
Optional archive encryption using ZipCrypto and AES 256
Context Menu access including "Preview Archive" function
Create or extract multiple zip files simultaneously from windows explorer
Free to use at both home and in the office
Bandizip 7.0 Beta changelog:
Bandizip 7.0 Beta 1 has been released on Oct 1, 2019.
Advanced compression settings
Password manager
Using an online installer
Decompressing NSIS format on its own without relying on external libraries
Decompressing UDF format on its own without relying on external libraries (support for UDF 2.60)
Decompressing PMA (LHA) format in PM1 method
Improved speed in compression and decompression
Improved speed in decompression of RAR5 file
Improved speed in decompression of some types of 7Z file
Improved support for DOS SFX format
Improved support for ZIP file compressed in MBCS on Unix
New feature processing hard-linked files in TAR format
New feature pre-allocating disk space for an output file
(Minimizing disk fragmentation and improving speed in decompression)
New command "rn" for command line interface
Changed name of command line compression tool for console (bc.exe → bz.exe)
Advertisements appear on Bandizip Standard Edition.
Since v7.0, Bandizip is released in 3 types of editions:
Standard Edition: Free of charge, available for commercial and non-commercial use, some features limited.

Professional Edition: Sold to individual users.

Enterprise Edition: Sold to enterprise users. (edition comparison)
Download: Bandizip 7.0 Beta 4 | 253 KB - web installer (Free, paid upgrade available)
View: Bandizip Home Page
Get alerted to all of our Software updates on Twitter at @NeowinSoftware