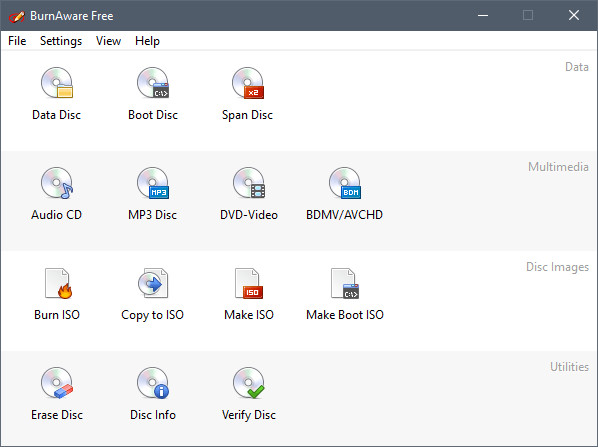 Free burning software to create CDs, DVDs, and Blu-ray discs of all types.
BurnAware Free is a full-fledged disc burning tool – fast, lightweight, feature-packed and, most importantly, 100% free. The program burns all types of CD, DVD and Blu-Ray discs containing data, digital photos, music and video. With BurnAware Free, you will be able to create bootable or multisession CDs and DVDs, high-quality audio CDs, make and burn disc images, copy and backup discs.
Features
Burn Data, Bootable and Multisession discs
Burn Audio, Video and MP3 discs
Create and burn ISO/CUE/BIN images
Copy discs to discs or to ISO images
Erase rewritable discs
Extract tracks from Audio CDs
Extract data from unreadable or multisession discs
Supports
All media types (CD/DVD/Blu-ray Disc) including Double Layer
All current hardware interfaces (IDE/SCSI/USB/1394/SATA) including AHCI
UDF/ISO9660/Joliet file systems (any combination)
On-the-fly writing (no staging to hard drive first)
Verification of written files
Multisession DVD-RW/DVD+RW
Unicode CD-Text (tracks and disc)
Windows NT/2000/XP/Vista/7/8/10 (32 and 64 Bit), .Net framework is NOT required
BurnAware Free 10.5 changelog:
New features
Option to prevent entering sleep mode while disc burning.
Enhancements
Updated and improved main UI theme (Categories view).
Updated translations and installer.
Improvements to buffer handling in Multiburn tool.
Improved file extraction process in Data Recorvery tool.
Minor optimizations for high-DPI screens.
Fixes
Fixed bug with creating new session on single-session disc.
Fixed bug with auto disabling Direct Copy mode in Copy Disc tool.
Resolved problem with burning multiple copies in Copy Disc tool.
Minor bug fixes and improvements.
Download: BurnAware Free 10.5 | 6.5 MB ad-free installer (Freeware)
View: BurnAware Free Website
Get alerted to all of our Software updates on Twitter at @NeowinSoftware