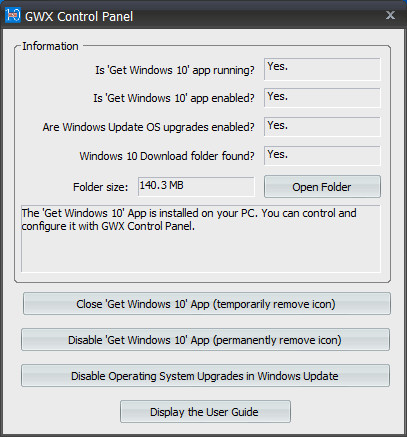 GWX Control Panel (previously named GWX Stopper) is a free program that you can use to configure and exit the "Get Windows 10" system tray application which continually pops up on PCs that are still running Windows 7 and Windows 8. GWX Control Panel really works, is safe and easy to use, and gives you the option to re-enable the icon and upgrade notifications if you're ever ready to move forward with Windows 10.
Why GWX Control Panel is better than other solutions:
Some methods are only temporary fixes. They make the app go away until you restart Windows, or maybe until you do another Windows Update, but they don't truly stop the Get Windows 10 app from bothering you- they just postpone it.
Some methods are unsafe (especially the ones that involve you disabling Windows Update).
Some methods have potential to result in unexpected or undesired behavior if you're not completely sure what you're doing or if you apply a change to the wrong files or folders.
And some just went way beyond what was truly necessary to keep the Get Windows 10 app from bothering you.
GWX Control Panel doesn't do anything special. It's just simple and safe, and it works.
GWX Control Panel is a standalone executable, doesn't require to be installed.
GWX Control Panel is digitally signed.
What's new in version 1.5:
Now detects the hidden $Windows.~WS folder associated with the Windows 10 Media Creation Tool, in addition to the more common $Windows.~BT folder that was already detected in previous versions.
New Delete Windows 10 Download Folders feature now deletes both detected hidden download folders, preventing users from having to run scripts or manually override file security and ownership settings.
Program now only requests administrator privileges when they're actually required, and only once per session, instead of always asking for permissions at program startup. Note: This is a hard feature to test because of the thousands of user security/permissions possibilities out in the wild; please let me know if you experience unexpected behavior when attempting to perform operations.
New /norestart command line switch to assist support staff who operate GWX Control Panel via remote assistance tools. (More elsewhere in this post.)
Clear Windows Update Cache feature now displays a list of temporary effects that clearing the cache will have on Windows Update.
Decoupled download folder size checking from rest of the informational stats to speed up the first screen refresh with current status.
Removed the Close 'Get Windows 10' App button because it confused some users and was somewhat redundant, since the Disable/Enable 'Get Windows 10' App feature implicitly exits or launches the GWX app as needed.
Download: GWX Control Panel 1.5 | 4.2 MB (Freeware)
View: GWX Control Panel Home Page | Video Tutorial