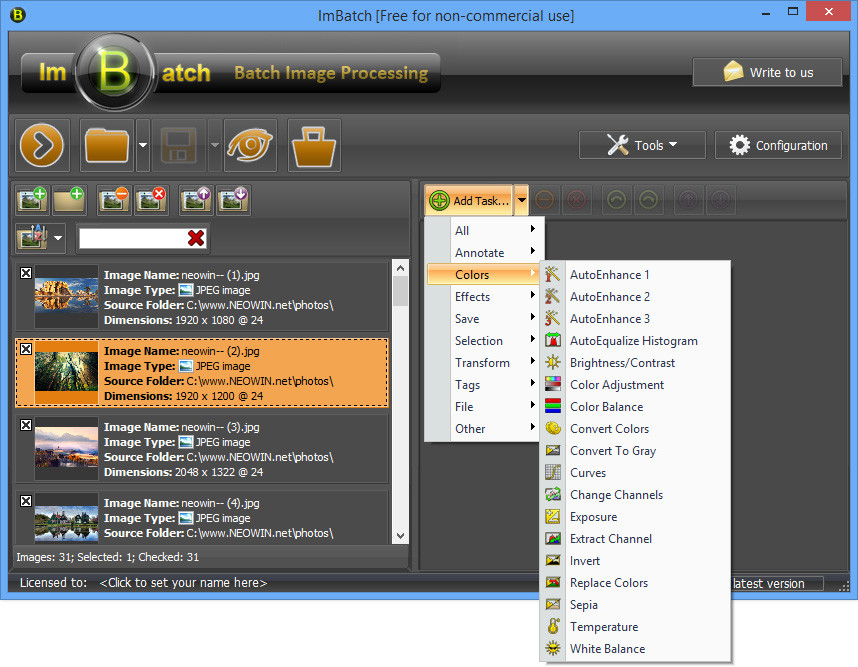 ImBatch is a free image processing tool for your Windows PC. With the help of ImBatch, users can perform a variety of complex image editing tasks; applying those changes to hundreds of images at once. Whether you're looking to crop, resize, rotate, add/remove tags or convert image format, ImBatch provides users with dozens of editing tools.
ImBatch key features:
Batch Resize Image
Batch Image Rotate
Batch Image Soft Shadow
Batch Image Flip task
Batch Image Round Corners
Batch Image Convert Colors
Batch Image Convert To Gray
Batch Image Set EXIF Tag
Batch Remove EXIF Tag
Batch Image Shift Tim
Batch Add To PDF task
Batch Watermark Image
Batch Resize Canvas
Batch Color Adjustment
Batch Gaussian Blur
Batch Inner Shadow
Batch Publish on Facebook
Batch Inner Shadow
Batch Reset To Original
Batch Watermark Text
Batch Frame task
Batch Crop Image
Batch Color Balance
Batch Brightness and Contrast
and much, much more....
What's new in ImBatch 4.9.0:
Added Stroke task.
Added option to turn on/off beep sound in the end of processing.
ImageMonitor: added totally silent mode.
Added replacing transparency with white color while saving into the format, that doesn't support transparency.
'Resize Canvas' task: added the option to fill new space with blurred image.
'Convert Colors' task: added ability to replace alpha channel with the specified color.
'Save As' task: fixed changing 'Common Folder' option after loading task list.
'Resize' task: fixed working 'Resize Type' option in Preview panel.
Improved algorithm of the Deskew Text task.
Fixed saving into DDS format with transparency.
Fixed detection of the portable version by the path to the program.
Fixed opening 'Save As' task.
Fixed image size updating in Preview panel.
Download: ImBatch 4.9.0 | 14.4 MB (Freeware)
View: ImBatch Home Page