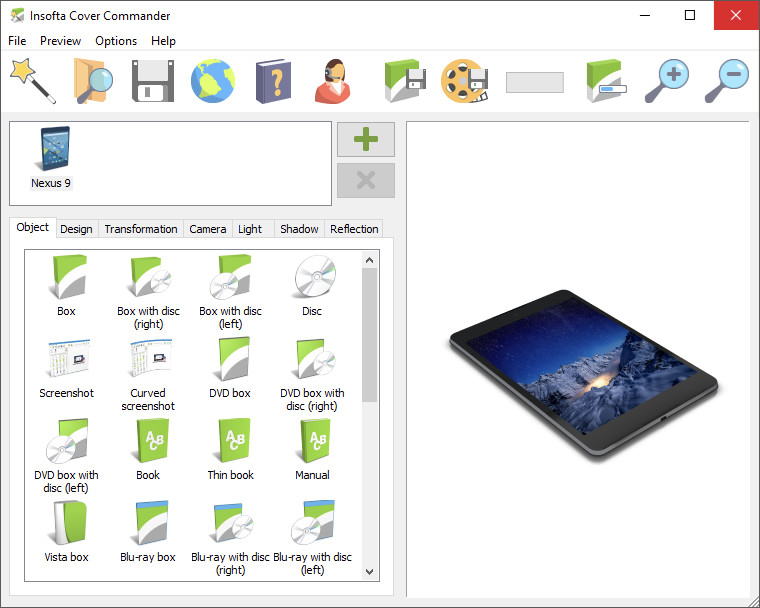 Cover Commander creates professional, custom-designed three-dimensional virtual boxes for your software, e-books, iPhone/iPad apps, manuals, DVD and CD boxes, CD disks, cards, and even screenshots. Just a few mouse clicks - that's all it takes to get the job done. Extensive light, shadow, and reflection controls at your disposal will enable you to create an image of just about any complexity and view the final picture as it is being made in the real-time preview window.
Reasons to go with Cover Commander:
Get your cover designed in just a few mouse clicks - Box, Box with disc, Disc, Screenshot, Curved screenshot, Book, Thin book, Manual, Vista box, Card, Spiral book, Monitor, TV, iPhone 5s/5c, iPad, iPad with cover, Blu-ray box, Blu-ray with disc, DVD box, DVD box with disc, CD box, CD box with disc.
Let the built-in wizards do the dirty work for you and focus on the artistic details of the cover.
Create multiple projects, parse multiple images - with a single command (batch mode).
Save the result image with transparent background and use the picture for the complex web or print designs.
Save the light, shadow, and reflection settings under a unique name and use those settings in other projects.
Set the result image size (up to 4000x4000) and margins in pixels.
Draw your customer's attention with an animated box, cover or screenshot.
Cover Commander does not require 3D accelerator to render 3D objects.
Don't pay more than what it actually costs to create a great cover. Create additional covers at no cost at all!
Cover Commander 5.6.0 changelog:
Render time for complex models reduced by 15-20%.

Models' real dimensions are now factored in when they are displayed.

3D primitives added (Sphere, Cylinder, Cone, Pyramid, Cube).

Models Disc, Screenshot now use two side images.

Screenshots now have a thickness.

Curved screenshot settings changed.

Added ability to change the order of objects, rename objects.

Added menu "Object" (main and context).

Some similar models have been combined into a single model with options (laptop/laptop 90°, box with disc right/left and etc.).

The list of models with options can be expanded/collapsed.

Several minor bugs fixed.
Download: Cover Commander 5.6.0 | 25.4 MB (Shareware)
Link: Cover Commander Home Page
Get alerted to all of our Software updates on Twitter at @NeowinSoftware