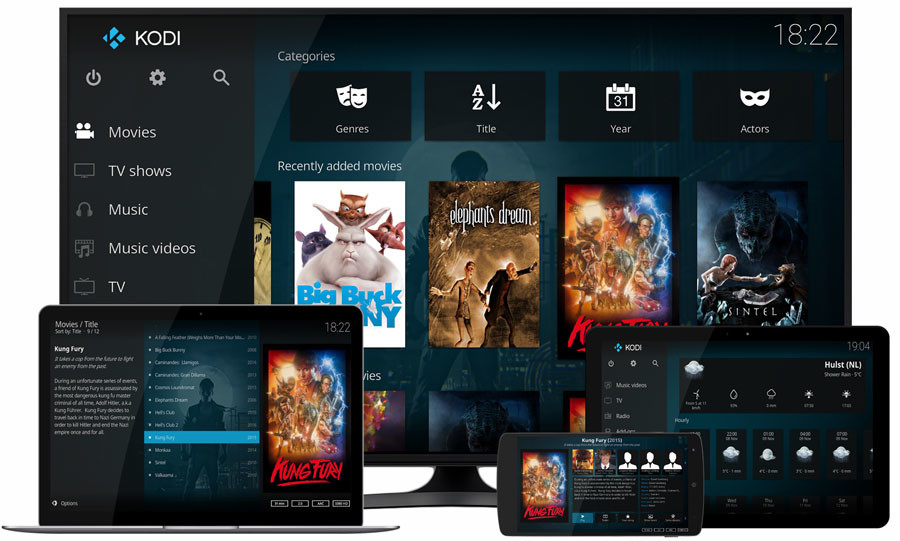 Kodi (formerly known as XBMC), is an award-winning free and open source cross-platform software media player and entertainment hub for digital media for HTPCs (Home theater PCs). Its graphical user interface (GUI) allows the user to easily browse and view videos, photos, podcasts, and music from a hard-drive, optical disc, local network, and the internet using only a few buttons.
Kodi can be used to play almost all popular audio and video formats around. It was designed for network playback, so you can stream your multimedia from anywhere in the house or directly from the internet using practically any protocol available. Use your media as-is: Kodi can play CDs and DVDs directly from the disk or image file, almost all popular archive formats from your hard drive. Kodi will scan all of your media and create a personalized library complete with boxcovers, descriptions, and fanart. There are playlist and slideshow functions, a weather forecast feature and many audio visualizations. Once installed, your computer will become a fully functional multimedia jukebox.
Most notable changes to mention in Kodi 18.0 Beta 5:
Fix repository connection issues on Windows which affected certain CPU types
Some improvements to Android video playback
Some improvements to OSX resolution switching
Support for Radio Data RDS (RDS) if the PVR backend supports this
Try to find the best matching resolution automatically for refreshrate switching if the user has not made a selection in resosution whitelist setting
Update Chorus2 webinterface which contains security and general fixes
General code improvements and cleanup
Of course there are several more changes which are listed on the Kodi github repository.
Download: Kodi 17.6 | 78.0 MB (Open Source)
Download: Kodi 18.0 Beta 5 (32-bit) | 57.7 MB
Download: Kodi 18.0 Beta 5 (64-bit) | 60.2 MB
Links: Kodi Home Page | Release Announcement | Kodi for Android
Get alerted to all of our Software updates on Twitter at @NeowinSoftware