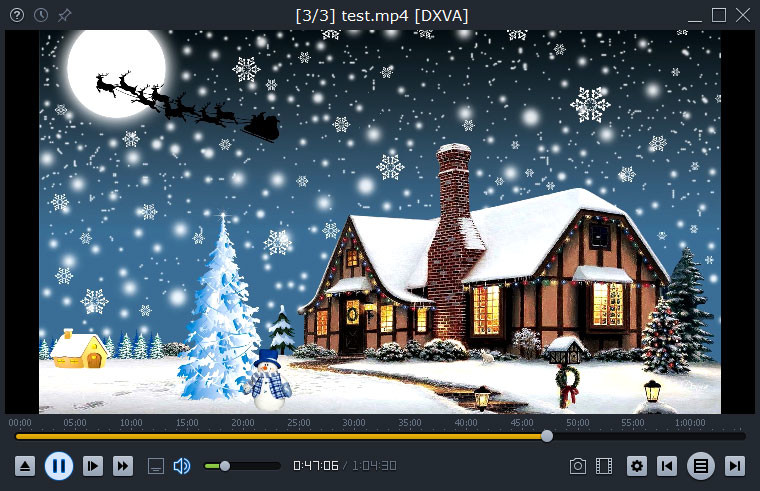 Light Alloy - is a completely free, compact multimedia player. It supports all popular multimedia formats. Player is optimized for quick launch and minimum load of the system resources. The main feature - it is very easy in use but at the same time has lots of configuration settings. Like fast video rewind, load subtitles, make bookmarks in the list or on the timeline, preview window on timeline, select audio tracks and subtitles in multilingual films, minimize to tray, infrared remote control (WinLIRC), make screenshots. The brightness/contrast/saturation of the image van be adjust, it supports multimedia keyboards and has full support for DVD/Blu-ray and MKV/OGM/MP4 features.
Light Alloy features:
Built-in video/audio codecs (but still can be configured to use system codecs), as well as custom codecs for the selected video formats, has full support for subtitles (with the ability to specify the time shift if the subtitles are behind or ahead); has minimal start time;
Full support for DVD/Blu-ray and MKV/OGM/MP4 features.
Support for WinLIRC to control the player remotely..
Configurable playback speed from 0.1x slow to 32x fast, frame by frame playback, adjustable rewind.
Volume control, timeline display on the control panel.
Additional audio features: sound amplification, normalization, audio shift.
Unrestricted display size with or w/o aspect ratio alignment.
Audio and video filters configuration.
Supports playlists with the possibility of placing bookmarks in the playlist or on timeline; can be configured to display or hide the duration, can generate a table from the playlist (for movie collectors), save/load a playlist, get screenshots from the video (including the DVD).
Drag-n-drop support; saving playing position on player close (to resume later).
Show detailed info about playing file, copy to clipboard any fields of data or all the info at once.
Rich reconfigurable mouse keys and keyboard, functional pop-up menu.
Easy to use media-oriented "add files" dialogue.
Video settings can be saved per file (brightness, contrast, saturation, sound volume level, the currently loaded subtitle, the currently selected audio track) that are reapplied next time the file is opened.
Ability to specify a folder to save screenshots, for creating thumbnails and full-size screenshots from the movie.
Timeline preview function, like on YouTube, with possibility to change preview window size.
Light Alloy 4.10.2 (build 3317) changelog:
Frontend
Support for changing window size by Win key + directional keys.
If you need to play a file with unknown extension, but you don't want to change a setting that allows it globally for all files, now you can easily drag'n'drop such file (but only one!) and player will try to play it.
Playlist's the "+" button popup menu: added "Add files with only known extensions" option to be quickly accessed without need to go into Preferences->Playlist.
Display in player caption current scheduler power off time, if any.
Added hidden setting: Core.HighPriority (allows you to set High Priority for Light Alloy process)
Added hidden setting: OnDone.UnLoadLastFile (allows you to always unload last, or just alone, played file in playlist instead of default action - displaying last frame)
Do not try to play anything if add/dragndrop to playlist/videopanel is failed (for example, in case of broken CUE playlist is given)
Extended Open Dialog:
ability to open favorites by hotkey Ctrl+F.
favorites: highlight item in list if you already in this folder.
favorites: enumerate list.
favorites: ability to quickly open item in favorites list by 1-9 keys on keyboard.
optimized Add Folder
favorites: fixed issue with Enter hotkey on selected item (produced file playback instead of just Go to Favorite folder)
fixed some issues with navigation (for example, the "
fixed crash
Preferences->View->Appearance: corrected title/description for "Add chapters from files on timeline and to playlist as bookmarks" option, and option below it also got corrected title.
Preferences->View->Appearance: "Add chapters from files on timeline and to playlist as bookmarks" didn't worked correctly - it suppose to hide marks on timeline if disabled, but it didn't.
Preferences->Events: an option "on playback end - switch to windowed mode" worked incorrectly.
Preferences->File Types: fixed issues in association process under Windows 10.
Player appeared on taskbar in some cases, even if "only in tray" is set.
Next OSD after Info Line OSD wasn't erased correctly for MadVR
Player windowed size/position wasn't remembered in all cases, especially in cases like when "On Start - Switch to Fullscreen" was set.
Fixed crash with malformed CUE playlist.
Fixed a few issues with remembering panels state modes.
Fixed a few issues with On Top and child forms.
Fixed a few issues with maximized window state.
Fixed issues with window position when it became behind taskbar (if it was at top or at left) when hotkeys Alt+3/4 (Scale Change) were used
A few cosmetic fixes.
Download: Light Alloy 4.10.2 | 14.9 MB (Freeware)
Download: Portable Light Alloy 4.10.2 | 11.2 MB
View: Light Alloy Website