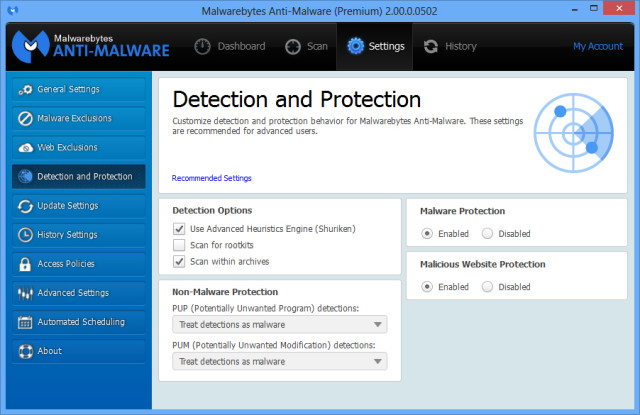 Malwarebytes' Anti-Malware is a high performance anti-malware application that thoroughly removes even the most advanced malware and spyware. With one of the fastest, most effective quick scans and malware removal capabilities on the market, this program is the perfect addition to your PC's defenses.
The full version of the product includes a number of key features, including the ability to schedule updates and scans and most importantly, a real-time malware protection module that blocks malicious processes before they even start.
What's new in version Malwarebytes' Anti-Malware Beta:
This release is focused on bugfixing to make Malwarebytes Anti-Malware more stable, more user friendly and more effective against the latest, nastiest malware on the net.
Here's a brief list of changes:
Improvements
Changed some of the terminology used in scan results and scan logs to make them clearer
Enabling or disabling self-protection should now be more responsive under most circumstances
Each language name is now listed in its native tongue rather than being translated to make switching languages easier
Blank window is no longer observed flashing on screen during startup and shut down of system when Malwarebytes Anti-Malware is running in the tray on
Windows Vista and newer operating systems
Main program window now opens to the Dashboard by default to simplify navigation
Issues Fixed
Several crashes and BSOD issues fixed with rootkit scanning
Scan speed improved with rootkit scanning enabled under some circumstances
Rootkit scans should no longer hang indefinitely under certain conditions
Compatibility issues with certain VPN client software fixed
Protection no longer fails to start after upgrade under some circumstances when self-protection is active prior to upgrading
Entire General Settings tab now responds to clicks correctly
Several issues with Access Policy restrictions not restricting access as they should
Editing the Access Policy password no longer results in restricted areas of the software being inaccessible when the correct password is entered
Access Policy feature now functions when Bitdefender Total Security is installed
Manual scan of individual files and folders using context menu scan feature in Explorer no longer results in the scan failing to run under certain circumstances
Green checkmark status is no longer indicated when Malwarebytes Anti-Malware is unable to reach update servers when attempting to update
Text is no longer cutoff in the UI on Windows XP or when the 'Classic' theme is used on Windows 7
Scan time is now reflected accurately at the end of a scan
Quarantined objects remain listed correctly in Limited User Accounts when restoration of an object fails due to lack of permissions
Some words in UI which were not translated into non-English languages now are when those languages are selected
Driver left behind during uninstallation of Malwarebytes Anti-Malware is now removed as it should be when the product is uninstalled
What's new in version 2.0.2.1010 Beta:
One issue discovered during testing of the last beta was fixed.
Download: Malwarebytes Anti-Malware 2.0.2.1010 Beta | 16.5 MB (Freeware)
View: Website | Official Announcement