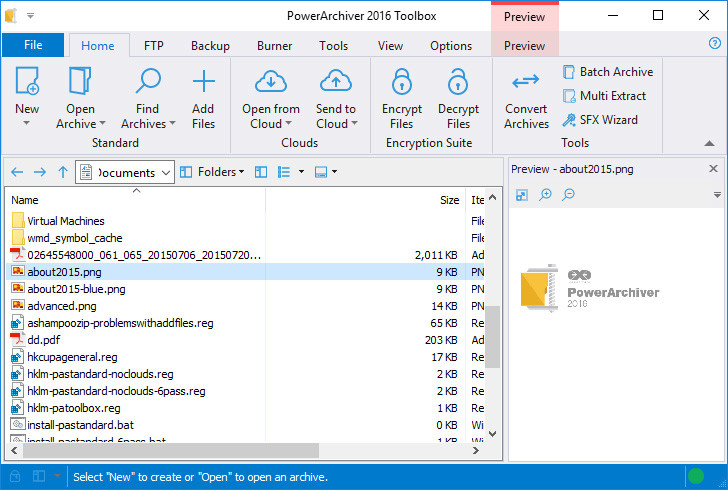 PowerArchiver is a fast and easy to use compression utility. PowerArchiver offers an option to use an Explorer-like interface for browsing your hard drive for archives, which also supports shell integration. It supports most popular compressed and encoded formats currently in use.

PowerArchiver enables you to create ISO images, either by ripping the CD/DVD/BD with Disc Grabber, or directly with files from your hard disk. With PowerArchiver's Virtual Drive feature, you can also mount .ISO images into Windows so they appear like a normal drive and you can browse inside. In addition to creating and mounting .ISO images, you can now burn archives, images and any files directly from PowerArchiver or via Explorer Shell Extensions to a CD, DVD or Blu-ray disc. Once you're done, you can verify the burned files to make sure everything was burned correctly and without errors.
Read and write support for ZIP, ZIPX, 7-ZIP, CAB, LHA (LZH), TAR, GZIP, BZIP2, ISO (ISO9660 and UDF - PRO only), BH, XXE, UUE, yENC, and MIME (Base 64). Read and extract support for: RAR (10% faster than WR 4.x), ARJ, ARC, ACE, MSI, NSIS, CHM, DMG, RPM, CPIO, VHD, XAR, LZMA, SquashFS, CramFS, ZOO, WIM plus ISO (ISO9660 and UDF) disc image formats and much much more...
Improvements/Fixes in PowerArchiver 16.10.11:
PA-164 – update 7zip engine to latest release
PA-151 – Fix for icons in Classic>Open and Extract dropdowns
PA-157 – FTP: D&D from FTP folder to subfolder on local drive and download is to root
PA-165 – Translation update for Korean version
PA-167 – Do not associate ISO format in Win10 by default
PA-168 – Show "Save As" dialog when clicking +Add to add files to archive in explorer view before options window
PA-169 – New archive and Save As windows should start in the same folder as being browsed by PowerArchiver explorer mode
PA-170 – Empty Archive created when clicking browse button in add to archive dialog, in explorer mode
PA-171 – Progress bar overlaps with text in Classic Light skin without Aero/Themes in Windows 8
PA-172 – PA crashes with specific PowerArchiver explorer mode settings
PA-173 – Enterprise users – disabling various features through group policy fixes.
PA-174 – Drag and drop window small graphical glitches
Download: PowerArchiver 2016 v16.10.11 | 25.3 MB (Shareware)
Link: PowerArchiver Home Page
Update: PowerArchiver 2016 16.10.12 improvements/fixes:
PA-177 – Password entry box graphical issue.
PA-178 Better support for archives with paths not supported by Windows (ZIP, ZIPX).