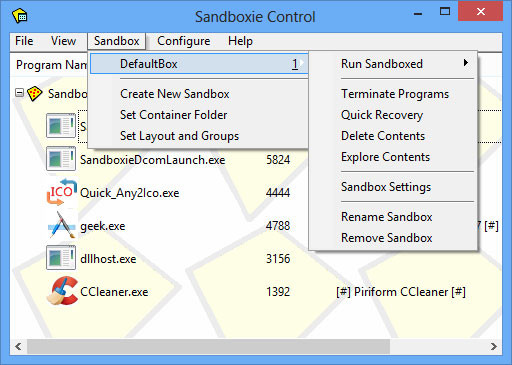 Run programs in a sandbox to prevent malware from making permanent changes to your PC.

Sandboxie allows you to run your browser, or any other program, so that all changes that result from the usage are kept in a sandbox environment, which can then be deleted later.

When you browse the Web, changes occur to your computer system. Some harmless, like recording the addresses of Web sites you have visited, so the browser can help you complete a Web address that you type in. Some more harmful, like the unsolicited installation of malware. When you use Sandboxie to protect your browsing session, it catches all these changes just as the browser is about to apply them into your computer system. Sandboxie does record these changes on behalf of the browser, but it records them in a special isolated folder, called the sandbox. Thus, with Sandboxie, you can browse the Web securely while still keeping all your browser's functionality for active and dynamic content, such as Javascript and ActiveX. All undesired side effects, including the removal of malware, can be easily undone.

Fixes in Sandboxie 4.13.4 Beta:
The auto-update feature only checked the next update time (SbieCtrl_NextUpdateCheck) 1 time when SbieCtrl.exe was started. If SbieCtrl.exe was kept running, it would never check the update time again. This has been fixed.
Several large memory leaks (reported by Dr. Larry Pepper et al.) have been fixed. In particular: viewtopic.php?f=11&t=18412
ASLR is now enabled for SbieDll.dll 32 bit (64 bit will come later).
OpenIpcPath=\BaseNamedObjects\FontCachePort is now in templates.ini as a default. Until now, this was a suggested work-around for some Chrome 37 problems.
NOTE: the default only applies to new installs. For existing installs, you need to go into Sandbox settings->Applications->All Applications, and check the option "Allow direct access to Windows Font Cache"
NtQueryInformationProcess was not working correctly for 32 bit apps running in 64 bit Windows. The sandbox path was returned instead of the host path. This is mainly for Buster and BSA.
There is a new EULA (license.txt)
The Chrome 37/38 permissions problem with drop rights is still being worked.
Download: Sandboxie 4.13.4 Beta | 2.6 MB (Shareware)
View: Sandboxie Website | Release Notes