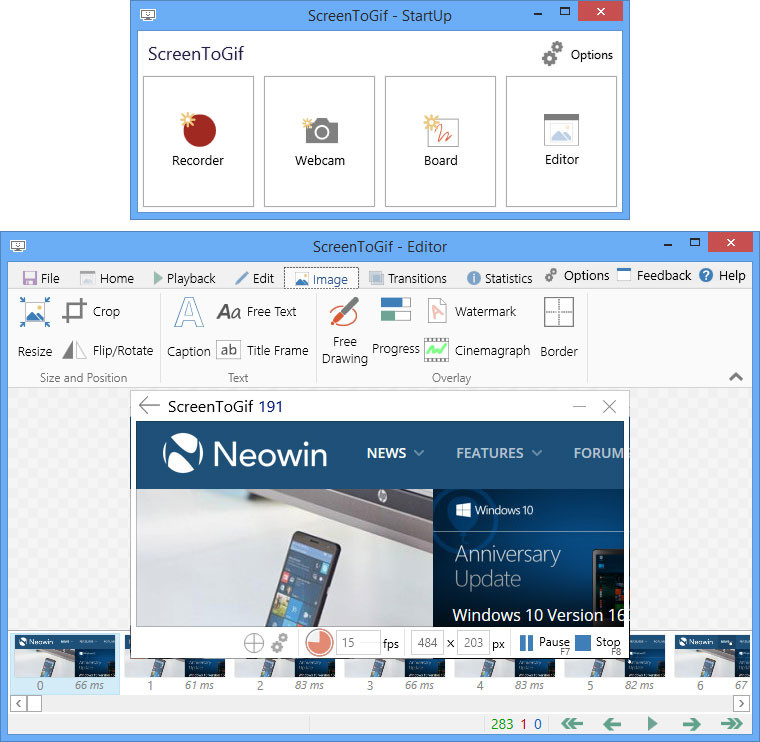 ScreenToGif is an open source program that lets you to record a selected area of your screen, live feed from your webcam or live drawings from a sketchboard. Afterwards, you can edit and save the animation as a GIF or video. Also there's the Webcam Recorder and the Board Recorder.
Features:
Record your screen and save directly to a gif looped animation or a video.
Pause and continue to record or start over by discard the recording.
Move the window around to record what you want, it stays on top.
You can add Text, Subtitles, Title Frames, Borders, Watermarks, Drawings, etc.
Crop and Resize.
Remove frames that you don't want.
Select a folder to save the file automatically or select one before encoding.
Add the system cursor to your recording.
Very small sized and portable executable.
What's new?
You can now load recent projects, which have not been discarded.
Automatic clean up of old projects, which have not been discarded yet (optional, check out your options).
More options for keyboard shortcuts of the recorder.
Keyboard shortcut for the discard action (when recording).
Custom timing for the pre-start countdown.
Custom delay for the transitions (now the app also remembers the latest transition length).
Bug fixes:
If you open the app for the first time and try to load something, a crash occurs, caused by a property not properly initialized (TemporaryFolder).
Several bugs related to high DPI scaling (including a known bug related to the crop feature).
Download: ScreenToGif 2.7 | 579 KB (Open Source)
View: ScreenToGif Home Page | User Guide