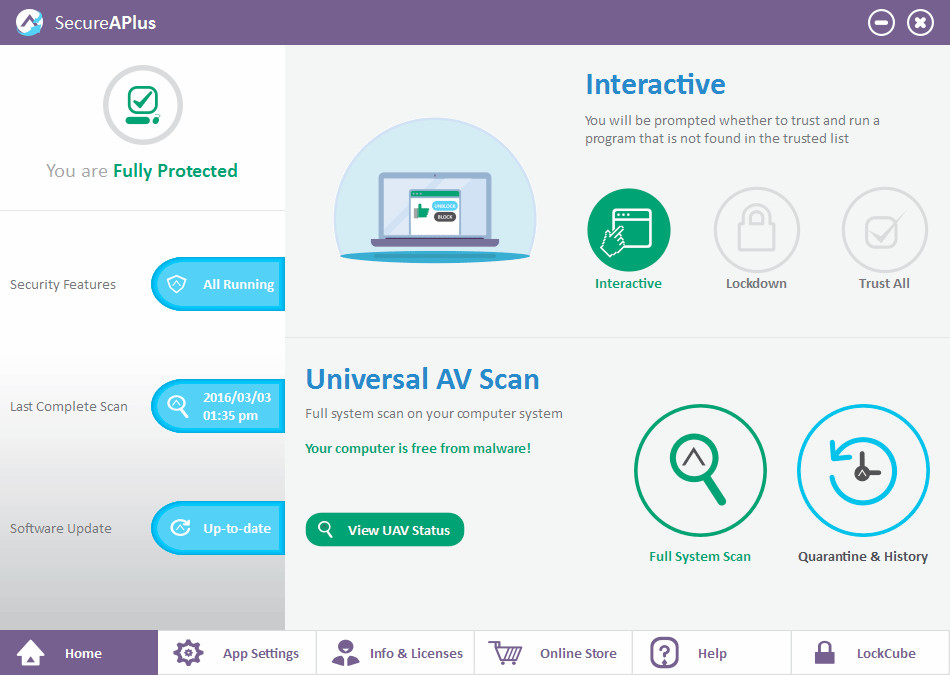 SecureAge SecureAPlus combines application whitelisting and antivirus components to protect your computer from known and unknown malware more effectively. It does what other conventional antivirus cannot do – it can block any new and advanced malware regardless of how they try to evade detection. It even alerts you when risky programs are attempting to run to prevent any accidental installation that potentially can harm your computer. Hence, SecureAge SecureAPlus is the next generation antivirus that truly protects your computer without taking any chance.
The 12 engines that the SecureAPlus Universal AV uses are Emsisoft, Avira, Sophos, McAfee, Microsoft Security Essential, ESET, Bitdefender, AVG, Norman, Quick Heal, Total Defense and Clamwin.
SecureAPlus Freemium comes with a ONE-YEAR FREE LICENSE but users can also join the Referral Program to extend the license and to even earn a free perpetual user license. For more information, please visit the "Referral Program" webpage.
What's new in SecureAPlus 4.11:
Setting for enabling/disabling register as antivirus. This will allow you to decide whether to set SecureAPlus as the only offline antivirus or let it work together with other 3rd parties offline antivirus.

ClamAV 0.100.1

ClamAV Uninstallation​

Added RuntimeBroker.exe, bandizip.exe, and browser.exe to the restricted application list.
Bugs Fixed:
Freeze issue when script interpreter process name is set to *

SecureAPlus icon was not shown in some of the notification windows.

Some text in the UAV scanning for the unknown file in the application whitelisting notification was not translated into foreign languages.
Modifications:
Auto trust the temporary .ps1 file that created by PowerShell​

Change the way of showing EULA. License.exe is no longer used.

Change date format in the trusted certificate list to yyyy-mm-dd​

In the online installer (SecureAPlusSetup.exe), change "Offline Antivirus" to "ClamAV"

Change About translation for the Russian language, from "О" to "О программе"

Split Universal AV Settings into 3 tabs: Settings, Engines, Scan Settings

Move Universal AV settings from Scan Settings to Universal AV

Scan settings in Universal AV: Universal AV for Regular Scanning, Universal AV for manual scanning, Universal AV for Real-time scanning

Improve registering as Antivirus to the Security Center, when the computer is just rebooted.
Download: SecureAPlus 4.11 | 162.0 MB (Freemium)
View: SecureAPlus Home Page
Get alerted to all of our Software updates on Twitter at @NeowinSoftware