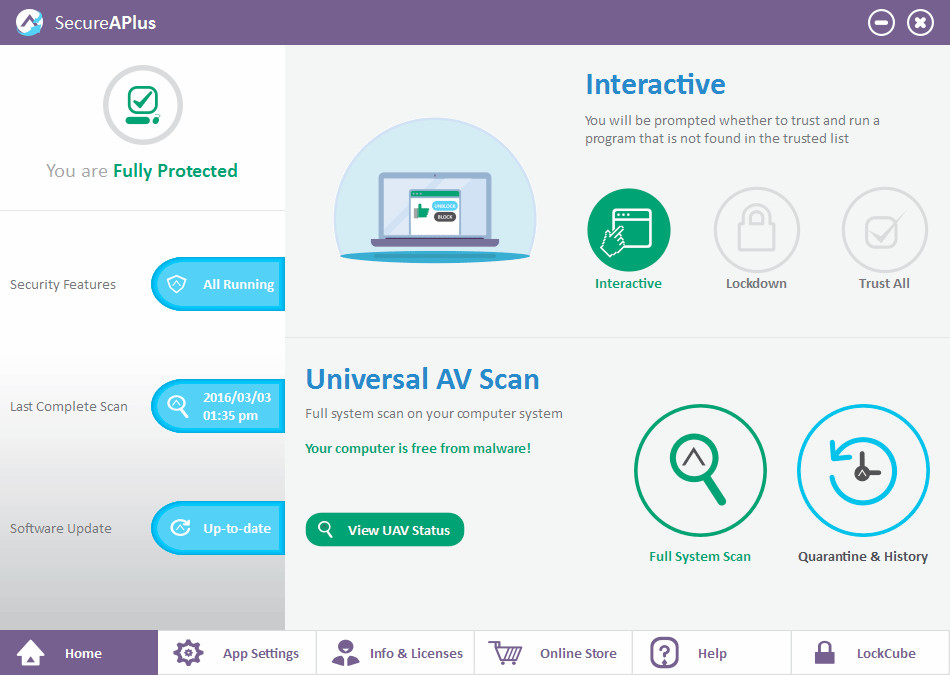 SecureAge SecureAPlus combines application whitelisting and antivirus components to protect your computer from known and unknown malware more effectively. It does what other conventional antivirus cannot do – it can block any new and advanced malware regardless of how they try to evade detection. It even alerts you when risky programs are attempting to run to prevent any accidental installation that potentially can harm your computer. Hence, SecureAge SecureAPlus is the next generation antivirus that truly protects your computer without taking any chance.
The 12 engines that the SecureAPlus Universal AV uses are Emsisoft, Avira, Sophos, McAfee, Microsoft Security Essential, ESET, Bitdefender, AVG, Norman, Quick Heal, Total Defense and Clamwin.
SecureAPlus Freemium comes with a ONE-YEAR FREE LICENSE but users can also join the Referral Program to extend the license and to even earn a free perpetual user license. For more information, please visit the "Referral Program" webpage.
What's New in SecureAPlus 4.8.0:
Updated ClamAV to version 0.99.3
Password protected settings (only usable for those with premium license).
Windows Native Application that auto-run at the very early boot-up, will be automatically promoted to a trusted installer if the digital signature is trusted.
This rule is only applied for the trusted application that is not in the restricted application list.
This is to allow Windows Native Application that starts very early to perform installation.
Secondary file indexing engine to take over Everything.exe, when it is not functioning.
QR Code for SecureAPlus ID. This feature is prepared to work with the future SecureAPlus for Android version.
Bugs Fixed:
After disabling everything at Antivirus Settings, when re-enabling them, Windows Defender is enabled (tested in Windows 10 Fall Creators update, v1709).
When changing Application Whitelisting Mode failed in the SecureAPlusUI, the UI will still show the successfully changed new mode.
Fixed "File index service is not ready" issue in the Universal AV scanning.
In some machines, SURU flash drive virtual CD partition was unable to mount for the second time insertion onwards.
Modifications:
When the computer is just rebooted and the cpu or disk is busy, SecureAPlus will wait until it goes down (maximum up to 30 minutes) before starting Universal AV automatic full system scan.
User can always trigger the full system scan any time, regardless of the cpu or disk usage.
Change "Management Server" sub menu under "Others" settings to "Miscellaneous".
Move Management Server settings to "Miscellaneous".
Update Universal AV status when user took action (e.g. ignored the files permanently).
Change Copyright year in the "About" from 2017 to 2018.
Exclude "Search Service" from SecureAPlus "Security Features" health check.
When minimized, Application Whitelisting dialog will go to task bar.
Updated traditional & simplified Chinese and German translation.
Download: SecureAPlus 4.8.0 | 153.0 MB (Freemium)
View: SecureAPlus Home Page
Get alerted to all of our Software updates on Twitter at @NeowinSoftware