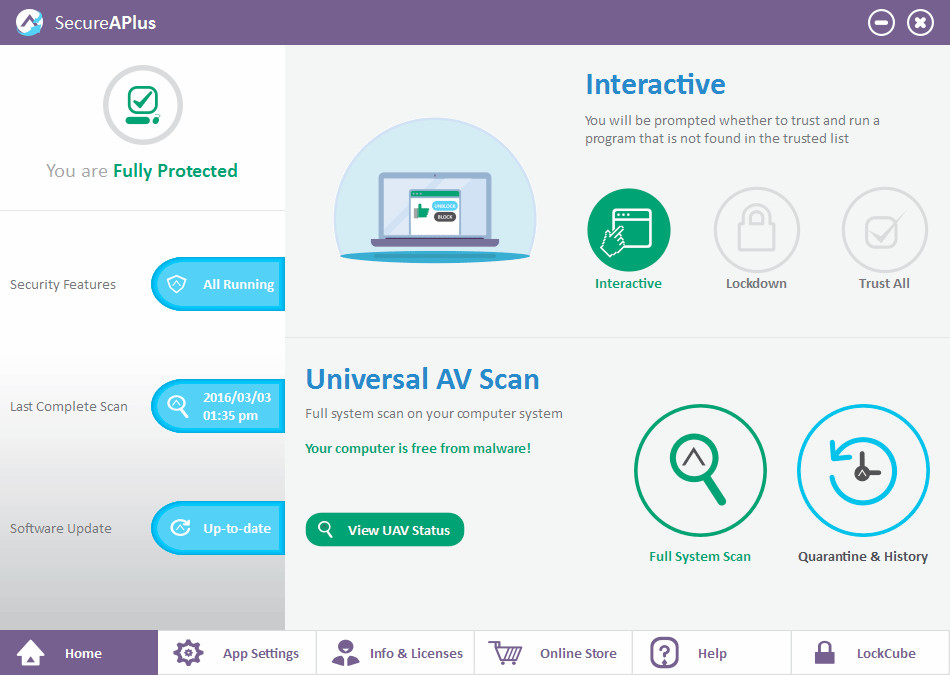 SecureAge SecureAPlus combines application whitelisting and antivirus components to protect your computer from known and unknown malware more effectively. It does what other conventional antivirus cannot do – it can block any new and advanced malware regardless of how they try to evade detection. It even alerts you when risky programs are attempting to run to prevent any accidental installation that potentially can harm your computer. Hence, SecureAge SecureAPlus is the next generation antivirus that truly protects your computer without taking any chance.
The 12 engines that the SecureAPlus Universal AV uses are Emsisoft, Avira, Sophos, McAfee, Microsoft Security Essential, ESET, Bitdefender, AVG, Norman, Quick Heal, Total Defense and Clamwin.
SecureAPlus Freemium comes with a ONE-YEAR FREE LICENSE but users can also join the Referral Program to extend the license and to even earn a free perpetual user license. For more information, please visit the "Referral Program" webpage.
What's New:
SecureAge APEX model v5.9
ClamAV 0.101.2
Setting to enable/disable automatic full system scan.
When SecureAPlus license has expired, (1) APEX sensitivity is set to low and (2) Automatic full system scan would be disabled.
Resume silent installation after reboot if the installation terminated in the middle.
Added interpreter: inetinfo.exe and extension: .asp into script rule
Notification when there is a request for whitelist approval (setting is available at the portal).
Fixed bugs:
The full system scan button did not animate when it performs an automatic full system scan.

Access denied when deleting virus file from app whitelisting dialog.

The error text message in Universal AV scan settings was not according to the theme color.
Modifications:
Auto upload now can be disabled permanently.

The auto upload will always be on for users that have an expired license.

Centralized auto upload setting for manual scanner and Universal AV full system scan.
Download: SecureAPlus 5.3.2 | 184.0 MB (Freemium)
View: SecureAPlus Home Page
Get alerted to all of our Software updates on Twitter at @NeowinSoftware