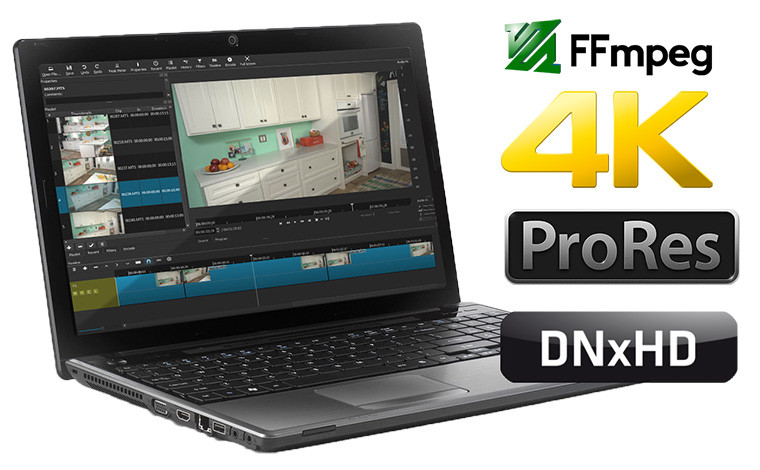 Shotcut is a free, open source, cross-platform video editor for Windows, Mac and Linux. Major features include support for a wide range of formats; no import required meaning native timeline editing; Blackmagic Design support for input and preview monitoring; and resolution support to 4k.
Editing Features
Trimming on source clip player or timeline with ripple option
Append, insert, overwrite, lift, and ripple delete editing on the timeline
3-point editing
Hide, mute, and lock track controls
Multitrack timeline with thumbnails and waveforms
Unlimited undo and redo for playlist edits including a history view
Create, play, edit, save, load, encode, and stream MLT XML projects (with auto-save)
Save and load trimmed clip as MLT XML file
Load and play complex MLT XML file as a clip
Drag-n-drop files from file manager
Scrubbing and transport control
Video Effects
Video compositing across video tracks
HTML5 (sans audio and video) as video source and filters
3-way (shadows, mids, highlights) color wheels for color correction and grading
Eye dropper tool to pick neutral color for white balancing
Deinterlacing
Auto-rotate
Fade in/out audio and fade video from and to black with easy-to-use fader controls on timeline
Video wipe transitions:
bar, barn door, box, clock (radial), diagonal, iris, matrix, and custom gradient image
Track compositing/blending modes:
Over, Add, Saturate, Multiply, Screen, Overlay, Darken, Dodge, Burn, Hard Light, Soft Light, Difference, Exclusion, HSL Hue, HSL Saturation, HSL Color, HSL Luminosity.
Video Filters:
Alpha Channel: Adjust, Alpha Channel: View, Blur, Brightness, Chroma Key: Advanced, Chroma Key: Simple, Contrast, Color Grading, Crop, Diffusion, Glow, Invert Colors, Key Spill: Advanced, Key Spill: Simple, Mirror, Old Film: Dust, Old Film: Grain, Old Film: Projector, Old Film: Scratches, Old Film: Technocolor, Opacity, Rotate, Rutt-Etra-Izer, Saturation, Sepia Tone, Sharpen, Size and Position, Stabilize, Text, Vignette, Wave, White Balance
Speed effect for audio/video clips
Hardware Support
Blackmagic Design SDI and HDMI for input and preview monitoring
Leap Motion for jog/shuttle control
Webcam capture
Audio capture to system audio card
Capture (record) SDI, HDMI, webcam (V4L2), JACK audio, PulseAudio, IP stream, X11 screen, and Windows DirectShow devices
Multi-core parallel image processing (when not using GPU and frame-dropping is disabled)
DeckLink SDI keyer output
OpenGL GPU-based image processing with 16-bit floating point linear per color component
Shotcut 22.06.23 changelog:
Added Edit... to Timeline > Output > Properties.
Added Timeline > menu > More > Align To Reference Track to synchronize clips based on similar audio. See its documentation.
Added support for reading Lottie and rawr JSON animation formats.
Added Open Other > Animation.
Added a Mask: Draw (Glaxnimate) video filter.
Added Glaxnimate vector animation tool with a video preview of Shotcut. See demo video.
Known issues:
Preview on macOS may stop working due to out-of-resources until reboot.
Some Lottie animations make export fail. The one that I have a problem with shows warnings upon opening in Glaxnimate.
See also Glaxnimate's bug tracker
Added support for Keyframes to the following audio filters:
Low Pass
High Pass
Reverb
Added keyboard shortcut Ctrl+Alt+A to select all clips on the current track.
(option+command+A on macOS)
Added an options dialog to File > Export > Markers as Chapters to exclude colors or include range markers.
Added support for fractional display scale (125%, 150%, 175%) on Windows.
Fixed Text: Rich does not export the same as preview on system with fractional display scale on Windows.
Fixed Record Audio and Open Other > Audio/Video Device crashing on macOS due to insufficient entitlements.
Fixed Time Remap > Image mode > Blend not working.
Fixed a crash combining two Size, Position & Rotate filters with a mask filter on a square video mode.
Fixed a possible crash with an odd width video.
Fixed dragging a clip leftward beyond other clips with Timeline > Ripple turned on.
Fixed changing the color of a color clip resets a custom name.
Fixed changing Properties > Speed drops a Crop: Source filter if added.
Fixed prompting for a duration and possibly a crash when dragging non-seekable files to Playlist.
Fixed filters on a clip are removed when Undo after a change to Properties.
Fixed File > Export > Markers as Chapters incorrect text encoding resulting in corrupt unicode characters.
Fixed video track blending may be broken after moving a track.
Fixed repairing a project with Settings > Proxy > Use Proxy on saves proxy file paths into repaired project file.
Fixed Ripple Markers not working with ripple trimming.
Fixed trimming a clip on timeline may change the length of a neighboring clip.
Converted the build system from qmake to CMake (qmake is removed).
Download: Shotcut 22.06.23 (64-bit) | Portable | ~100.0 MB (Open Source)
View: Shotcut Home Page | Other Operating Systems
Get alerted to all of our Software updates on Twitter at @NeowinSoftware