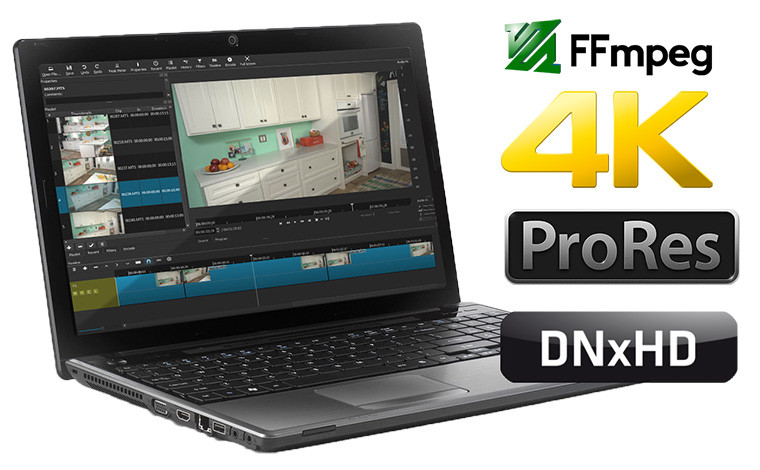 Shotcut is a free, open source, cross-platform video editor for Windows, Mac and Linux. Major features include support for a wide range of formats; no import required meaning native timeline editing; Blackmagic Design support for input and preview monitoring; and resolution support to 4k.
Editing Features
Trimming on source clip player or timeline with ripple option
Append, insert, overwrite, lift, and ripple delete editing on the timeline
3-point editing
Hide, mute, and lock track controls
Multitrack timeline with thumbnails and waveforms
Unlimited undo and redo for playlist edits including a history view
Create, play, edit, save, load, encode, and stream MLT XML projects (with auto-save)
Save and load trimmed clip as MLT XML file
Load and play complex MLT XML file as a clip
Drag-n-drop files from file manager
Scrubbing and transport control
Video Effects
Video compositing across video tracks
HTML5 (sans audio and video) as video source and filters
3-way (shadows, mids, highlights) color wheels for color correction and grading
Eye dropper tool to pick neutral color for white balancing
Deinterlacing
Auto-rotate
Fade in/out audio and fade video from and to black with easy-to-use fader controls on timeline
Video wipe transitions:
bar, barn door, box, clock (radial), diagonal, iris, matrix, and custom gradient image
Track compositing/blending modes:
Over, Add, Saturate, Multiply, Screen, Overlay, Darken, Dodge, Burn, Hard Light, Soft Light, Difference, Exclusion, HSL Hue, HSL Saturation, HSL Color, HSL Luminosity.
Video Filters:
Alpha Channel: Adjust, Alpha Channel: View, Blur, Brightness, Chroma Key: Advanced, Chroma Key: Simple, Contrast, Color Grading, Crop, Diffusion, Glow, Invert Colors, Key Spill: Advanced, Key Spill: Simple, Mirror, Old Film: Dust, Old Film: Grain, Old Film: Projector, Old Film: Scratches, Old Film: Technocolor, Opacity, Rotate, Rutt-Etra-Izer, Saturation, Sepia Tone, Sharpen, Size and Position, Stabilize, Text, Vignette, Wave, White Balance
Speed effect for audio/video clips
Hardware Support
Blackmagic Design SDI and HDMI for input and preview monitoring
Leap Motion for jog/shuttle control
Webcam capture
Audio capture to system audio card
Capture (record) SDI, HDMI, webcam (V4L2), JACK audio, PulseAudio, IP stream, X11 screen, and Windows DirectShow devices
Multi-core parallel image processing (when not using GPU and frame-dropping is disabled)
DeckLink SDI keyer output
OpenGL GPU-based image processing with 16-bit floating point linear per color component
Shotcut 22.10.22 changelog:
This is primarily a bug fix release.
New Bugs in v22.09.23
Fixed translations not updated.
Fixed crash in Size, Position & Rotate filter when size approaches zero, for example when editing a size numeric field.
Fixed bitrate in some Export presets such as VP8, VP9, D10, and XDCAM.
Fixed Timeline > Lift and Delete not working with no clip selected.
Fixed Transition > Properties resets the Invert and Softness options.
Old Bugs
Fixed an incorrect timecode appears at 2 minutes in 24 or 23.98 fps.
Fixed Timeline > Select Clip Above and Select Clip Below not working with no clip selected.
Fixed incorrect resulting aspect ratio when changing Export > Video > Resolution and pixel aspect ratio is not square.
Fixed Properties > Measure Video Quality on Windows.
Fixed Fade Out Video filter not working after trimming the in point.
Fixed updating an animation Properties > Duration after changed in Glaxnimate.
Fixed ripple trim on the in point of a clip that is at the very beginning (00:00:00:00) of the Timeline.
Fixed adjusting keyframes of the second clip when a trimming the in point of a transition.
Fixed Keyframes UI when using Timeline > Trim Clip In menu-item/action/shortcut (not interactive trim).
Fixed opening a MLT XML file with a % in its path or name.
Fixed keyframes after an undo and redo upon making a transition while trimming the in point of a clip.
Improvements and Changes
Finished the menu technology updates (marker context, rich text editor) that were mostly done in v22.09.23.
Added icons for the 360 video filters.
Performance improvement in Timeline for when there is opaque clip on a track above another clip.
Disallow allow adding Filters to a device or live input since this is not working and could interfere with integrity of capture.
Increased the maximum values in the Mask: Simple Shape > Horizontal and Vertical video filter.
Changing Timeline > Zoom no longer pauses playback.
Changes in v22.10.25:
This is a hot fix for release 22.10 to reverse "Performance improvement in Timeline for when there is opaque clip on a track above another clip," which caused a change in behavior considered a bug. See the 22.10.22 release for notes about the 22.10 release in general.
Download: Shotcut 22.10.25 (64-bit) | Portable | ~100.0 MB (Open Source)
View: Shotcut Home Page | Other Operating Systems
Get alerted to all of our Software updates on Twitter at @NeowinSoftware