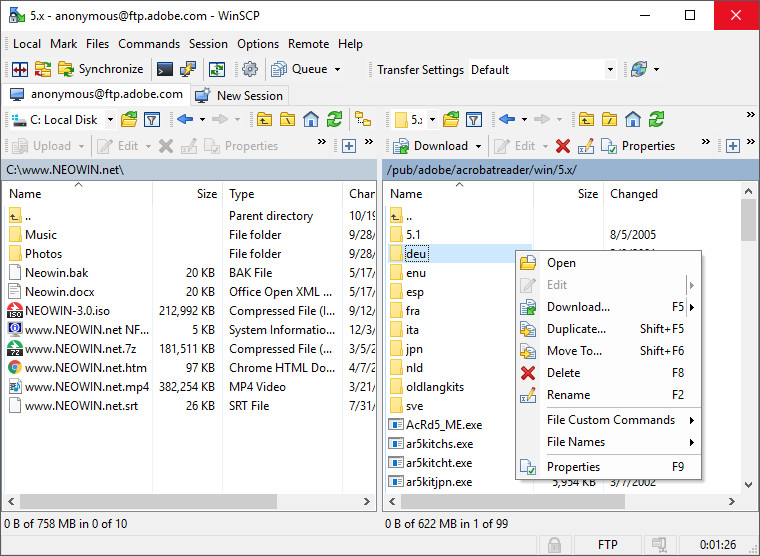 WinSCP is an open source free SFTP client, FTP client, WebDAV client and SCP client for Windows. Its main function is file transfer between a local and a remote computer. Beyond this, WinSCP offers scripting and basic file manager functionality.
WinSCP features:
Graphical user interface
Translated into several languages
Integration with Windows (drag&drop, URL, shortcut icons)
U3 support
All common operations with files
Support for SFTP and SCP protocols over SSH-1 and SSH-2 and plain old FTP protocol
Batch file scripting and command-line interface
Directory synchronization in several semi or fully automatic ways
Integrated text editor
Support for SSH password, keyboard-interactive, public key and Kerberos (GSS) authentication
Integrates with Pageant (PuTTY authentication agent) for full support of public key authentication with SSH
Explorer and Commander interfaces
Optionally stores session information
Optionally supports portable operation using a configuration file in place of registry entries, suitable for operation from removable media
WinSCP 5.15.5 changelog
Back-propagated fixes and changes from 5.16–5.16.1 releases:
Security fix from PuTTY 0.73: On Windows, other applications were able to bind to the same TCP port as a WinSCP local port forwarding. vuln-win-exclusiveaddruse
XML parser upgraded to Expat 2.2.9.
Bug fix: Error when reopening a remote file whose local temporary copy has been deleted. 1790
Bug fix: Edited path was hidden behind a browsing button on file/directory path selection boxes. 1791
Other changes:
SSH private key tools (PuTTYgen and Pageant) upgraded to PuTTY 0.73.
Installer translations updated: Czech, Dutch, German, Italian, Polish, Slovak and Turkish.
Download: WinSCP 5.15.5 | 9.4 MB (Open Source)
Download: Standalone Executable | 7.5 MB
Link: WinSCP Home page
Get alerted to all of our Software updates on Twitter at @NeowinSoftware