Yesterday, we began our in-depth look at the Lumia 630, with a broad overview on what the new entry-level Windows Phone 8.1 handset has to offer. Over the next couple of weeks, we'll be examining various aspects of the device in detail, and today, we take a look at you'll actually get when you buy one.
The Lumia 630 is the first handset to be released since Microsoft took over Nokia's devices and services business, and to mark this change, the device features new-look packaging. This is the first time that the box design has been updated since Nokia released its first Windows Phone, the Lumia 800, in late 2011.
Open up the box, and you'll immediately be greeted by the star attraction – the handset itself.
The color on the device comes in the form of an interchangeable rear 'shell'. When you purchase the handset at retail, you'll have the option of choosing which color shell you would like, indicated on the outside of the box. Shells are also sold separately so that you can swap to a different color later.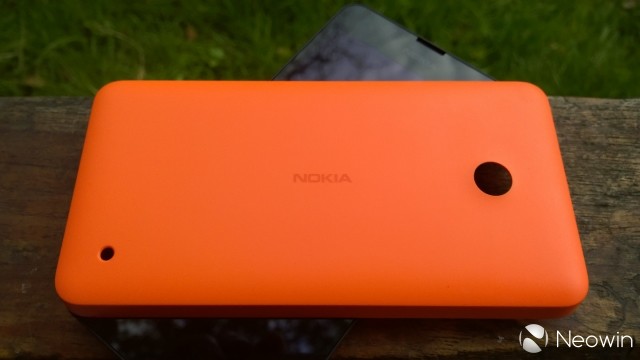 Removing the shell isn't too much of a challenge…
…which is just as well given that you'll need to open up the device to insert the 1830mAh battery and your SIM card. The microSD slot is also located here, but you'll need to purchase a card separately.
You'll also find a 'Quick Guide' to help you get started with setting up the device. It's a pretty brief read, but it does point new users towards the pre-installed Nokia Care app, for info on Windows Phone along with tips and tricks to help people get the most out of the handset.
As you would expect, there's a charger in the box too. This is just a standard charger with a microUSB connector at one end, and a wall-plug at the other.
This was a bit of a surprise – we were expecting to find a more versatile dual-function charger, which includes a proper microUSB data cable (to connect the device to a computer), that can also be connected to a special plug for wall-charging. 
Nokia's choice here was likely intended to help keep costs down, but it means that the Lumia 630 does not include a data cable, so if you need to connect the handset to your computer, you will need to purchase one separately. This may not be an issue for many users, especially given that Windows Phones now rely far less on PC connections than they once did, and plenty of people will likely have a spare cable lying around. But some, like first-time smartphone buyers, upgrading from feature phones, may find the absence of a data cable to be an inconvenience.
That's all you get in the box though. The Lumia 630 doesn't come with a headset either, so if you're hoping to use the device to listen to music or for hands-free calls, you'll have to buy this separately too, or see if you've got one lying around the house. The 630 includes a standard 3.5mm audio-out jack though, so you'll be able to plug most headphones in there to listen to music without any issues.
These 'missing' items are perhaps less of an issue in developed markets, where many buyers may will have owned several generations of smartphones, and are therefore likely to have a spare data cable or headset lying around. Indeed, in such parts of the world, Nokia's decision to exclude these items from the box may be viewed as a positive move, since it helps to cut down on technology waste.
In emerging markets, though, where Microsoft will be aiming to sell the 630 in significant numbers to consumers buying their first smartphones, the lack of a headset, may well be more of an issue. Using the built-in FM radio, for example, will not be possible without a compatible headset, which will need to be purchased separately, and for the most price-sensitive buyers in these markets, such a purchase will add to the cost of ownership.
Stay tuned to Neowin in the days ahead as we focus on some of the features of the handset itself.