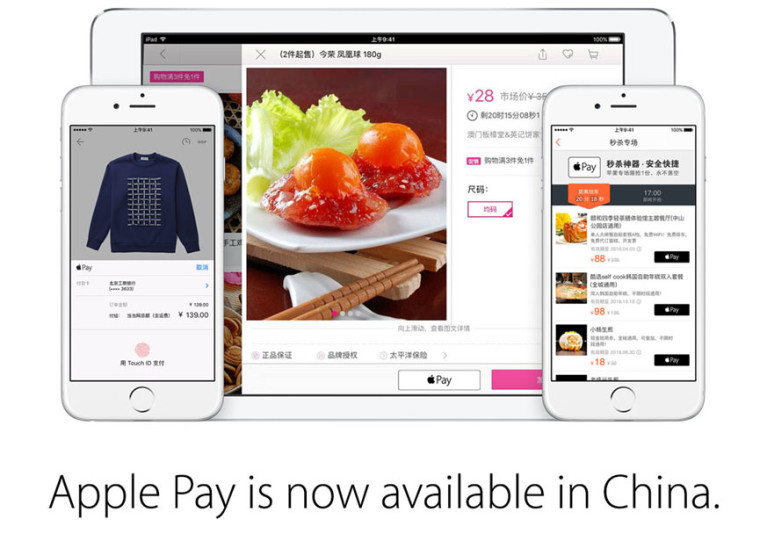 Apple launched their mobile payment service Apple Pay in China on Thursday (Wednesday night if you're in the U.S.). China is the fifth country to get the service.
The world's largest smart phone market, China, is also Apple's second largest source of revenue. According to the China Internet Network Information Center, 358 million people in China were using their mobile phone to purchase goods and services by the end of 2015.
Jennifer Bailey, vice president of Apple Pay, told Reuters that "We think China could be our largest Apple Pay market". Some retailers disagree.
One retailer, who wished not to be named, said, "With 100 percent saturation of local payment systems, no one in China is clamoring for Apple Pay. Today, everyone has a local payment option on their phone, so Apple Pay is a solution in need of a problem."
Apple has 19 of China's biggest banks on board, so 80% of Chinese debit and credit cards will work with Apple Pay. While China already has a number of mobile payment providers, Apple Pay is the one that will work natively with the iPhone.
Apple Pay is a very simple thing to use. The user taps his iPhone against an NFC terminal, holds the fingerprint reader, and payment is received.
There is no app to open and there is no QR code to scan. Given the sheer number of iPhones that exist in China, along with the fact that Apple will always have the ability to provide a more seamless method for mobile payments, it's clear that at least some people in China will use Apple Pay in the future.
Source: Reuters