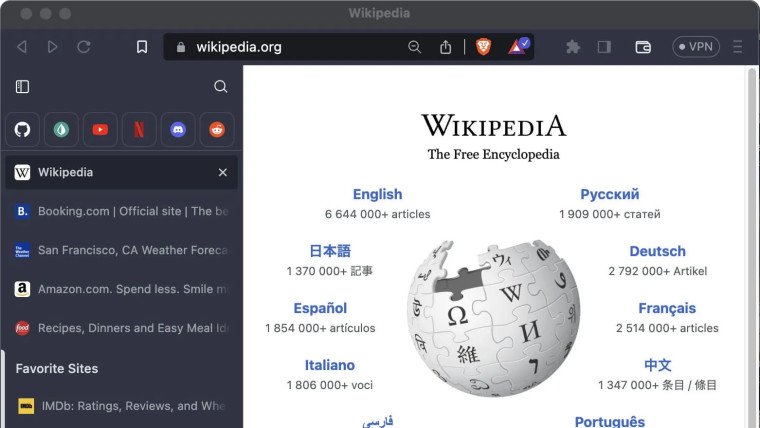 Brave Software has announced the availability of Brave 1.52, the latest version of its web browser. The update is available on Windows, macOS, and Linux and has vertical tabs as its main new feature, despite being unconventional, there are a few reasons to use vertical tabs.
The main reason to use vertical tabs is that they use screen space more effectively. With screens getting ever-wider, it's better to use vertical space rather than the more limited horizontal space.
Another benefit highlighted by Brave about vertical tabs is that as you open more horizontal tabs, they get squished and you can't read the text on the tab. With vertical tabs, however, they are in a list so the text is never cramped up to make room for additional tabs.
According to the Brave team, switching to vertical tabs can be a little bit daunting at first and requires a short adjustment period as you adapt to the new paradigm. Despite this, it said early testers liked the feature with one person saying:
"This, along with tab groups, should help me better organize my almost 300 tabs (!). Before, I used an extension called "Tab Manager Plus for Chrome" along with separating the tabs in multiple windows to keep things just enough organized to be usable. (yes I'm lazy I know). I was considering switching browsers, but thankfully now I won't have to do that."
By default, the vertical tabs pane will be on the left side of the browser. Your open tabs will be in a long list, with pinned tabs appearing above them. The keyboard shortcuts you're familiar with also stay the same.
If you don't want the tabs taking up too much room, you can click the vertical tabs button to collapse the panel so that just the favicons are visible. If you use grouped tabs, these work the same way and let you create, label, and colour code groups.
To get started with the feature, update to Brave 1.52 and then right-click on your tabs and at the bottom you should find Use Vertical Tabs, just hit that and you're ready to go.