Things are heating up in the browser arena lately, and there's been a lot of news to cover. This segment brings you the latest news about all web browsers.
Internet Explorer: Last week, on HitsLink, a browser tracking web site, it was shown that for the month of June, Internet Explorer began to gain market share -- it gained 0.57 percent, which seems small on paper but is a huge increase in users for a browser that has been losing popularity for years. Internet Explorer claimed this share back from Firefox, which dropped from 25 percent share to 24 percent. Apparently the browser is still used by "more than 6 out of 10 people" and IE8 is used by "more than one in four users on the Web", according to Ars Technica.
Microsoft also launched IE9 platform preview 3 at an event in San Francisco last week - the latest iteration boasts how the browser effectively beats the competition on speed, with videos being shown, as well as a download being offered. The new browser offers Direct X 9 and 10 integration and uses the GPU for acceleration -- the browser can render interactive content at a higher frame rate then other browsers, as shown off in the video on Windows Team Blog.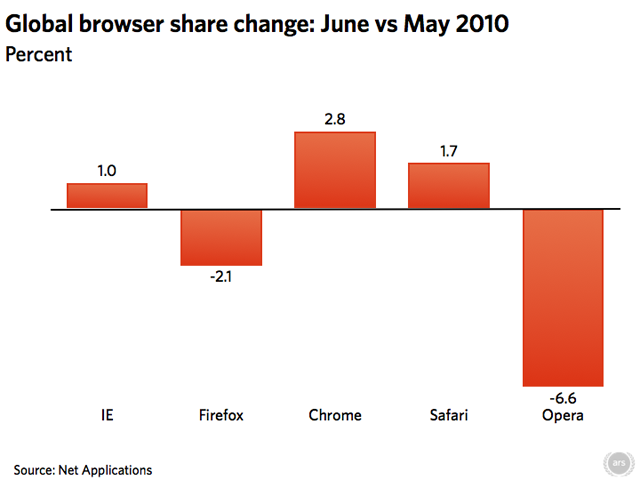 Google Chrome: Chrome has overtaken Safari for third place overall on a weekly basis, making it the number three browser, behind Internet Explorer and Mozilla Firefox, with 28.5 percent market share. Apparently, Google Chrome's been in third place for a while, but it's the first time in the U.S. that it's beaten Apple's Safari, Engadget reports.
A Google employee also said that Google is currently experimenting with web applications further in Google Chrome, with new builds offering web applications that load in the background with constantly updated data - in web applications such as GMail.
Mozilla Firefox: Mozilla announced today that Firefox has reached over 2 billion add ons downloads, with 60,000 add ons in the extension gallery online, according to Mashable. Mozilla Firefox 4.0 is well underway with a beta expected in the near future after the early "Beta 1" was released on Mozilla servers last week, and then pulled shortly after - Firefox 4.0 will feature large improvements with a new, faster JavaScript engine, HTML5 support, new themes for Windows/Mac/Linux and more.
Mozilla also submitted its iPhone application - "Firefox home" to Apple for approval recently, and is awaiting the go-ahead from Apple to begin offering its app on the iPhone store. The application simply syncs the user's history to their phone -- the history is synchronized from the Mozilla Sync add on (Formerly Mozilla Weave) on the desktop. When clicked it sends the user to the built in Safari client.
Opera: Version 10.6 has just landed, hot on the heels of 10.5 -- it features WebM support (the first browser in final version to support it) and faster JavaScript support. To try it out, head over to the Opera website here.