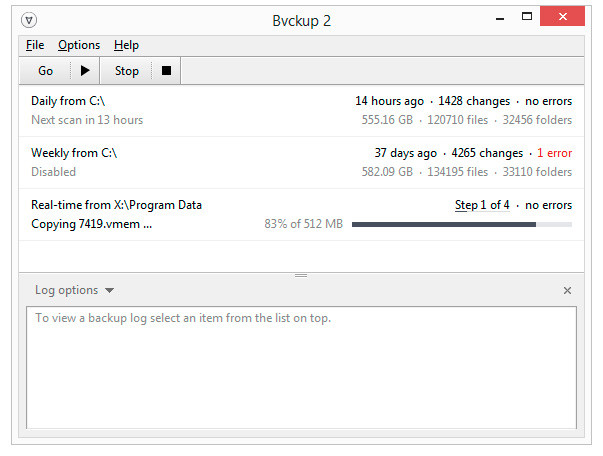 Bvckup 2 is a mirroring data backup software notable for its use of delta copying, speed of operation, small resource footprint and a "beautifully functional" user interface. The software replicates files from one location to another in their original format and purposefully does not include options for compressing or encrypting them. It does however include a comprehensive list of supporting features including periodic and real-time backup scheduling, removable device tracking and shadow copying support. Ideal for making local backups, backups going to external and removable drives as well as to NAS devices.
Bvckup 2 features:
Real-time, scheduled and manual backups
Very fast, delta file copying
Excellent user interface
Backup of locked files with shadow copying
Removable device tracking
Move/rename detection
Windows XP and newer
Full 64-bit support
Run-as-a-service mode
Symlink and junction support
Ownership, group and DACL copying
Fully asynchronous I/O
Multi-core processing where required
Optimized throughout for no run-time bloat
Software update notifications
Bvckup 2 Release 79.20 changelog:
Reworked monitoring of mapped network drives. First, drives that appear offline after program's start, but can be "resuscitated" with Windows' help are now correctly recognized as online after connection is re-established. This bit got broken in 79.18 with introduction of the new storage tracking module. Kudos to Greg for reporting the issue and helping with isolating it. Second, the engine now also detects network drives going offline, which is something it didn't do before at all.
Reworked reporting of ini/override warnings. In particular, this relates to reporting bad override entries on job's reload. As of this release, the engine tracks which configuration setting was picked up from which INI file and it will report this file when logging an INI warning. Kudos to Martin for running into this - https://bvckup2.com/support/forum/topic/971/6386
Added workaround for buggy SD card readers. SD card readers of certain vendor will for reasons unknown sometimes report that "the volume is not ready" when the volume is in fact A-OK. In other times they would refuse to report drive's geometry or partition information. The program can now tolerate this eccentric behavior.
Added workaround for strange 'sparse reparse' points. This is second workaround for an issue with bizarre reparse points surfacing in C:\Windows folder, always somehow attached to Sparse files. See https://bvckup2.com/support/forum/topic/1116 for details. The workaround itself is to treat a reparse point as a regular file IF its reparse tag is less than 0x00100000 (hex) and if it has a Sparse attribute set. This can be disable in job's settings if needed.
Cosmetic changes to the logs - tidied up messages here and there, removed extraneous line breaks, etc.
Download: Bvckup 2 Release 79.20 | 2.3 MB (Free trial, $19.95)
View: Bvckup 2 Home Page | Discounts
Get alerted to all of our Software updates on Twitter at @NeowinSoftware