Coming in at just over a thousand dollars, there's a lot that looks good about the Dell Inspiron 15 7591. That prices gets you a lot of performance with a 45W Intel Core i7-9750H and Nvidia's GTX 1050 graphics. And along with a big 15.6-inch FHD display, it has some expandability options.
That means that if you only have a thousand dollars to spend on a PC today, you can make it into a better PC tomorrow. It has open DIMM and M.2 slots, so you can easily pop in more memory and storage for a reasonably low price.
But even if you're not expanding it, this is a pretty great laptop. Read on for our review.
Specs
CPU
Intel Core i7-9750H (12MB cache, up to 4.5GHz, 6 cores)
GPU
NVIDIA GeForce GTX 1050 with 3GB GDDR5 graphics memory
Body
14.08x9.4x0.71-0.78in (357.56x238.84x17.94-19.9mm), 4.12lbs (1.871kg)
Display
15.6-inch FHD (1920x1080) anti-glare LED Backlight non-touch wide viewing angle display
Ports
(1) HDMI 2.0 out
(3) USB 3.1 Gen 1
(1) Thunderbolt 3 (DP/Power Delivery) Type-C
(1) 3.5mm Headphone/Microphone combination jack
(1) Power (4.5mm barrel)
MicroSD
Storage
512GB M.2 PCIe NVMe solid state drive
Memory
8GB, 8Gx1, DDR4, 2666MHz
Battery
6-Cell Battery, 97Whr (Integrated), 130W barrel charger
Audio
Stereo Speakers with Waves MaxxAudio Pro tuning
Integrated Dual Array Microphones
3.5mm Headphone/Microphone combination jack
Keyboard
Spill resistant, backlit, with 10-key numeric keypad
Connectivity
802.11ac 2x2 WiFi and Bluetooth 5.0
Windows Hello
Fingerprint sensor in power button
Material
Stamped aluminum
Color
Platinum Silver
OS
Windows 10 Home
Price
$1,050

There are a ton of configuration options on this laptop. First of all, it has a sort of sister laptop called the Inspiron 15 7590, which is a magnesium laptop that weighs in at just over three and a half pounds. Magnesium is undoubtedly a lighter material, but it also doesn't have the same expansion options as the aluminum 7591.
You can also have it configured with up to a Core i9-9880H, 16GB RAM, and you can get it with a 4K display.
Day one
Design
The Dell Inspiron 15 7591 looks pretty standard for a 15-inch laptop. It's got a big footprint, it's thick, and it's on the heavier side. Remember, this isn't the type of machine that's meant to be ultra-light or ultra-slim. If you want the same machine but lighter, take a look at the 7590.
The color is called Platinum Silver, and that about describes it. It's a silver aluminum laptop, which is pretty standard. The color won't dazzle anyone, but it still has the premium look and feel of an aluminum clamshell PC. The lid is stamped with a chrome Dell logo, giving it a little bit of flash.
Dell also included a new drop-hinge design, which is meant to lift up the PC for better ventilation. That can mean a real boost in performance on a PC like this, as a 45W processor with dedicated graphics can get hot. It's also a really well-designed hinge. One thing I worried about was that it wouldn't be sturdy enough, but the drop-hinge design was something that I didn't even have to think about.
Like any good mainstream laptop, it has a bunch of ports, and moreover, they're good ports. On the left side, there are two USB 3.1 Gen 1 Type-A ports, Thunderbolt 3, and HDMI 2.0. On the right, there's another USB 3.1 Gen 1 Type-A port, a 3.5mm combo audio jack, and a microSD slot.
What I mean when I say that they're "good ports" is that the HDMI is 2.0 instead of 1.4, and the USB Type-C port is Thunderbolt 3 instead of USB 3.1 Gen 1. These are frequent sacrifices in mainstream laptops. HDMI 2.0 can power a 4K display. Thunderbolt 3 can power up to two 4K screens, or even an external GPU. It goes with the whole idea of expandability for this laptop. The ports give you access to a wide range of external peripherals here, and I'm really glad Dell didn't compromise there.
There is a 4.5mm barrel charging port on the left side, which I could do without. Still, it comes with a 130W charger, and the only company that makes a 130W USB Type-C charger is, well, Dell. It requires proprietary technology though, so I can't hold it against the company to include the barrel charger.
The bottom panel can be removed with eight Philips-head screws. That will give you access to that open SODIMM and M.2 slots. And extra storage and memory isn't particularly expensive. You could go and spend an extra $100 or so on parts, and that will get you some serious upgrades.
Display and audio
The model that Dell sent me includes a 15.6-inch FHD non-touch display. The other option is a 500-nit UHD panel, so you can go for a higher resolution, but it will come at the cost of battery life. Keep in mind that this PC already uses power-hungry internals, so if you go for UHD, you'll have to keep a power cable ready.
For a 1080p 16:9 screen, it's alright. The colors look satisfactory for a matte screen, but it also has an excellent viewing angle. There's no visible color distortion when looking in at it from the side.
The screen has three-sided narrow bezels, maintaining the webcam on top. It's worth remembering that the Inspiron 7000 series is a step below the premium XPS series. So the bezels are a bit larger, but it still feels premium. I also really love the white bezels; it's something that you don't see every day.
It has Dell Cinema, which is a combination of CinemaColor, CinemaSound, and CinemaStream. CinemaColor with Dolby Vision is only on the UHD panel though, and CinemaSound is powered by Waves MaxxAudio Pro. The stereo speakers sound pretty great, at least as far as clarity goes. Volume is another story, as it's probably more on par with traditional laptops.
Keyboard and trackpad
I really like the keyboard on the Dell Inspiron 15 7591, more than I thought I would on a mainstream laptop. It's particularly quiet, which makes it feel a bit more premium. The keys are comfortable, with proper resistance for a keyboard of this depth.
It does have a numpad, which is great if you're into that sort of thing. Dell is able to fit that in because the Inspiron 15 7591 doesn't quite have the small footprint that an XPS 15 would have. Personally, I'm not a fan of it, but it's all a matter of personal preference. I like everything to be a bit more centered.
The same goes for the trackpad, which is aligned more to the left. It uses Microsoft Precision drivers, as any decent laptop should. What I like about it is that it's a little bit textured, rather than being completely smooth. It's not the first time I've seen this on a Dell Inspiron, and as strange as it sounds, it's one of my favorite features.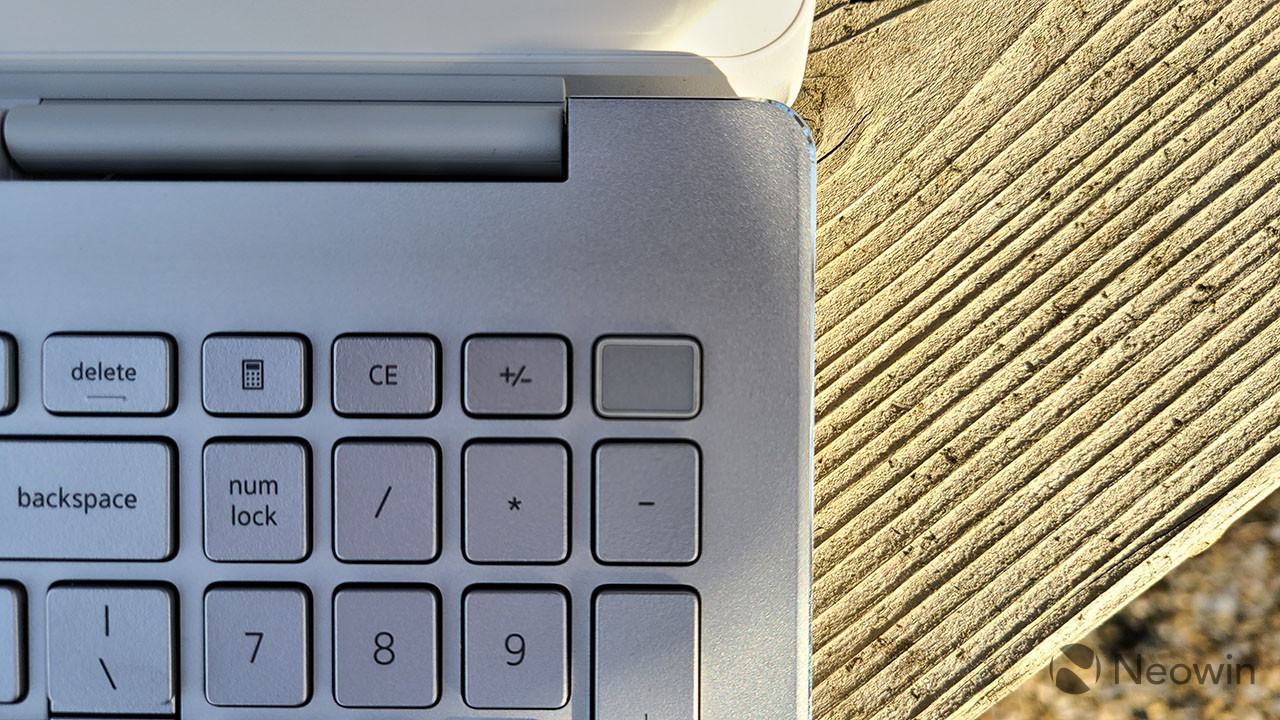 The power button is also included in the keyboard, and it doubles as a fingerprint sensor. As is the case with all Dell PCs, you have to scan your fingerprint after it boots up, rather than when you press it, which would be the case on a PC from Lenovo, LG, Huawei, and more. Dell claims this is a security issue, saying that you might walk away from your PC between when you press the button and when it boots up.
Dell Mobile Connect
I don't always talk about software in laptop reviews. After all, there's usually not much to talk about. They mostly run Windows 10, and almost no OEM ships bloatware anymore, other than antivirus software (Dell uses McAfee, and it's unacceptable).
But Dell has an app called Mobile Connect, and it deserves a special shout-out. Dell Mobile Connect lets you integrate your PC with your phone. This probably isn't anything special if you've got an Android phone, as there are a lot of integration solutions for Android, such as Microsoft's Your Phone, Google Messages on the Web, and so on.
But Dell's solution works with iOS as well. It's always let you send and receive texts from an iPhone, which is already more than what any other solution lets you do. But what's really impressive is that with the latest 3.0 update, it supports screen sharing and file transfer now.
Let me put it this way. If you use an iPhone, you should be using a Dell PC. I cannot emphasize this enough. If you've ever recorded a video with your iPhone and tried to transfer it to your Windows 10 PC, then you know how much of a pain point it can be. I've spent hours uploading a video to OneDrive just so it can sync to my PC. There's no easy way to just connect a cable from your phone to your PC to do it. There's no easy way to do it at all, except for Dell Mobile Connect.
We're talking about transferring photos and videos to and from your device at AirDrop speeds. It's wonderful, and it's the best integration between iOS and Windows 10 that I've ever seen. Yes, all of this stuff works with Android as well, but with the way that iOS is locked down, it's just more notable.
Performance and battery life
The configuration that Dell sent me includes an Intel Core i7-9750H, an Nvidia GeForce GTX 1050 with 3GB GDDR5, and 8GB RAM. That's a lot of power for $1,050, and there are a lot of options to upgrade, and you might want to take a look at some of them.
For one thing, you can get a GTX 1650 as your GPU option, which is much newer than a GTX 1050. It's up to you of course, depending on how much power you actually need. For CPU power, you can get a Core i9-9880H, so that's an option as well.
Personally, the one thing I'd recommend is more RAM. If you do go for 8GB, make sure it's only using one DIMM slot, so you have room to upgrade. I did a lot of photo editing on this laptop, and it did feel like it choked up at some points, where an extra 8GB RAM would have made a difference.
Battery life was surprisingly good, getting me a solid six hours of work. That probably doesn't sound like a lot, but consider that a 45W CPU and dedicated graphics use a considerable amount more power than the 15W power and integrated graphics that you'd find in an ultrabook.
For benchmarks, I used PCMark 8 and PCMark 10.
| | |
| --- | --- |
| PCMark 8: Home | PCMark 8: Creative |
| | |
| | |
| PCMark 8: Work | PCMark 10 |
| | |
| | |

The benchmarks reflect what you'd expect from a 45W CPU and mainstream dedicated graphics. As always, if gaming or video editing are your primary use case, you should be looking at specialized hardware for that.
Conclusion
The title on this review says it all. It's a lot of power for a little bit of money. There's a lot of value in this slightly more than thousand-dollar PC. And for a thousand dollars, it's really just a great overall PC.
I'd say the biggest downside is just how heavy it is at over four pounds, but if that's a deal-breaker, you can always sacrifice some expandability and get the Inspiron 15 7591's magnesium sibling. Other cons include the lack of an IR camera and mediocre color accuracy on the matte anti-glare display, although I assume that the Dolby Vision UHD panel is better.
But again, this is a great all-around device. It has the performance that you need, with the ability to add more parts as you need it. The keyboard and trackpad are solid, and it feels premium with its aluminum build and white bezels. It's something that's worth buying if you're only looking to spend around a thousand dollars, and you might need it for something more later on.
Pros
Value Expandability Keyboard and trackpad Performance Battery life
Cons
No IR camera Mediocre color accuracy Heavy