Earlier this year Elon Musk revealed some of the details of his ambitions to colonize Mars using the Interplanetary Transport System (ITS). This week he is attending the 68th International Astronautical Congress being held in Adelaide in Australia where he is expected to release more details about his Mars plans.
He has already released a simulation video that describes in more detail some of the phases and systems that the ITS would go through and use on its journey to Mars. Musk has said he will be showing off a new version of this simulation video, by the weekend, which will reveal some completely unexpected elements of the design and its applications.
The current 5-part simulation video follows the sketch plan outlined below but does give a number of details such as the interplanetary coasting speed of the ITS on its journey between Earth and Mars, which is around 100,000 km/h. But the video also shows space travelers wearing the recently unveiled SpaceX spacesuits and the ITS deploying a solar array during its cruise phase which will apparently generate 200 kW of power.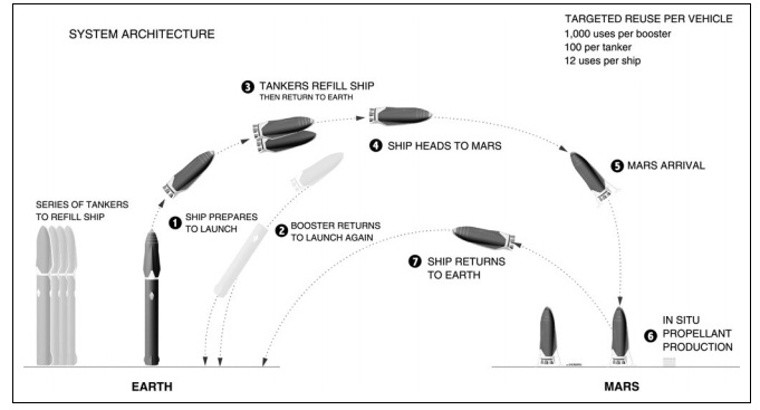 The Congress is already expecting Russia to sign up to the NASA-led Deep-Space Gateway a plan that is also supposed to be an important foundation in future Mars ambitions as well as Moon colonization plans. So, by the end of the 68th International Astronautical Congress, humanity may have some clearer outlines on when and how it might be spreading to other planets.
Source: Elon Musk on Instagram and Twitter |Images via IB Times and SpaceX