Last weekend was the Panorama Music Festival in New York City. HP invited me along to check out its experiences at the event, and it was pretty awesome. Naturally, I got to check out some shows as well.
What you see in the image above is the HP Lounge. Inside of that little building, there was a lot going on. For example, that line you see is for people to design their own custom water bottles. Indeed, the theme from HP was sustainability, so instead of buying plastic bottles of water from vendors, you could use your custom water bottle and refill it all day at the insanely hot event.
All of the water bottles were designed on Pavilion x360 laptops. You just drag your designs onto the canvas and color them in, and print it out onto a water bottle a few minutes later.
Inside of the HP Lounge, there are 'Blooming Digital Eden Flowers' hanging from the ceiling. Underneath them, there's an area where people can sit and relax, or program the flowers using ZBook x2 devices. You can program the lighting, the sequence, and more.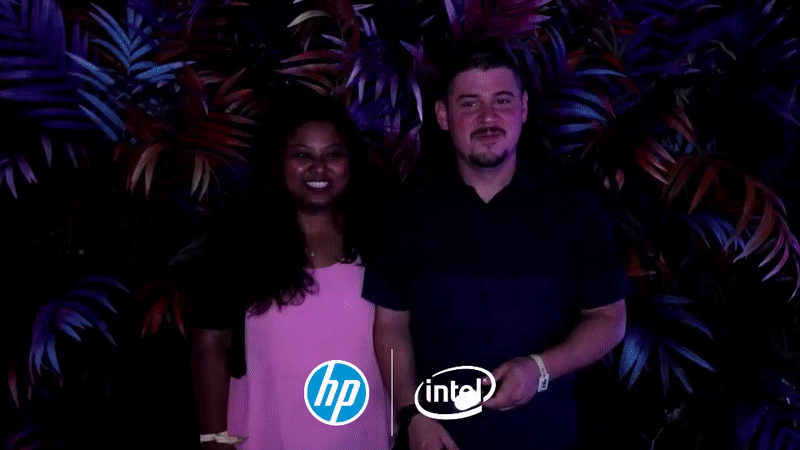 The last bit to be explored in the HP Lounge is Light Painting. The subject is handed a wand and told not to cover their face with it. I did not listen to instructions. After, you can edit your video on an HP Pavilion laptop and it will be sent to your email.
And then there's The Lab. Set up in a different section of the Randall's Island park, HP had all sorts of activations set up there.
Powered by an HP Z440 Workstation, the Pixel Vortex is a lot of fun. Inside of the inflatable structure, there are pretty much just balls bouncing around. Each seam in the interior is both an entrance and an exit, so it feels like you're sealed in.
In the center of the Pixel Vortex, there are sensors that you can put your hands on that will sense your 'aura'. It's capturing the temperature of your skin and electro-dermal activity, and then it takes your picture with colors based on its readings.
After your picture is taken, the artist can explain what your 'aura' means, and how the Aura camera system works.
Next up is the solar-powered Infinite Wild activation. This exhibit looks to be a set of LED strips, but the lights are actually reacting to the people inside. In fact, if you sit outside of it after it gets dark out and watch how the lights interact with the people inside of it, it's really cool.
Visage was an interesting experience, which basically consists of mapping a design on your face. What I found interesting was the hardware that was used. It combined an Xbox One Kinect, a Spectre x360, and an OMEN desktop PC.
It was pretty cool to see how the whole thing worked.
Another activation was called 360 Dome Content. This one hooked up Oculus VR headsets to HP desktop PCs, and you'd be on stage. The Panorama Music Festival had three different stages, and you could pick whichever one you want to experience, no matter what's going on. You could be in the middle of a concert, or in the middle of a crew settings up.
I did ask why HP wasn't using its own Windows Mixed Reality Headset instead of a third-party device, and I couldn't get an answer.
This structure is inspired by fractal geometry of Sierpinski icosahedrons. "It welcomes all to contemplate the humbling potential of their existence that occupies the here and now, and the infinitely large and infinitely small worlds that lie beyond their awareness, waiting to be discovered." It contains three pressure-sensitive LED floors, that play video content. Different effects are triggered by people stepping on the floors, and it's powered by an HP Z440 Workstation.
Finally, The Portal to Flatland is a light show, which is a bit weird at first. I was taken inside of a room to sit on a floor, not knowing what's coming next. Then, the show started, and after it, we were taken into a room with immersive movies.
The next section was in a 360 Dome, which is a "journey takes us through visuals which give us a perspective on how we manage the struggles encountered in life." This part was really cool, partially because it was air conditioned and took place in comfy chairs.
Ultimately, it was really cool to see the different experiences that HP had set up, and how its different products powered the different activations. The theme this year was nature and sustainability, and I can't wait to see what the firm has in store for the Panorama Music Festival next year.