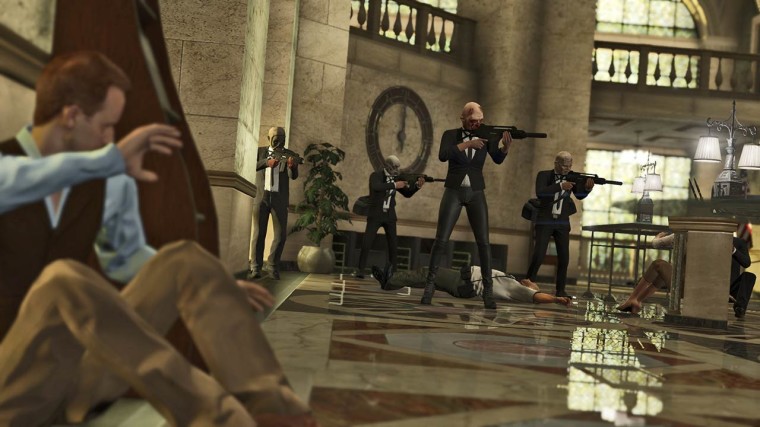 GTA V players will be able to plan, prepare and execute heists together from early next year. The co-operative Online Heists feature seems to have taken the developers at Rockstar a little longer than they had originally planned. The delay was due to the intricate multi-tier, multi-player interplay elements and the introduction of new vehicles, new weapons and new clothing. Online Heists will be a free update on all platforms; Xbox One, Xbox 360, PS4, PS3 and PC.
Giving further explanation of the delays, GTA Online producer and lead mission designer Imran Sarwar talked to IGN about the development of Online Heists. He admitted the concept was more difficult to build upon that had been originally thought. The key problem was that everyone involved in the heist needs to have a compelling stream of action in which they can partake or they will get bored. Also every member of the heist team really needs to play a vital role.
So a series of tiered preparation missions was devised for each Online Heist, where the four protagonists are fully engaged. "It took a ton of work from our programmers and mission designers to make it work at the level we were happy with," explained Sarwar. Overall, when released, Online Heists will provide "five unique strands involving over 20 total missions, which will add up to around 20 hours of gameplay". The finale to a heist is usually a big set-piece with each member of the team fulfilling multiple roles.
Before you begin a heist you will need a leader, who must own a high-end apartment with room for a planning board. The heist team can meet there and prepare. All four players are required to be rank 12 or above. Players will get rewards for completing heists, bonuses for completing the tasks in first person mode (PS4, Xbox One, or PC) and cash for achieving heist goals including timings, damage taken and accuracy.
It's great to see this work in progress but we don't have a concrete set date for GTA V Online Heists as yet, "coming early in 2015," is as near a schedule as we have for this free multiplayer online gameplay expansion.