If you want the type of laptop that will turn some heads, look no further than the new HP Spectre x360 13. This thing is visually stunning, and it seems to look better with each year.
The convertible PC has angled edges all around it now, and it has flat rear corners, with the power button on one of them and a Thunderbolt 3 port on another. It comes in Dark Ash Silver with Copper Luxe accents, and there's also a new Poseidon Blue color.
It's also just a great machine. It includes Intel's new Whiskey Lake processors, up to a 4K display, and there's also a switch for a privacy camera. Unlike competitor solutions, the switch disconnects the camera internally, so you're not stuck with awkward camera placement.
Specs
CPU
Intel Core i7-8565U (1.8 GHz base frequency, up to 4.6 GHz with Intel® Turbo Boost Technology, 8 MB cache, 4 cores)
GPU
Intel UHD Graphics 620
Body
12.16x8.58x0.57in, 2.92 pounds
Display
13.3" diagonal FHD IPS BrightView WLED-backlit multitouch-enabled edge-to-edge glass (1920 x 1080)
Storage
256GB PCIe NVMe M.2 SSD
RAM
8GB
Battery
4-cell, 61 Wh Li-ion
Ports
(2) Thunderbolt 3
(1) USB 3.1 Gen 2 Type-A
(1) 3.5mm combo audio
(1) Micro-SD
Audio
Quad speakers, Bang & Olufsen
Color
Dark Ash Silver with Copper Luxe accents
OS
Windows 10 Home
Price
$1,269.99

Day one
One thing that I always like about HP's Spectre x360 laptops is that they come with a leather sleeve for the PC. It's a nice touch, because even when you put the device in a bag, it protects it.
Design
Hands down, this is the most beautiful portable PC on the market, and the truth is that that matters. There are plenty of 'MacBook clones' on the market, which would be the silver aluminum devices that are so common. When I reviewed the Lenovo ThinkPad X1 Yoga with the OLED display back in 2017, I made reference to a Cadillac ad where Kate Walsh asked, "When you turn your car on, does it return the favor?"
The truth is that this sentiment should apply to all of the things we use, and that includes PCs. The beautiful design just feels good to look at, and it feels good to take out of a bag in a public place.
The Spectre x360 comes in two colors: Dark Ash Silver and Poseidon Blue. That means that there's no Natural Silver option anymore, which is a good thing. I just mentioned the MacBook clones; no one wants that basic silver color when there are prettier options available. Poseidon Blue is new, but Dark Ash Silver has been around for a while with its Copper Luxe accents.
Last year, HP started using angled edges around the hinges; now, they extend around the entire device. The two back corners are flat now. On the left side, you'll find the power button, and on the right side, there's a Thunderbolt 3 port.
This is a unique solution to a common annoyance. Most PCs have all of their charging ports on one side; Lenovo puts them on the left side, HP puts them on the right side, and so on. That means that you have cables in the way, especially if you use a mouse. Putting the charging port in the corner solves that, and you can also fold the display back without interfering with the cable, something you wouldn't be able to do if the port was on the back.
The power button in the corner seemed useless at first, but I'm a fan of it now. There's no more running my finger along the side of the machine to find the button. I always know where it is.
The actual port selection hasn't changed though, although it's upgraded. The lone USB Type-A port on the left side of the aluminum body is now USB 3.1 Gen 2 instead of Gen 1, meaning that it supports speeds of up to 10Gbps instead of 5Gbps.
On the right side, there's another Thunderbolt 3 port, which means you can get speeds of up to 40Gbps, you can connect it to two 4K monitors or one 5K monitor, and more. There's also a 3.5mm combo audio jack, a micro-SD slot, and a switch for the privacy camera.
On the inside of the device, you'll find that the top and bottom bezels are still pretty large, although HP did shrink them down a bit. It does keep the webcam above the screen, which is a good thing.
You'll also find a fingerprint sensor below the keyboard now, which was previously on the side of the device. You still get an IR camera for facial recognition though, so you have your choice in method of biometric authentication.
The one change that I don't like is that the volume rocker is gone now. Always included on HP convertibles, a physical volume rocker makes a lot of sense for a PC that can be used as a tablet, especially when Windows 10's touch controls aren't that great.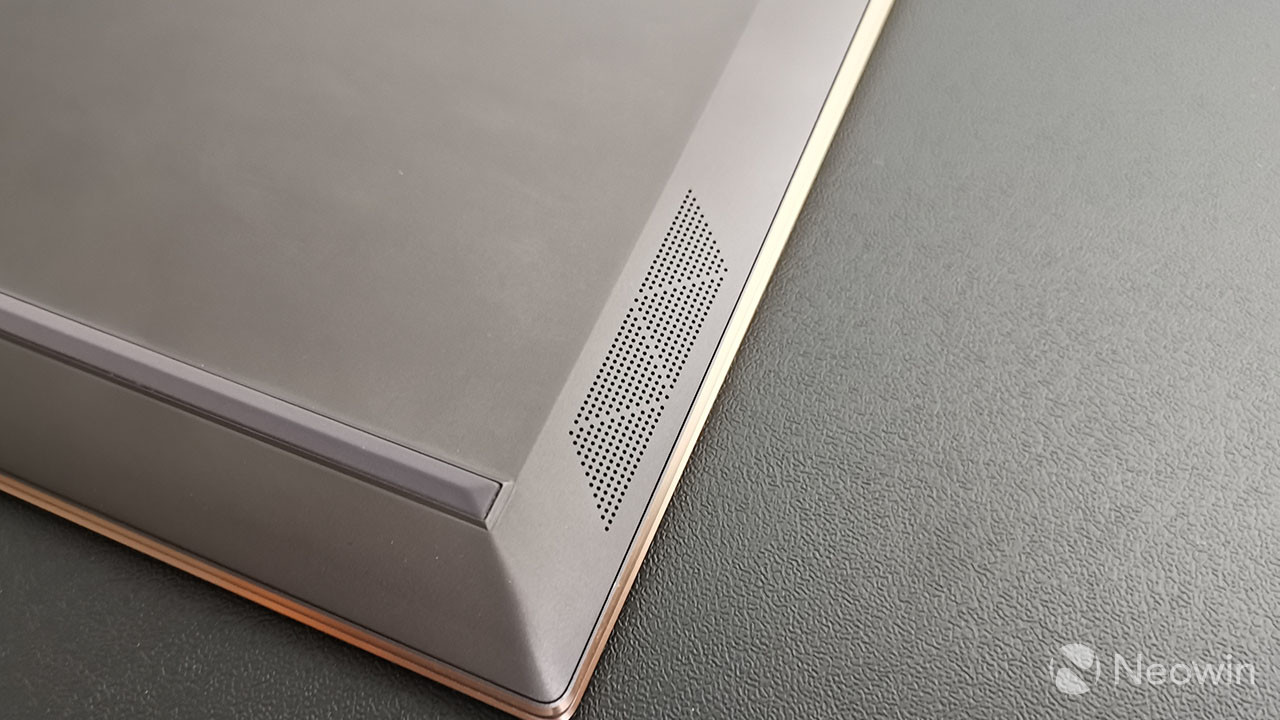 As always, the Spectre x360 13 has four speakers, with two above the keyboard and two underneath the device. The reason that two speakers exist under the PC is so those are actually facing you when you're using the convertible in different form factors. For example, when using it as a tablet, the speakers above the keyboard are facing away from you. All four speakers fire at once though, so it's not dependent on the form factor that you're using.
Display and pen
The HP Spectre x360 13 comes with three display configurations: 1080p, 1080p with Sure View, and 4K. The 13.3-inch screen on the model that HP sent me is the regular 1080p one, which is always a bummer because I'm a big Sure View fan.
Sure View is HP's privacy display. If you've got it turned on, anyone looking at your screen from an angle won't be able to see what you're working on, and it's pretty useful if you work in public places like Starbucks.
The Spectre x360 uses Sure View Gen2, so if you're looking from an angle, the screen looks white. Sure View Gen3 was launched at CES in some new EliteBooks, and that will look dark. Gen3 also supports 4K displays, so if you want 4K and Sure View, you'll have to wait at least until the next Spectre x360.
The screen itself is lovely as always, although it's very glossy. I'm kind of ruined by the HP EliteBook 1040 x360 G5, which has a matte display that's really comfortable to write on. In fact, that EliteBook is the closest I've seen a PC come to feeling like I'm writing on paper. The Spectre, like most other PCs, still feels like I'm writing on a glossy sheet of glass.
Personally, I think that if you're not going with Sure View, 4K is the better option. You can still see some pixelation at 1080p, although you do get better battery life.
Like I said earlier, the display does have large bezels on the top and bottom, with narrow bezels on the sides. I'd love to see them shrunken down for a more immersive experience, although it is what it is. Other manufacturers are managing to put a smaller webcam in a narrow top bezel, and I'd like to see HP do the same. I don't mind the chin as much, as it props up the display a bit more.
The pen that comes in the box is the standard one, which is powered by a AAAA battery. HP also sells its Tilt Pen, which is rechargeable via USB Type-C. It's definitely worth the additional investment if you use the pen at all.
Another thing about the pen is that there's no place to attach it to the PC. For example, HP's EliteBook x360 models let you attach it magnetically. With the Spectre, you just kind of have to carry the pen with you.
Keyboard and trackpad
Once again, I'm spoiled by the EliteBook, which has one of the best keyboards on the market. Don't get me wrong; the Spectre has a pretty great keyboard. To be honest, what I really want is the EliteBook but in the Spectre's chassis.
The Spectre x360 uses metal chiclet-style keys, which are accurate and comfortable. As far as keyboards in consumer laptops go, this is a good one. If you're looking for the best though, you'll want to look toward HP's newest 1000-series EliteBooks or Lenovo's ThinkPads, which are both made for businesses.
As I always point out, a great keyboard is something that I care about greatly, as I type for a living. I don't think that anyone is going to buy the Spectre and be disappointed by the keyboard, as it's still pretty great. It's a bit shallower than the EliteBook keyboard, and a bit noisier. But as I said, it's still comfortable, and it's still precise, and that's what's important.
I can't say the same about the trackpad. HP still uses the Synaptics drivers instead of the Precision drivers. This results in poorer performance. Also, some gestures don't work, and it gets annoying sometimes when you're used to using pretty much any other Windows device built since the Windows 8.1 era, some of which even come from HP. It's frustrating that HP hasn't moved to Precision in its premium Spectre lineup.
Privacy camera
There's not much to say about it, but HP's privacy camera solution gets its own section in this review just because it's such a unique and great solution. It uses a simple switch on the side of the PC.
Let's first talk about some other solutions though. Huawei puts its camera in the keyboard on its MateBook X Pro. You press the key and the camera pops up. While effective, it makes for a very awkward camera angle.
On its ThinkPads, Lenovo puts a physical switch over the camera to block it. The only problem with this, at least for the first generation of ThinkShutter, is that it didn't work with an IR camera. So you could have facial recognition in your ThinkPad or ThinkShutter, but you couldn't have both. That was fixed with this year's models.
But with the Spectre x360 13, the switch is internally disconnecting the camera. While it appears to be a software thing, it's not. Once you flip the switch off, you can go to the Device Manager and you won't even see the drivers for the webcam or the IR camera. The reason that I like this solution so much is because it's effective without compromises.
Performance and battery life
The HP Spectre x360 13 uses an Intel Core i7-8565U CPU with integrated graphics. The chip is from Intel's Whiskey Lake family, the second round of eighth-generation U-series processors. It's a quad-core chip with eight threads and a 15W TDP.
In other words, it's pretty much par for the course. It's a minor upgrade from the Core i7-8550U that was in the last model. For those unfamiliar, the '8' in the model number means it's eighth-generation, but that one is Kaby Lake R, the first round of eighth-gen chips that was more or less the same as the seventh generation, but with double the cores.
As far as real-world performance goes, it does exactly what you'd expect it to do in a premium device of this form factor. Productivity applications fly, and if you're like me and most of your work goes through the browser, it does great. For GPU-intensive tasks, that's not quite the case. If you're going to be doing photo and video editing a lot, you'll want to take a look at the 15-inch model, which includes a 45W hexa-core CPU and an Nvidia GeForce GTX 1050 Ti GPU. HP should be sending me that one next, so I'll be doing a lot of video editing with that.
You can, however, do video editing and the like with the 13-inch model if you're in a pinch. For example, I do most of my work on a desktop, but when I'm out and about and I need to do some "creator" stuff, the Spectre can handle the job. But if that's your primary use, look for the dedicated graphics in the 15-inch model.
Battery life is another area where the Spectre x360 excels. As usual, I test it with real-world usage, and the real test is if it can make it through an eight-hour workday. I can say that there's a chance that you can make it through two workdays, although you might not want to push it. The cool thing about it is that you can leave in the morning without your charger, and get home late at night without ever worrying about if your laptop is going to make it. It's definitely some of the best battery life that I've seen on an Intel-powered laptop.
Of course, HP sent me a very battery-efficient model. It won't do as well if you have it configured with the Sure View display, 4K, or the gigabit 4G LTE option.
For benchmarks, I used PCMark 8 and PCMark 10. PCMark 8 provides three tests: Home, Creative, and Work. First up is Home, which checks common tasks like video chat, web browsing, casual gaming, and more.
You can see that the Spectre x360 does pretty well, and this is all par for the course for a Whiskey Lake ultrabook. Next up is the Creative test, which checks more GPU-intensive tasks like video editing and mainstream gaming.
Here's what I was saying about things like video editing. You absolutely can do it on this machine, but it will be better on something with a dedicated GPU. Finally, the Work test checks productivity-related tasks like writing and spreadsheets.

The Work test is where the Spectre really excels, and that's not surprising, given that that's what this machine was engineered for. Finally, PCMark 10 has an all-in-one test.
Conclusion
HP's Spectre lineup has always been among the best of the best. That's no different this year. Always one of the sexiest PCs on the market, it's even more beautiful this year, with its angular edges all around. It's functional too, as the placement of the charging port is smart, allowing you to be free of cables getting in your way while still allowing you to fold back the display.
I only have two real complaints. One is the trackpad. Everyone else is using Microsoft's Precision trackpad drivers now, and it's time that HP does the same. It's far better than Synaptics drivers. My other complaint is that there's no easy way to attach the pen to the PC.
But this really is a lovely device. The privacy camera is another smart implementation from HP, effective and without compromises. And of course, it has the performance that we've come to expect, with Intel's latest Whiskey Lake processors.
The model that HP sent me includes the Core i7, 8GB RAM, 256GB of onboard storage, and the 1080p display. Personally, I'd recommend upgrading to the Sure View option, or 4K if you're into that. There's also an option for gigabit 4G LTE. I guess I'm saying that I'd recommend speccing it out with the i7, 16GB RAM, a 512GB SSD, 1080p with Sure View or 4K, and 4G LTE. But either way, it's really a wonderful machine that I never get tired of using, because I never get tired of looking at it.
Spectre x360 13 Late 2018
Pros
Absolutely beautiful Functional design Performance Privacy camera Nice display and keyboard
Cons
No Precision trackpad No way to attach the pen No volume rocker