It has been two years since the launch of OnePlus, and while the company has nailed creating hype and demand for its products, it has yet to master the most important part of running a long and successful business - customer service. Despite its shortcomings, OnePlus has launched not one, but two handsets this year - the OnePlus 2 and more recently, the OnePlus X.
OnePlus gained a lot of attention for releasing the 'One' in 2014, a handset that offered top-notch specs for a fraction of the cost of its competitors. The OnePlus X is a different kind of offering, one that still hinges a portion of its appeal on pricing, but is more focused on the quality of the physical experience. For this reason, OnePlus has outfitted the 'X' with specifications that are a bit peculiar, and although not the drabbest, it does tend to raise questions.
Specifications
The X is outfitted with a Snapdragon 801 (you read that right: eight-zero-one), 3GB RAM, a 13MP rear shooter, 8MP front-facing, a 2525mAh battery and the usual array of radios for Wi-Fi and Bluetooth. For those that want the full specifications, I've listed them below.
5-inch AMOLED with Full HD (1920x1080) display and Corning Gorilla Glass 3
Qualcomm Snapdragon 801 processor (Quad-core 2.3GHz)
3GB RAM LPDDR3
16GB onboard storage with microSD card support up to 128GB
13MP rear camera with 1080p video recording / slow-motion 120 fps video capture at 720p
8MP front-facing camera
Wi-Fi 802.11 b/g/n
Bluetooth 4.0
Dual nanoSIM
2525mAh LiPo battery
Oxygen OS (based on Android 5.1.1 Lollipop)
140 x 69 x 6.9mm; 138g (Onyx), 160g (Ceramic)
What you might notice missing from the specification list above, is the the inclusion of a fingerprint reader and NFC. While it's understandable that these popular items might not make their way into a mid-tier device, it would have been nice to see their inclusion, considering they are slowly becoming staples for handsets released in 2015.
Design / Display
It's clear from marketing and promotional materials that OnePlus is proud and excited about the X's creation process. You can sample a bit of this at OnePlus' official website for the X, where they dedicate a majority of the literature to the devices conception, creation and construction. It won't win any awards for originality, but there is no denying that the X is a beautiful device. Although there are limited-edition variants that are clad in ceramic or dark glass onyx, we have the standard edition in white, that offers a smooth glass back panel.
The front display utilizes Corning's Gorilla Glass 3, which for the most part should help you avoid scratches. The corners of the display are soft and rounded, allowing the glass to gracefully meld into the chamfered edges of the body that is made from brushed anodized aluminum. The OnePlus X has a brilliant 1080p AMOLED display that offers deep blacks, colors that pop, and crisp images. The viewing angles are great with minimal washout occurring under direct sunlight. While some might be clamoring for 4K in 2015, the battery impact on the X would be severe, and moreover it would be completely unnecessary.
As a whole, the X exudes quality when held in hand, and has a good weight. But, it does feel a bit odd to hold, due to the slick consistency of the glass screen and back panel. If you are prone to dropping your device, I would recommend a case for the X, as I don't think the construction would be so forgiving.
Software
After a dispute and a falling out with Cyanogen, OnePlus was forced to create its own Android variant, OxygenOS. The OS was made available in early 2015 and has been a staple on its handsets ever since. OnePlus was wise in its approach, opting to keep customizations to a minimum, and for the most part, OxygenOS attempts to remain as true to stock Android as possible.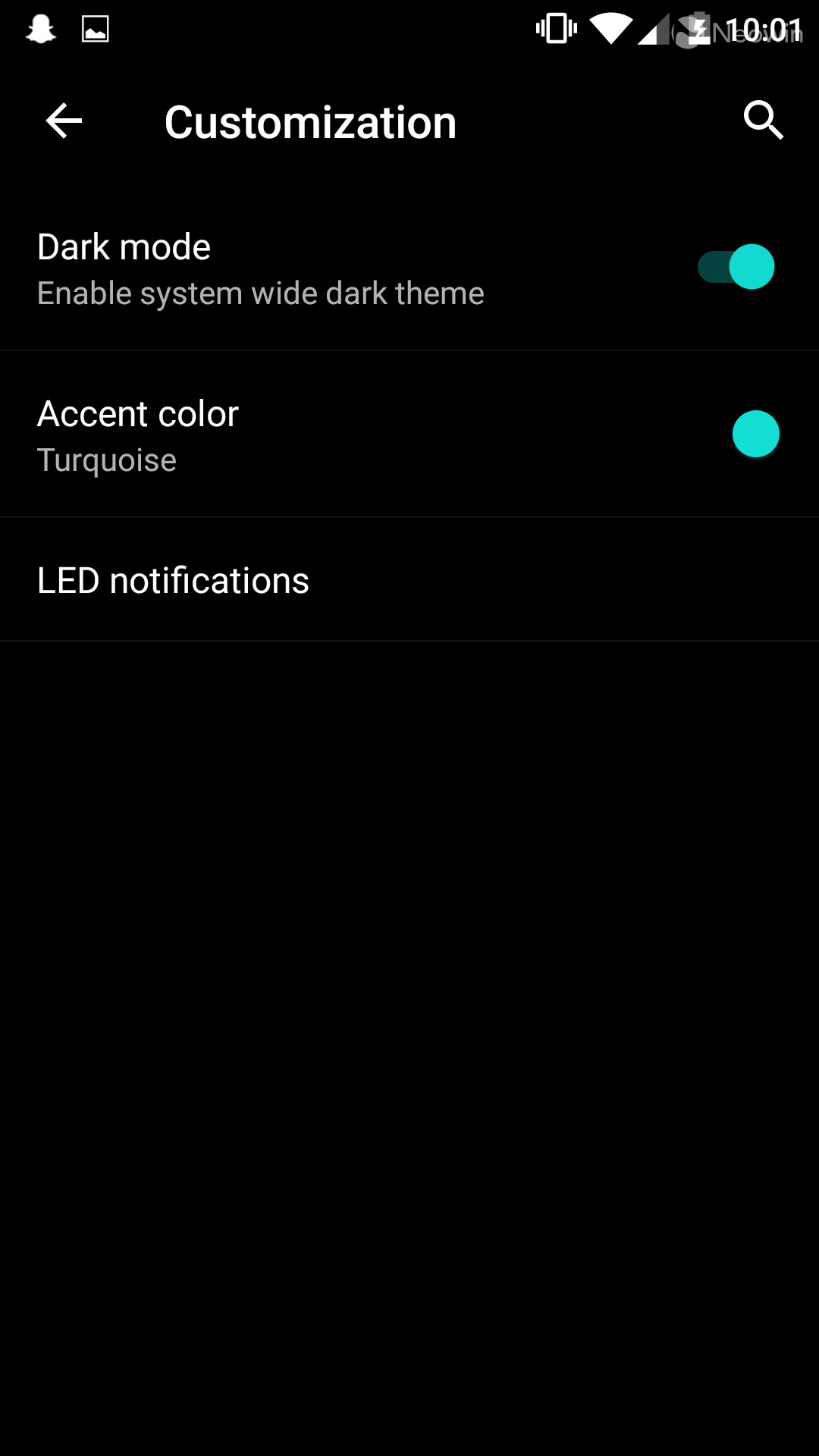 When you dive into the OS, you are met with your standard Android options. But, when you start deep diving into the settings menu, that's where you will find the welcome tweaks from OnePlus. Some of these include gesture controls (double tap to wake screen), setting up the ambient display, and proximity wake. There is even an area that will allow you to customize how apps operate and what they have access to. Some enhancements are simply more for the aesthetic, allowing you to enable a 'dark mode' and customizing the color accents in the theme.
Overall, the OS is fluid, with small tweaks here and there, elevating the customizability and experience of Android. While I'm not the pickiest user, there is one little 'customization' that irked the experience, and that was the persistent Google Search bar on the main home screen. Unfortunately, there is no way to remove this widget, but it is possible to disable it via the apps list. When it comes to Android, OxygenOS offers a good experience, with some options and not a lot of clutter.
Performance
Per usual, I've thrown up the numbers for clarity. In day-to-day use, the OnePlus X feels smooth and is a pleasure to use. While it isn't the fastest handset by any means, it should pack just enough punch to keep most satisfied.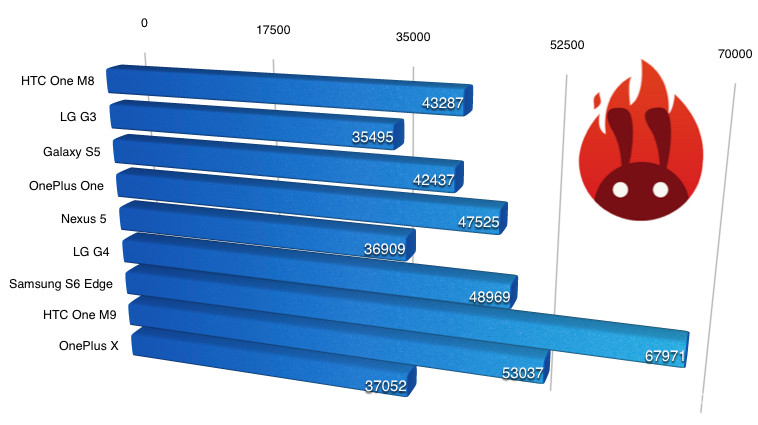 This doesn't mean that the OnePlus X is without its issues. For those in the United States that rely on T-Mobile or AT&T for service, the X is lacking certain LTE bands (T-Mobile: Band 12 / AT&T: Band 17) that could make achieving smooth Internet speeds a bit of an issue. A majority of the time, I experienced a reasonable speed, but did notice that web pages took a bit longer to load compared to a fully compatible LTE handset. Typically, in the Los Angeles area, I was able to achieve around 3-6Mbps, with the rare occasion topping out at 15Mbps. For those that rely on Wi-Fi, the best that the X can provide is 2.4Ghz b/g/n. This isn't a huge issue, browsing via Wi-Fi was zippy, but some might clamor for 5GHz / ac, which won't be found on the X.
Camera
The camera has become an intrinsic part of the mobile experience and as the consumer has evolved, so have the expectations. The OnePlus X offers a 13MP f/2.2 camera with phase detection autofocus and ISOCELL technology for more accurate pictures in low light. Unfortunately, all of these things do not combine to produce consistent and excellent photos or videos.
For the most part, during the day or in extremely well lit areas, the camera performed well, but did not produce results that were stellar. As lighting decreased and the environment became less optimal, so did the quality of the images and video. The slow shutter speed in lowlight doesn't shatter the experience, but it does make it difficult to capture consistent photos. It's one thing to have a certain expected experience every time, you can learn to adapt, but with the X and its inconsistencies, it's hard to trust the camera for day-to-day use.
Battery Life
The battery of the OnePlus X can last you a full day, but you'll typically get about 12 hours of use on a single charge from the 2,525mAh battery. Luckily, the X utilizes the more common microUSB port, but since it does not support Quick Charge technology, you will be required to leave your handset plugged in for at least a couple of hours.
Conclusion
The OnePlus X is a beautiful and well crafted handset, but after a bit of use, it becomes blatantly obvious that OnePlus is using the aesthetic to mask the handset's glaring faults. For the most part, the Snapdragon 801 and 3GB of RAM is more than capable of handling day-to-day tasks. It obviously isn't going to match a powerhouse running a Snapdragon 808 / 810 or equivalent, but the 801 is still more than capable in 2015.
When it comes to the camera, the experience is a bit under whelming in both image quality and experience. The lack of OIS is a glaring omission that manifests itself in low light, and as mentioned previously, in less than optimal settings. While minor compensations can be made to enhance images (lack of manual mode), video is another matter, with shaky results becoming the norm.
As for hardware, it's tough to fault the OnePlus X. This is where the handset excels in almost every aspect. The design might be a bit bland to some, but the quality and material is undoubtedly top notch. There is a minor quibble though, and this is due to the fact that the bottom capacitive buttons do not illuminate. But, this isn't too much of an issue once you become acclimated to the setup and positioning.
As for issues, the OnePlus X does have a minor problem with an inconsistent ambient light sensor. While not often, the brightness of LCD would either remain extremely bright or dim, with the sensor not adjusting properly for the environment. While a bit embarrassing, this only occurred occasionally. As for what's missing, NFC and a fingerprint scanner. While I understand that this is a $250 device, these two items (for me) are simply a must in 2015. Although fingerprint scanners are still reserved for top-tier devices, the lack of NFC is inexcusable.
While the OnePlus X has its faults, for the price, it's a reasonable purchase. Unfortunately, unlike every other (there could be others, but I doubt it) handset in the world, if you want to purchase one, you'll be at the mercy of OnePlus' invite system. We've covered the problems with this system before and ultimately is a huge let down for consumers who just want to make a purchase.
I'd like to extend a big 'Thank You' to the folks at Geekbuying who supplied the OnePlus X for this review. If you are interested in purchasing this device, you can pick it up from Geekbuying. You can also check out more at OnePlus' official product page.
Pros
price screen build quality
Cons
lack of NFC / LTE bands camera invite only purchase
Release
Nov. 2015 (Invite on