Back in May, Lenovo announced that it's expanding its Think business brand with ThinkBook, starting with the ThinkBook 13s and 14s. Aimed at small- to medium-size businesses (SMBs), it's a business laptop that doesn't have any of the hallmark features of a ThinkPad.
That means that there's no TrackPoint, there are no physical buttons above the trackpad, and it's made out of aluminum. It's like Lenovo wanted to reThink (pun intended) its commercial laptops without abandoning the strong following that the ThinkPad brand has.
And I have to say, I kind of love it. As much as I do love ThinkPads, there's something about the ThinkBook 13s that's just nice. The branding on the lid looks clean and sophisticated, and it really feels like it has a solid build quality while still weighing only 2.9 pounds.
Specs
CPU
Intel Core i5-8265U (1.6 GHz)
GPU
Intel UHD Graphics 620
Body
12.11x8.52x0.63" (307.6x216.4x15.9mm) 2.9lbs (1.32kg)
Display
13.3" FHD (1920x1080) IPS 300 nits Anti-glare
Ports
(2) USB 3.1 Gen 1 Type-A (one w/Always On)
(1) USB 3.1 Gen 2 Type-C (w/the function of DisplayPort)
(1) HDMI 1.4b
(1) Headphone/Microphone Combo Jack
(1) AC Power Adapter Jack
RAM
8GB (DDR4 2400MHz)
Storage
256GB SSD M.2 2242 PCIe NVMe
Battery
45Wh, Li-on
Keyboard
6-row, spill-resistant, multimedia Fn keys, LED backlight
Audio
2W x 2 Harman Speakers with Dolby Audio, Skype for Business certified dual array integrated digital microphone
Security features
Fingerprint reader integrated on Power Button, Discrete TPM 2.0, Power-on password, hard disk password, supervisor password, FIDO (Fast Identity Online)
Material
Aluminum
Color
Mineral Gray
OS
Windows 10 Home
Price
$832.54

This PC only comes in four configurations, with the top-end model including a Core i7-8565U, 16GB RAM, and a 512GB SSD. Pricing tends to fluctuate on Lenovo.com, but that one is currently going for $1,154.63.
Day one
Design
I really like the design of the ThinkBook 13s. It feels clean and solid, and it feels like Lenovo put a lot of thought into its new idea for the Think lineup. Made of aluminum, the color is called Mineral Gray, so it's not just another silver aluminum laptop, which the market has plenty of.
The bottom-right corner of the lid shows the new ThinkBook logo, with the Lenovo logo on the top-left. I was a bit surprised to see the Lenovo logo there, since that's been removed from all ThinkPads. It doesn't have a lot of curves, with flat sides and angled edges. It weighs in at 2.9 pounds, so it's light, but it still feels solid.
It's also got a pretty small footprint at 12.11x8.52 inches, and it's only 0.63 inches thick. That makes it pretty easy to carry around and to store. Lenovo also says that it's durable, not citing any MIL-STD-810G testing like it would with ThinkPads. It does, however, have anti-spill protection for up to 60cc of water, and it can handle extreme temperatures and vibrations.
As far as ports go, Lenovo offers a wide selection, as should be the case for any business laptop. On the right side, you'll find two USB 3.1 Gen 1 Type-A ports, one of which is always on. That way, you can use that port to charge your phone or something.
On the left side, there's a USB 3.1 Gen 2 Type-C port, HDMI 1.4b, a 3.5mm combo audio jack, and a power port. Yes, it includes Lenovo's USB Type-A-shaped power port, along with a 65W charger. At some point, you'll try to plug that cable into a USB Type-A port, or you'll try to plug a USB Type-A cable into the power port. This is something that just happens.
The bad news is that you can't charge via the USB Type-C port. For some reason, Lenovo made a strong choice by including the 10Gbps USB 3.1 Gen 2 instead of the 5Gbps Gen 1, but it didn't include charging support in the port. This is probably my biggest complaint about the ThinkBook 13s. Pretty much all of Lenovo's ThinkPads have ditched the legacy charger at this point, even the most inexpensive ones, so it's tough to make the argument that businesses need the legacy support.
Display
The Lenovo ThinkBook 13s includes a 13.3-inch 1080p display, which does not support touch. Whichever configuration you choose, that's the screen that you get. It's worth noting, in fact, that you can't customize your configuration. There are just the four options.
It's a matte anti-glare display, which is good for using it outdoors. All of the images for this review were shot outdoors, and as you can see, the display is still clearly visible, with adorable dogs. It doesn't have the most vibrant colors, but it's fine. And to be clear, that's how I'd describe this display: fine. Not having vibrant colors (I still wouldn't call it washed out) is common in matte screens, so you make a bit of a compromise. It's not the prettiest, but you don't get a glare.
The screen has narrow bezels on the sides, with a larger bezel on top to fit the webcam. The webcam also has a ThinkShutter privacy guard, a mechanical switch that blocks the camera. If you're someone that usually puts tape over the webcam, this feature is for you. There's no IR camera for facial recognition, which is fine given how great the fingerprint sensor is.
As far as audio quality goes, it's not great. It does have a subtle tinny sound, and being that the dual 2W speakers are placed on the bottom of the PC, it doesn't get that loud. Make no mistake, these speakers aren't terrible by any means, but with the emerging focus on audio in many Dolby Atmos PCs over the last couple of years, I do feel like the audio experience on the ThinkBook 13s could be better. Like the display, we can just call the audio quality 'fine'.
Keyboard and trackpad
One experience that Lenovo brought over from ThinkPads is a magnificent backlit keyboard. Of course, it's not the same keyboard. There's no TrackPoint in the middle of it, and the keys are shallower. But it's still remarkable comfortable to type on, and it's perfectly accurate.
Rather than the bells and whistles of a ThinkPad keyboard, this one appears to be pretty standard. It looks just like any other keyboard. One thing that's different is that it has hot keys for making and hanging up Skype calls.
To the top-right of the keyboard is the power button, which includes a fingerprint sensor. Like I've seen in laptops from Huawei and LG, it scans your fingerprint when you boot it up, so you don't have to press it again after it boots. Other companies, like Dell, make you scan your finger again citing a security risk. Dell's idea is that you could press the power button and then walk away from your PC.
But the ThinkBook 13s boots up impossibly fast. No really, it's weird. From pressing the power button to the desktop, it takes under 10 seconds. One thing that was a bit irritating is that it seems like the power button/fingerprint reader takes a bit too much force to work.
The Mylar trackpad uses Microsoft Precision drivers, which means that the performance is good and it supports all of the gestures that you're used to. And Lenovo makes use of the space below the keyboard, fitting in the largest trackpad that it could.
I do kind of miss the physical buttons on ThinkPads though. I always appreciate those for dragging and dropping things without using a mouse.
Performance
The model that Lenovo sent me includes an Intel Core i5-8265U, 8GB RAM, and a 256GB SSD. The only other option for the CPU is a Core i7-8565U, so there are no vPro options, and it also can come with 16GB RAM. The CPUs are from the Whiskey Lake family, so they have four cores, eight threads, and a 15W TDP.
I have to say, this thing is fast, considering that it only has a Core i5 and 8GB RAM. Like I mentioned in the previous section, it boots up wildly fast. You can get to the lock screen in under eight seconds, and to the desktop in under 10 seconds.
That's all you really need to know; the rest is pretty standard for a laptop with a U-series processor and integrated graphics. That means that it's great for all of your productivity needs, and if you're looking to edit video regularly, get something with dedicated graphics. It can handle heavy tasks, of course, but it will choke up at times.
My normal work flow is to work through Google Chrome, with apps like Skype, Slack, OneNote, and Microsoft To-Do open at the same time. The ThinkBook 13s flies under those conditions.
As far as battery life goes, it's pretty good. I streamed 1080p Netflix video for almost nine hours straight. As for real-world usage though, you're looking at about six hours. Unfortunately, you do need that proprietary Lenovo charger to charge it up, so you can't just borrow a colleague's USB Type-C charger.
For benchmarks, I used PCMark 8 and PCMark 10, as usual. PCMark 8 provides three tests: Home, Creative, and Work. First up is the Home test, which checks common things like web browsing, video chat, and more.
As you can see, the ThinkBook 13s scored better than 61% of other results, which is about what I'd expect from this laptop. Next up is the Creative test, which checks GPU-intensive things like mainstream gaming and video editing.
Once again, the scores are right on par with where they should be. Finally, the Work test checks productivity-related tasks like writing and spreadsheets.
The Work test comes in at better than 88% of results. This is, again, right where I'd expect it to be. Personally, I think this is the most important test, because this is the type of thing that you'll be using the ThinkBook 13s for.
I also ran the all-in-one test in PCMark 10, just for those that like to keep score.
Conclusion
The Lenovo ThinkBook 13s is a laptop that I thoroughly enjoyed, and it seems like it's a perfect laptop to hand out to a team in an SMB. My biggest issues with it are that there's no USB Type-C charging and that the audio is just OK. The good news about the charger though, is that if you hand them out to a team, you've got a bunch of these chargers lying around.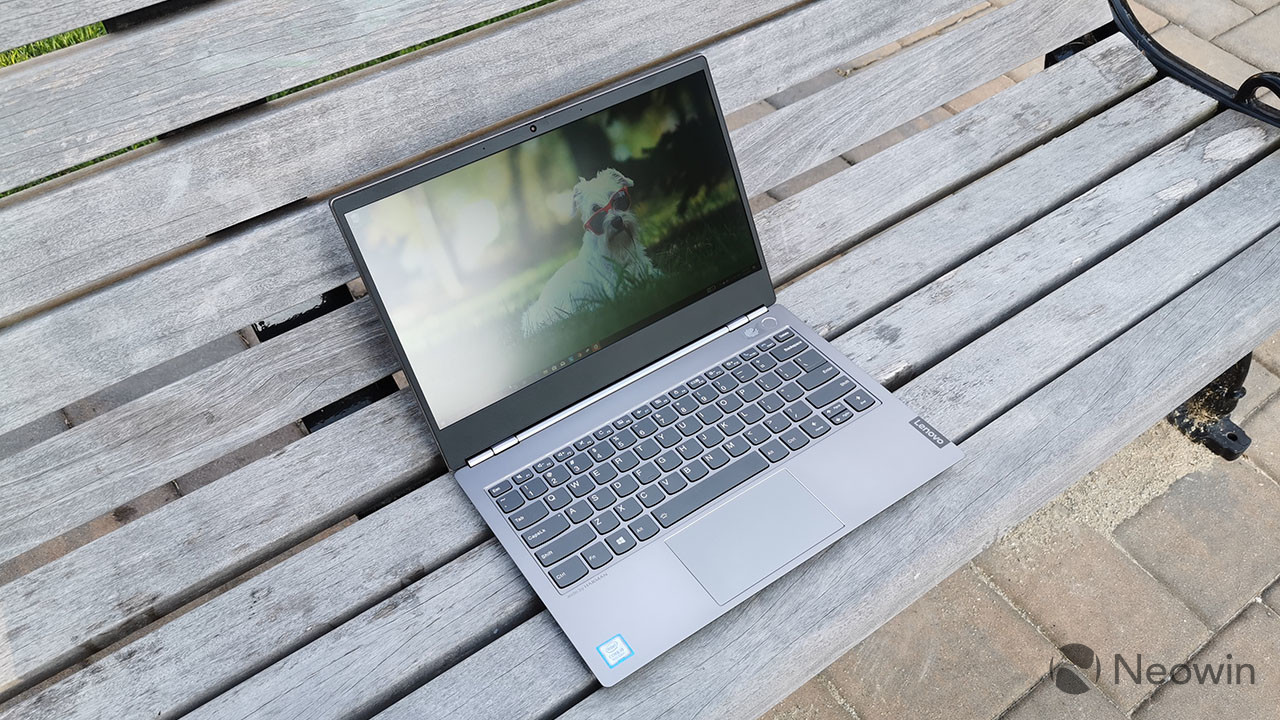 It's just a laptop that feels good to use. The build quality feels solid without weighing it down. The design is sophisticated to where it looks stylish but it's not too flashy. And it just has a magnificent keyboard, along with great performance and solid battery life.
And with all of that, it really doesn't break the bank. When I looked up the price for this review, the model that Lenovo sent me cost $832.54, although when I did my unboxing video, it was only $656.57. As I mentioned earlier, the pricing fluctuates on Lenovo.com, and there are a lot of deals. You can check it out here.
Pros
Design Keyboard Performance Fingerprint sensor Price/value Battery life
Cons
No USB Type-C charging Subpar audio quality