Announced at what would have been Mobile World Congress, LG's V60 ThinQ 5G has a bunch of improvements over its predecessor. However, the big focus is once again on the Dual Screen aspect of it, which is now in its third generation.
The concept hasn't changed much. The second-screen hardware is still the exact same panel as the main screen, right down to the notch. LG has made some real, meaningful improvements though. There are more apps that can span both screens, for example, and that includes Google apps. You can also use third-party launchers with the second screen now, something that was a real pain point for me with the G8X.
As for the phone itself, the internals have been upgraded to a Snapdragon 865, and that also means that it comes with 5G. Of course, the V50 ThinQ was one of the first 5G phones ever, but the 5G landscape has evolved since then. That chipset also unlocks new camera features, such as a higher resolution and 8K video.
Specs
| | |
| --- | --- |
| CPU | Octa-core Snapdragon 865, 2.84GHz, tri-core 2.42GHz, quad-core 1.8GHz Kryo 585 |
| GPU | Adreno 650 |
| Body | 169.3x77.6x8.9mm (6.67x3.06x0.35in), 218g (7.69oz) |
| Display | 6.8 inches, 1080x2460, 395ppi, P-OLED, HDR10+ |
| Camera | 64MP + 13MP (ultra-wide) + 0.3MP (TOF), Front - 10MP |
| Aperture | f/1.8 + f/1.9 + f/1.4, Front - f/1.9 |
| Video | 8K - 24fps, 4K - 60fps, Front - 4K - 60fps |
| Storage | 128GB UFS 2.1, microSD |
| RAM | 8GB |
| Battery | 5000mAh |
| OS | Android 10 |
| Colors | Classy Blue, Classy White |
| Price | $799, $899 with Dual Screen |

Day one
Design
My favorite thing about the V60 ThinQ 5G is that there is no black model. Black phones are boring, and I think we all know that we can do better. LG was proud of not having a black model as well, as it's something that carriers ask for.
The V60 ThinQ comes in Classy White and Classy Blue, which are frankly terrible names for colors, but they're also beautiful colors. LG sent me the Classy White model, but Classy Blue is the real winner in my opinion. The blue one has a gold-colored frame, while the white one has a silver frame.
One thing that I'm not a big fan of is the camera bump. No, it's not any worse than any other phone. In fact, it's probably one of the smallest camera bumps out there. But last year, LG had eliminated it completely for a completely smooth back. I thought it was really cool at the time, since camera bumps are really something that we've stopped talking about. But anyway, it's back.
On the bottom of the device, there's a speaker grille, a USB Type-C port for charging, and a 3.5mm combo audio jack. Yes, LG's devices are the last flagship phones with a headphone jack, and more over, it's a good headphone jack. LG uses a 32-bit Hi-Fi Quad DAC, and you'll notice a difference in sound quality from using another device. You don't even need expensive headphones to hear the difference.
The right side of the device is where you'll find the power button, and on the left side, there's a volume rocker and a Google Assistant button. I'm not a big fan of virtual assistants, so I hate dedicated buttons for them. The good news is that if you're using Dual Screen, you can press that button to answer a call without opening the lid.
And then there's the Dual Screen itself. Unlike Microsoft's Surface Duo which is actually a dual-screen smartphone, LG offers a dual-screen accessory which is aptly called Dual Screen. Also, despite this not being the first product called Dual Screen, they are not compatible with each other. In fact, this one doesn't even use the same charger as the one that came with the G8X ThinQ.
The back of the Dual Screen is textured, and it adds a fair bit of thickness to the device. Indeed, it feels like carrying around a brick. Wireless charging works with the Dual Screen attached, but only sometimes.
It does have a proprietary charging port, one of the reasons that I was annoyed that the charger from the G8X Dual Screen doesn't fit this one. It comes with a little dongle that you can attach to any USB Type-C charger, and it attaches to the device magnetically.
The Dual Screen accessory is a separate product, but in most places, it just comes with the phone. T-Mobile is the only carrier currently offering the V60 ThinQ without the Dual Screen, and it's also offering a bundle.
Display and Dual Screen
The LG V60 ThinQ 5G has a 6.8-inch FHD+ P-OLED display, and I'm guessing that the reason it's not QHD is because the GPU has to power two of them. Yes, once again, the Dual Screen has the exact same panel as the main display. That includes the notch, which isn't filled with a camera on the Dual Screen.
LG tells me that this is for color calibration purposes. If the display panels are identical, there's no chance for any variation between the two.
Some things can get annoying. For one thing, Comfort View doesn't work when the second screen is attached. It's also a bit awkward to use the camera. Naturally, if you have the Dual Screen folded back 360 degrees, you can only use the front-facing camera. It's also awkward to do any single-screen task with the display open like that.
These aren't actual drawbacks to the product though. The screen does bend back 360 degrees, and you can also use it in tent mode to watch a movie or something.
One thing that's cool is that you can use the second screen as a full-screen keyboard. There's some bad news here though, which is that you have to use LG's keyboard for this to work. And I despise LG's keyboard. Autocorrect barely works, even if you set it to "aggressive". I ended up moving to SwiftKey, which is my keyboard of choice.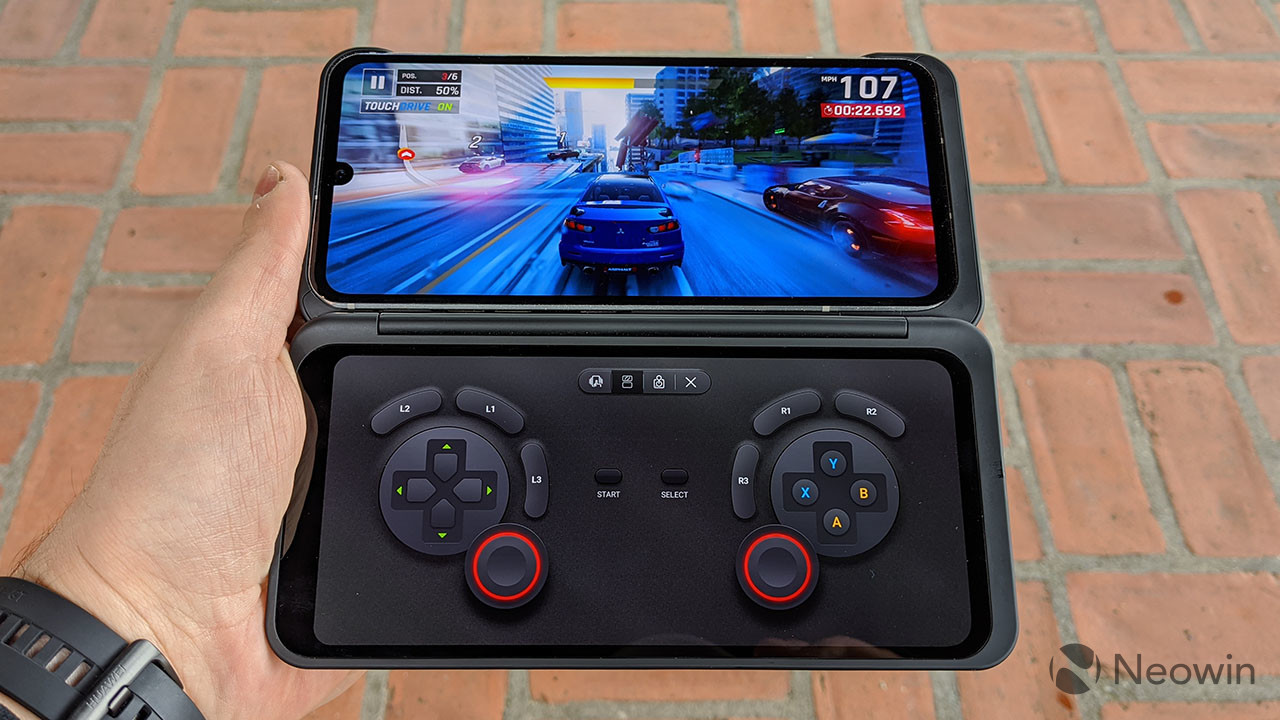 You can also use it as a gaming controller. There are several controllers to choose from, or you can even make your own. There's a downside to this as well, which is that it seems as though you can only use the second screen as the controller. Being that the bulk of the weight is on the side with the main screen, that ends up being the side that I'd naturally hold, so it's the side I'd want the controller on.
Switching any other app between screens is a breeze. You can just use a three-finger swipe to move it over. If you're using the main screen and suddenly you want to type with the full-screen keyboard, just swipe to move the content over and then put it in landscape mode.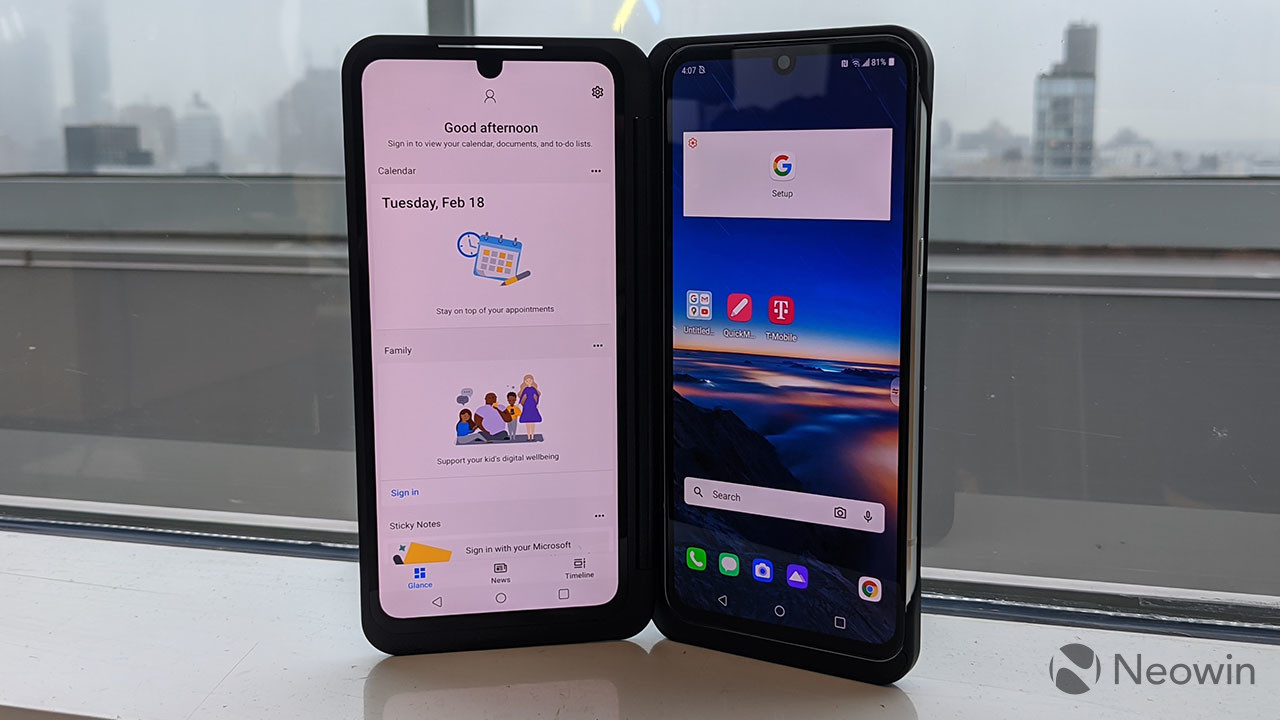 Most importantly, the Dual Screen supports third-party launchers now. With the G8X, there was this issue where you could get a third-party launcher to work with the main screen but not the secondary screen. That's not the case here. The bad news is that you're actually running two instances of the same launcher. For example, with Microsoft Launcher (Preview), which is the same launcher that will be on the dual-screen Surface Duo, you can't swipe to the left on the right hand screen, and get your afternoon at a glance screen on the left hand display.
It's definitely worth it though, even if you're just looking at two different apps on the two displays. More apps can span to both screens now too, including all Google apps like Chrome and Gmail. It's pretty great.
There's a small monochrome screen on the outside, which will show you the time and notification badges, and it will show you who's calling when there's an incoming call. This is notable, because Microsoft's Surface Duo will not have an external display, and I really think it's necessary.
You'll notice a lot of references to the Surface Duo, and that's because that's really the only other dual-screen phone. Companies like Huawei, Samsung, and Motorola are all betting on foldable screens. The nice thing about two displays with a hinge is that it's less likely to break over time.
What I don't understand is why LG doesn't just build a dual-screen phone. The Dual Screen isn't something that you're going to carry around with you and snap on your phone when you need it. You're either going to use it all of the time or you won't, so why not just make a dual-screen device? That way, both sides can have equally distributed weight and thickness.
Camera
The LG V60 ThinQ 5G has two camera lenses and a time-of-flight sensor. The main sensor is 64 megapixels, using quad pixel binning for better low-light performance on 16MP images. The other is a 13MP ultra-wide sensor. There's no zoom sensor, and that's because with such a high-resolution main sensor, you can get a solid 2x zoom shot with digital zoom.
There are also new video recording capabilities. With the Snapdragon 865, you can record 8K 24fps video, which has four times as many pixels as 4K video. We're talking the difference between 8.3 megapixels and over 33 megapixels.
I also don't use it, and won't use it. I embraced 4K 60fps video when Apple introduced it with the iPhone 8/X, and later when Qualcomm added support with the Snapdragon 845. It meant that I no longer had to choose between a high resolution and that smooth high frame rate. That choice is back, and for me personally, I'll be sticking with 4K 60fps, at least until 8K 60fps comes along in a few years.
One thing that's awesome though, along those lines, is support for 4K 60fps video capture in the front camera. Now that's something I'm happy to use.
Another thing that I want to give LG credit for is the viewfinder in the camera app. I know, it's a strange shout-out, but the viewfinder is 60fps, so it's a lot smoother than most camera apps when taking a picture.
​​​​​​The camera does alright in low-light conditions, although nothing stands out about it when it's really dark. Night mode helps, of course, so you'll want to make use of that. In fact, I'm going to say this right now. You should make use of night mode whenever you can on any device that you're using. It takes a few seconds to take the picture, but the result is almost always better.
The Camera app lets you toggle between 1x, 2x, and 0.5x zoom, and you can see from several of those images that 2x zoom does just fine without a tertiary sensor. I wouldn't go too far beyond that though. If lossless zoom is what you're after, there are companies that are way more focused on that this year, like Huawei and Samsung.
Performance, 5G, and battery life
The LG V60 ThinQ 5G has Qualcomm's Snapdragon 865 chipset, which is the best SoC on the market right now. It also has 8GB of RAM, which is plenty. As far as flagship performance goes, you'll get it. Unfortunately, it does use UFS 2.1 storage, which is slower than the UFS 3.0 that's found in devices from OnePlus, Samsung, and more.
Like most premium smartphones that you'll find this year, and anything with a Snapdragon 865, it does support 5G. It's only sub6 5G though, so you won't get those gigabit speeds that come with mmWave. It's worth noting that the Verizon model does support both, although that one is a bit more expensive.
Sub6 5G is still better than 4G LTE. T-Mobile promises a 20% increase in speeds, but from all of my testing, that's a low estimate. You can check out my OnePlus 7T Pro 5G McLaren review for more on that, as I've published enough 5G speed tests. You can check out my review of the Samsung Galaxy S20+ 5G for more on T-Mobile's mmWave efforts, which are only available in select cities, in select spots, and outdoors.
I also find that sub6 5G really doesn't impact battery life. I had no problem at all getting through the day on the V60 ThinQ 5G, and in most cases, it had about 40% left when I put it on the charger at night. That was with regular usage, and with the Dual Screen accessory attached. Battery life for me has been phenomenal.
For benchmarks, I used Geekbench 4, Geekbench 5, AnTuTu, and GFXBench. First up are the two Geekbench tests, which check the CPU:
These scores actually beat the Galaxy S20+, which got 909 on single-core and 3,160 on multi-core. Those are probably just variants though, since the two devices do have identical CPUs. Apple's A13 Bionic in the iPhone 11 Pro, on the other hand, got 1,338 on single-core and 3,567 on multi-core.
Next up is AnTuTu, which tests a bit of everything.

The iPhone 11 Pro gets 510,871 on this test. What's interesting is that with the A13 Bionic being so close to the Snapdragon 865 already, the A14 coming later this year should be even more interesting. Usually these things go back and forth, with Qualcomm doing releases in the beginning of the year and Apple doing its refreshes in the fall. But with things being so close already, Apple has a real chance to jump ahead.
Finally, GFXBench tests the GPU.
Conclusion
I love the idea of a dual-screen phone, and I love that LG is continuing to evolve the experience. It's doing a great job too, making some meaningful improvements to the Dual Screen accessories. It's great that more software is officially supporting it, and that third-party launchers work now.
It's worth noting that the V60 ThinQ 5G is not a device without compromises. It has UFS 2.1 storage, only sub6 5G, and adding the Dual Screen accessory makes it really bulky. But it's also a lot more inexpensive than its biggest competitor, the Samsung Galaxy S20, which starts at $999.
The LG V60 ThinQ 5G starts at $799, or $899 if you want the bundled Dual Screen. That really makes it a fantastic deal. And make no mistake, this is a great device. The P-OLED displays are pretty, the design is stylish, and LG's choice of features is smart. Don't forget, it even has a headphone jack with a 32-bit Hi-Fi Quad DAC.
I think that this is one of the best Android smartphones to buy right now, and you should definitely get the bundle with the Dual Screen. But also, if LG is reading this, please just make us a dual-screen phone.
Pros
Dual Screen accessory Headphone jack Battery life and performance Solid camera
Cons
UFS 2.1 storage Only sub6 5G No telephoto lens