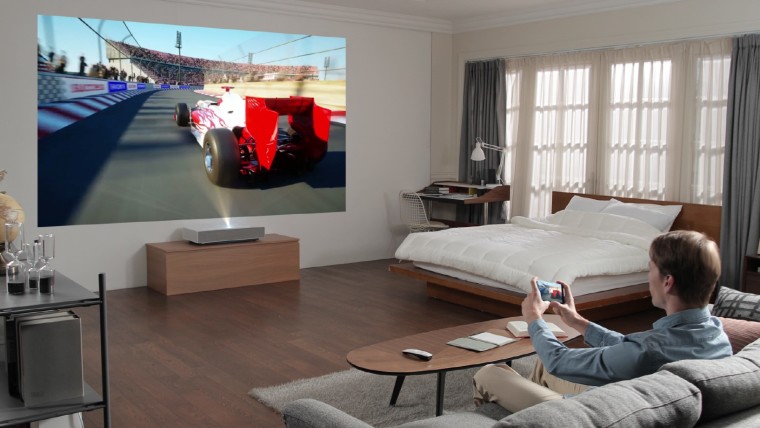 LG has announced a new 4K projector, the CineBeam Laser 4K (HU85L), which is set to make its debut at the Consumer Electronics Show next month. The device is the successor to the 4K projector the company launched at CES 2018.
The headlining feature of the projector is its ability to project a 90-inch image on a flat surface with just over two inches of space between the surface and the projector, thanks to Ultra Short Throw (UST) technology. With a seven-inch gap, the CineBeam can project a 120-inch image which is still bright, thanks to the 2,500 lumens it delivers. The projector also features 12-point keystone adjustment for enhanced visual accuracy compared to other UST projectors.
LG is also leveraging its AI platform, ThinQ, which in this case provides speech recognition for voice controls. Users can say things such as "turn off the projector after the movie has finished" to control the CineBeam. The projector also comes with a Magic Remote with support for gestures and backlit buttons which turn on automatically when it detects motion, so you can use it easily with the lights off.
The projector can stream content from various services, which LG doesn't specify, and it also offers USB, HDMI, and Ethernet connections. The whole thing comes in a compact package that should be easy to move around and use anywhere, thanks to the minimal space required by UST projectors.
The CineBeam Laser 4K will be fully revealed at CES 2019, which is set to begin on January 8.