Earlier this week, we said that the Linux Mint project was preparing the disc images of Linux Mint 20 beta. Now, sure enough, they have been pushed to several mirrors and are available for download. It was also reported earlier this month that Linux Mint 20 would block background snapd installs; now that the beta has been released, we were able to have a look at the ramifications of that change.
Linux Mint 20 brings with it several enhancements but nothing very radical, which is to be expected from the distribution that prides itself on consistency. Several new changes in this update include:
The Linux 5.4 kernel, which brings new hardware support
Inclusion of the Warpinator local network file transfer tool
LibreOffice has been upgraded to the 6.4 branch
There's a large selection of new wallpapers to choose from
HiDPI support for System Tray icons
Cinnamon 4.6 has better multi-monitor support
Added better support for NVIDIA Optimus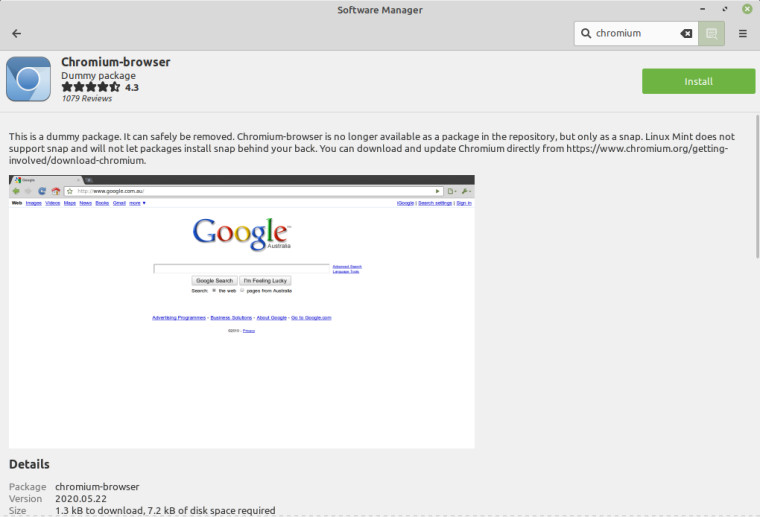 We were warned that stealth snapd installs would be restricted, however, after trying the beta, there doesn't seem to be an easy way to install snapd as a new configuration file has been created that prevents its installation. Even if you do get snapd installed, it won't help you install Chromium because Linux Mint has inserted a dummy package in place of the original, instead, users are pointed to the Chromium website where users can compile the program themselves or download an AppImage; neither of which are very friendly options.
For less technical users that prefer Chromium over Firefox, the latest update will be a bit of bad news. Hopefully, in one of the subsequent updates, someone will get around to recreating the Chromium package as a Flatpak so that it can be installed easily in Linux Mint.