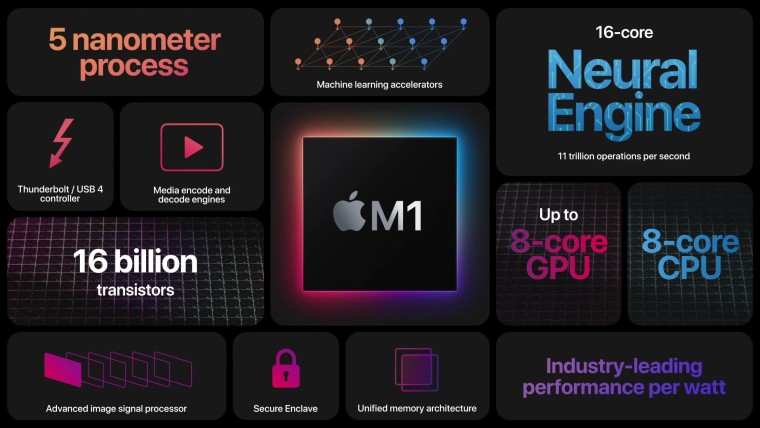 On November 10, Apple introduced its first lineup of MacBooks and Mac Minis rocking the ARM-based M1 chipset. As expected, Apple's silicone enabled better performance at greater power efficiency. Apple claims that its M1 silicone has the world's highest performance per watt. In fact, Apple says that the chip can reach the same performance as an existing PC chip at one-quarter of the power. It also has the world's fastest integrated graphics, according to the Cupertino firm, which claimed that the octa-core GPU is twice as fast when pitted against competitors, while still using less power. And the latest benchmarks certainly point towards that direction.
On the Geekbench 5 benchmark, the newly announced MacBook Air clocked a score of 7433 on the multi-core test and 1687 on the single-core test. Both scores eclipse the higher-end 16-inch MacBook Pro that comes with an Intel Core i9 processor, which has 6870 on the multi-core test and 1096 on the single-core test. For greater context, the M1's Geekbench scores mimic those set by last year's entry-level Mac Pro, which had a 7989 multi-core score and a 1024 single-core score.
The benchmarks also showed that the M1 chipset has a base frequency of 3.20GHz backed by 8GB of RAM. For comparison, the octa-core Intel Core i9 processor on the 16-inch MacBook Pro has a base clock of 2.3GHz, which can turbo boosted to 4.8GHz. Obviously, the RAM configuration on the 16-inch MacBook Pro varies.
| M1's GPU Performance VS Power | M1's CPU Performance VS Power |
| --- | --- |
| | |
At its One More Thing event, the Cupertino firm claimed that the MacBook Air had up to 3.5 times the CPU performance of the previous generation, 5 times the GPU performance, and 9 times the machine learning performance, making it faster than 98% of PC laptops sold in the last year. All of this combined with the optimizations of MacOS Big Sur coupled with the potential to run native iPadOS and iOS make Apple's new lineup a promising one.
These figures are more impressive when you realize the fact that the MacBook Air is a fan-less machine clocking these numbers. Since Apple confirmed that all newly announced Macs have the same octa-core M1 chipset across the board, the MacBook Pro and Mac Mini with better cooling might perform even better.
While the Geekbench scores above do lend some credence to Apple's claims, of course, it goes without saying that benchmarks only capture one side of the story. Even if we were to set aside the dodgy business of comparing scores across distinct architectures, real-world usage depends on plenty of other factors as well.