Microsoft has fallen into a pattern of offering big discounts on at least some models in its Surface Pro 3 range every few weeks, with up to $150 temporarily slashed from the price of its 12-inch tablet in February, March, April and May. It's sticking with that pattern again this month, with similarly generous discounts in time for Father's Day.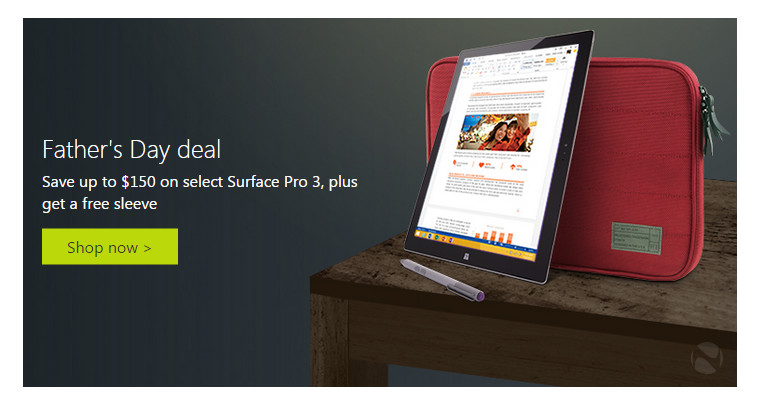 Microsoft is offering up to $150 off all except the entry-level Intel Core i3/64GB model, and the breakdown of discounts is identical to that seen in some of the company's earlier Surface Pro 3 promotions:
Core i5 / 128GB / 4GB | normally $999 | now $899
Core i5 / 256GB / 8GB | normally $1,299 | now $1,149
Core i7 / 256GB / 8GB | normally $1,549 | now $1,399
Core i7 / 512GB / 8GB | normally $1,949 | now $1,799
The discounts will remain available until June 27, but if you want to guarantee delivery in time for Father's Day, Microsoft advises that you order no later than June 17.
And as an extra treat, Microsoft is also including a free protective sleeve with the Surface Pro 3 between now and October 1.
Source: Microsoft Store