New details about Lenovo's upcoming gaming handheld PC, the Legion Go, have emerged from leaked marketing images. They show that the Legion Go will resemble the Nintendo Switch OLED model, with slimmer bezels than the ASUS ROG Ally. It will also come with detachable controllers similar to the Switch.
It was previously reported that the Legion Go will have an 8-inch display, which will set it apart from the other handhelds. It is worth noting that the Steam Deck and ROG Ally have 7-inch displays. It will also reportedly run on Windows 11. This would allow it to play any PC games that its internal specs can support.
A new report shows that the Legion Go will be powered by AMD's new Ryzen Z1 processors, similar to the ROG Ally. Specifically, it will likely offer a choice between the standard Ryzen Z1 and the higher-end Ryzen Z1 Extreme chips. This could mean up to 8 CPU cores and a 12-core RDNA 3 integrated GPU.
Other features include removable M.2 SSD storage, a built-in trackpad, and additional controller buttons labeled M1-M3 and Y1-Y3. The previous images showed that the right controller has a touchpad and wheel on the back, while the left has an analog stick and buttons.
Lenovo Legion Go (based on rumors):
Architecture: AMD Zen4 & RDNA3
APU: AMD Phoenix-based Ryzen Z1 and Ryzen Z1 Extreme
SoC GPU: AMD iGPU, 12CU @ 2.7GHz
ASUS ROG Ally:
Architecture: AMD Zen4 & RDNA3
APU: Ryzen Z1 Extreme, up to 5.1GHz / Ryzen Z1, up to 4.9GHz
SoC GPU: AMD iGPU, 12CU @ 2.7GHz
Steam Deck:
Architecture: AMD Zen2 & RDNA2
APU: AMD Van Gogh, up to 3.5GHz
SoC GPU: AMD iGPU, 8CU @ 1.6GHz
Lenovo is also rumored to be developing new AR glasses called Legion Glasses to complement the Legion Go. It is thought to provide a dedicated display for on-the-go use. The glasses appear to be similar to ThinkReality A3 model announced two years ago.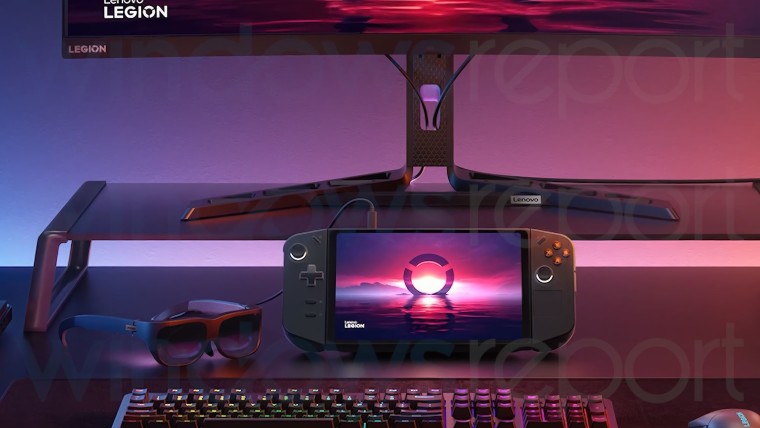 An official announcement and release details for the Legion Go are still unknown. However, with marketing images already leaked, the reveal of the gaming handheld could be imminent. Rumors point to a possible announcement at IFA 2023 this September and a Q4 2023 launch, just in time for the holidays.
Source and images: Windows Report