The newly launched Windows 8 Release Preview also includes a new version of the Windows Store app download service. In a new post on the official Windows Store blog, Microsoft goes over some of the changes and new additions in the Windows Store for the Release Preview.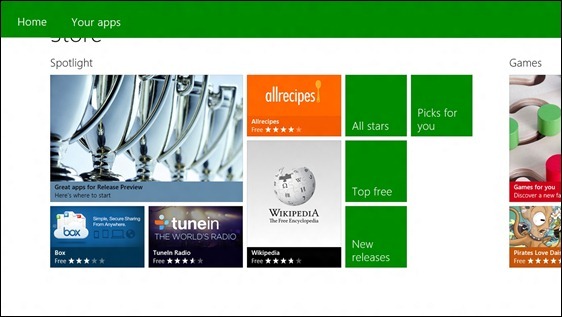 One change is the addition of a nav bav at the top of the Windows Store. This new addition lets users access the Home link as well as a link to a list of their Windows 8 Metro apps. There's also a new nav bar placed at the bottom of the screen when users download an app. The bar has buttons for pausing or cancelling an app download. There's also a new Share contract which lets users share information about apps to friends from inside any Windows 8 app.
Desktop apps listings are scheduled to show up inside the Windows Store for the first time today. You won't be able to download desktop apps directly from the Windows Store. Instead, the listing has a link to a third party download site. Still, this should give desktop apps for Windows 8 some more exposure.
Microsoft has also made some changes to the requirements for app developers who want to submit apps to the Windows Store. One big changes is that all Metro apps that are submitted to the Store must fully support touch input and fully support keyboard and mouse input.
Source: Windows Store blog | Images via Microsoft