Cryptocurrencies such as Bitcoin are becoming more and more popular, given the exponential rise of the price - until recently - of a single bitcoin on currency exchanges. Browser developer Opera revealed last month it wanted to cut down on unauthorized mining through unsuspecting PCs, and the new version of Opera - coming tomorrow - will do just that.
Using a feature called No Coin built into the ad blocker, Opera 50 will let users block scripts that some websites use to turn high-end PCs into their personal mining machine, with a single click. The option looks at the regularly updated list of cryptocurrency mining scripts to decide what code to block.
"We are fans of cryptocurrencies but we simply don't accept that websites are using people's computers to mine coins without their knowledge or consent," Krystian Kolondra, head of Desktop Browser at Opera, said in a press release. "With the new Opera 50, we want to kick off 2018 by providing people a simple way to regain control of their computers."
For those that aren't familiar with how cryptocurrency mining works, Opera sent along some handy graphics: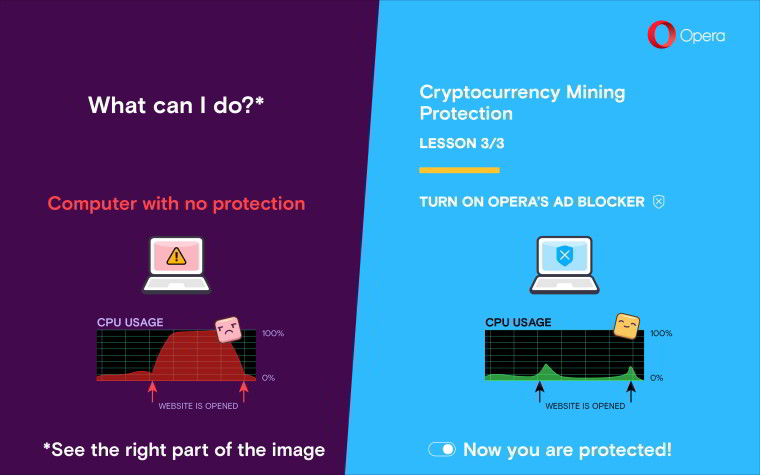 "Everyone knows the feeling of the computer heating up, the fan starting to go crazy and the CPU going to 100 percent for seemingly no reason," Kolondra said. "These are all signs someone might be mining bitcoins or other cryptocurrencies on your computer."
While the ability to block the mining effort is a key selling point for the update to the free browser, Opera 50 will also include Chromecast for streaming directly to TV, and VR360 support of Oculus.
If these new features appeal to you, you can grab the updated browser from the official site starting January 4, at 10:30 a.m. CET / 4:30 a.m. ET / 1:30 a.m. PT.