In recent years, the smartphone market has been absolutely flooded with a multitude of Chinese brands, such as Huawei, Xiaomi, and OPPO. Usually, these companies start growing thanks to aggressive pricing, with equally powerful devices being available for much less than what you'd get from brands like Samsung and Apple.
Eventually, companies like Huawei grow enough that they can afford to compete in the same price range as those two brands, and with the Find X2 family, OPPO has decided to do the same. Priced at €999 and €1199, respectively, the OPPO Find X2 and Find X2 Pro compete directly with the Samsung Galaxy S20 and S20+, and on the inside, they have a lot in common, starting with the Snapdragon 865 5G chipset inside.
OPPO sent me the Find X2 Pro, which has 12GB of RAM and 512GB of internal storage, which can't be expanded. It has a 6.7-inch QHD+ AMOLED display with a 120Hz refresh rate, and a pretty interesting camera setup on the back. On paper, it seems like a strong contender against Samsung's flagships.
Specs
| | |
| --- | --- |
| CPU | Octa-core Qualcomm Snapdragon 865, single 2.84GHz, tri-core 2.42GHz, quad-core 1.8GHz Kryo 585 |
| GPU | Adreno 650 |
| Display | 6.7 inches, 1440x3168, 519ppi, 120Hz or 60Hz, AMOLED, 100% DCI-P3 color gamut, O1 Ultra Vision Engine |
| Body | 165.2 x 74.4 x 9.5mm (6.5x2.92x0.37in), 200g (7.05oz) |
| Camera | 48MP Sony IMX689 main sensor + 48MP Sony IMX586 ultra-wide + 13MP periscope telephoto (10x hybrid zoom); Front - 32MP |
| Video | 4K - 60fps, HDR10+, Front - 4K - 60fps |
| Aperture | f/1.8 + f/2.0 + f/2.2, Front - F/2.2 |
| Camera features | All Pixel Omni-Direction PDAF, OIS, Ultra Night Mode 3.0, 12-bit True Capture, Ultra Steady Video 2.0, 10-bit Live HDR recording |
| Storage | 512GB UFS 3.0 |
| RAM | 12GB LPDDR5 |
| Battery | 4,260mAh (2 x 2,130mAh), 65W fast charging |
| 5G | Yes; NSA bands: n1, n3, n5, n7, n28A, n40, n41, n77, n78, n79; SA bands: n41, n78, n79 |
| Color | Vegan Leather Orange |
| OS | Android 10 |
| Price | €1,199 |
Day one
Design
In some ways, the design of the OPPO Find X2 Pro is like most phones these days, with a metal frame and a glass-covered screen on the front, but to me, the back makes it a completely different experience. There are two models of the Find X2 Pro, one with a ceramic black backplate, and the orange vegan leather model I got, and while the former would still be an upgrade over glass, the vegan leather is something else.
In general, I've never really cared much for leather as a material, but this phone won me over as soon as I touched it. The back is so soft and smooth to the touch, it's amazing. Every time I pick the phone up, it's like a reward for using it, it's just so welcoming and comfortable. It gives me a sense of durability compared to glass, too. Usually, I'm scared of putting my phone down on hard surfaces, like stone or metal because the glass might scratch, but leather doesn't have that problem. I never trust myself with phones without a case, so whenever a company sends me a case with their phone, I put it on immediately, but I have intentionally avoided that with this phone just so I can feel the vegan leather every time I use it.
But it's not just the practicality of it that sells the vegan leather model to me, the looks help as well. You look at this model and it just feels special. The soft-touch and the look of the leather are certainly distinct, but then you also get the OPPO logo on this metal plate that feels almost like a badge of honor, and the metal frame around the phone and the camera module complement this so well. It's so much better than having a logo under a glass cover.
The camera module on the back does protrude very significantly from the rest of the phone, so much so that even the included case doesn't make up the difference, and it has a ridge around the camera module to help protect it. But again, on this model, even that protrusion almost ends up feeling like an intentional statement, like OPPO knows this model looks and feels amazing and it's allowed to do things like this.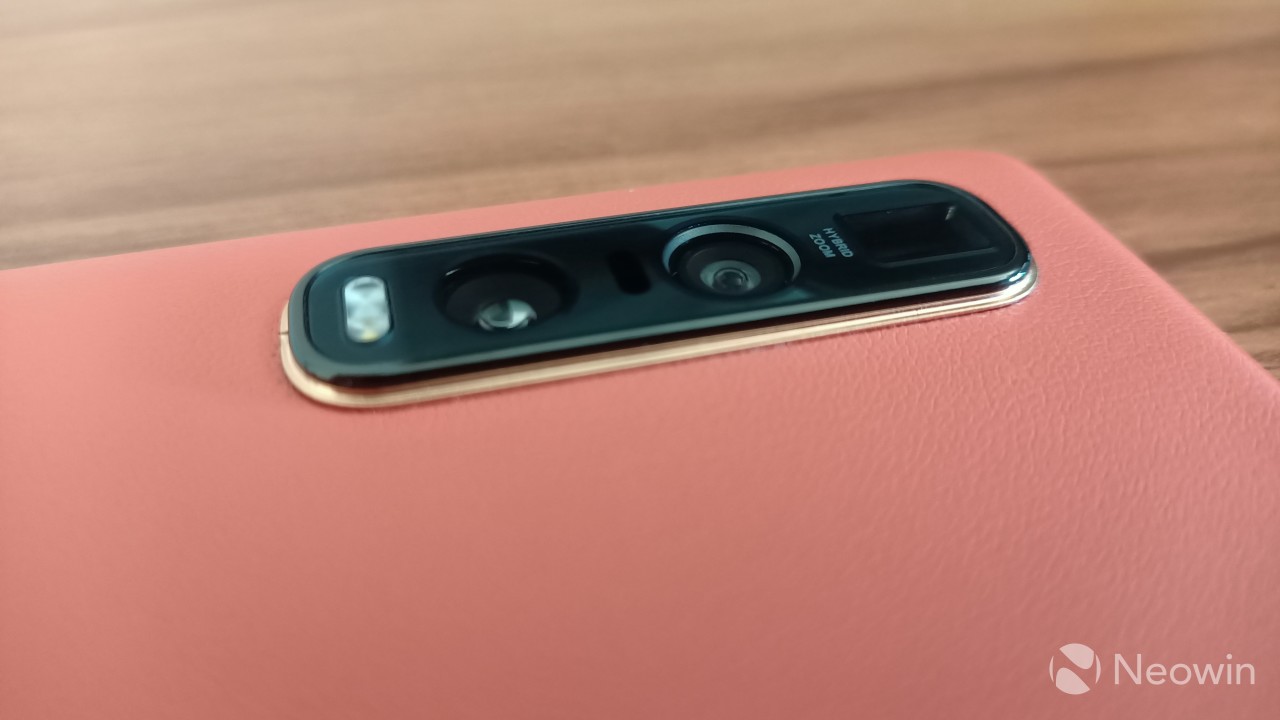 Now that you know how much I love the back of this phone, let's look at the rest of it. On the right side of the screen is the power button, with a little green accent that gives it a little more flair, and on the left, you have the volume rocker. Around the sides and top of the phone, there are a few antenna bands.
The bottom side of the frame has the USB Type-C port for charging, a speaker grille, a microphone, and the dual-SIM card slot. I'm not sure why, but my nano-SIM didn't actually fit in here, and I had to use a nail file to make it just a little bit smaller. As for the top edge of the phone, there's just another microphone there.
Finally, the display on the front is has a round cutout for the front-facing camera in the top left corner and an earpiece above it, with very small bezels all around. I do have to mention that the protective film OPPO includes on the display scratches very easily, and I'm not even sure how it happened. You can always buy a new screen protector, or use the phone without one, but I wish it wasn't so fragile. I also don't necessarily prefer the curved edges on the side of the screen, but it's not a big problem.
Display and sound
With a 6.7-inch AMOLED QHD+ display with a 120Hz refresh rate, you probably don't need me to tell you that this screen looks amazing, but it really does. OPPO makes a big deal about this display, with HDR10+, peak brightness of 1200 nits, a 5000000:1 contrast ratio, 100% coverage of the DCI-P3 color gamut, 10-bit color, and color accuracy of 0.8 JNCD in the default display mode. You can make that even better in Cinematic mode, which OPPO says has an accuracy of 0.4 JNCD. That all adds up to a truly gorgeous display, and OPPO also did a good job of including wallpapers that emphasize the quality of the display phenomenally.
And, unlike the rival from Samsung, the Find X2 Pro can, if you so wish, be set to 120Hz and QHD+ resolution all the time, though that will obviously be pretty hard on your battery. By default, both of these settings are set to auto-select, and that's completely fine in my experience, with the phone switching between FHD+ and QHD+ for the resolution and between 60Hz and 120Hz for the refresh rate.
I have to be completely honest and admit that I'm not completely sure I can tell the difference in refresh rate in many situations, and even though I tried many times with games, I really can't say for sure that it makes a difference. I do feel it a little bit more with some of the software animations, but not so much in games or videos.
The phone also features what OPPO calls the O1 Ultra Vision Engine, powered by Pixelworks' fifth-generation image processing chip. This enables a couple of things, like converting SDR video to HDR, and video motion enhancement. The first helps with colors, and it can make a significant difference in some videos that weren't originally meant for HDR displays, some things look a lot better with it enabled.
The second capability is meant to artificially increase the frame rate of videos through frame interpolation, which adds new frames between existing ones to make motion appear smoother. By default, this is set to upscale videos to 60 frames-per-second, and you can change it to 120 frames-per-second, but that will force you to use the display at FHD+ resolution. I assume this is because of the processing power required to generate that many new frames at such a high resolution, which is a different kind of workload than just playing content natively in QHD and 120 frames per second.
The display has a few other nifty features, like an adaptive tone display, similar to Apple's True Tone, which has a color temperature sensor and adjusts the display to match your surroundings. Plus, the automatic screen brightness learns your preferences, so it adapts to your tastes over time. I've always disabled automatic brightness on previous phones, but now the Find X2 Pro always gets it right, so I didn't bother.
As for sound, the Find X2 Pro has stereo speakers, one inside the grill on the bottom edge and an amplified earpiece, and it supports Dolby Atmos. The speakers can get pretty loud, though not the loudest I've heard, and they don't seem to have any major problems at high volumes. Because it has two speakers, it's not easy to cover them by accident, so I never had any issues with my media viewing experience.
Camera
On paper, the OPPO Find X2 Pro has a very interesting camera setup. The main sensor is Sony's IMX689, which has 48 megapixels, but they're bigger than before, so they can capture more light. It also has features like All Pixel Omnidirectional PDAF, which is supposed to make it easier to focus on objects, especially darker ones, 12-bit true capture that makes images better for post-processing, and OPPO's Ultra Night Mode 3.0.
On top of that, the ultra-wide sensor is also 48MP this time, and that uses the Sony IMX586 sensor we've seen in the main camera of many phones. Finally, a periscope lens with a 13MP sensor enables 10x hybrid zoom and 60x digital zoom. I truly appreciate the versatility that a camera setup like this can provide, and it's fun going through different zoom levels and see just how much you can capture from the same place.
I love some things about this camera, but it also has its downfalls, and I have mixed feelings overall. For example, I've found that for subjects that are relatively close to the camera, it's really easy for parts of a picture to look like they're out of focus, even though they're not that far from the object you're focusing on. You get fairly sharp edges around one spot, and everything else looks soft. And the phone also sometimes struggles to focus on objects like smooth surfaces. Like many other cameras, it also struggles more in dim environments, and the night mode here isn't the best I've seen, though it does help. One good thing about it is that it can be used with all three cameras, so even if you zoom all the way with the periscope lens, it can still improve your nighttime shots.
The color balance isn't exactly perfect across all the cameras, but low-light environments make that more evident than other situations. Interestingly enough, the wide-angle camera can actually deliver more accurate colors than the main sensor in situations like that, as you can see in the last two pictures above. The first shot, from the main camera, seems to try to compensate the dim lighting conditions and things like they're in natural light, but the second picture, from the ultra-wide-angle lens, looks more like what I was actually seeing.
The OPPO Find X2 Pro does pretty well in video recording, but it's missing the option to record at 8K, though that's not something I will miss. It supports 4K at 60 frames per second, though. It also has an assortment of features, like OPPO's Ultra Steady mode, which combines OIS and EIS to produce very smooth-looking video. It also has an Ultra Steady Pro mode this time around, but the only difference is that it uses the ultra-wide lens instead, and in that case, it's only using EIS. Another cool feature is Live HDR recording, which offers dramatically more vivid colors than regular recording modes.
The problem I have with these features is that they all involve some sacrifices. Live HDR recording doesn't support 4K60fps and forces you to use 30fps, and Ultra Steady Mode just doesn't allow 4K at all. Plus, you can't enable both of those features at the same time, so you always have a choice to make. I also think the lack of super-slow-motion video is a shame, even if I don't have much use for it.
What this phone does really well is audio recording. The three-microphone setup here captures so much sound, but usually only things that you want to hear. The first time I recorded a video on this phone, it was of some cascading water, and when I played it back I was blown away by how loud - but still crisp - it was. It seemed both louder and more detailed than what I heard myself, it was really impressive.
Performance, battery life, and software
The OPPO Find X2 Pro is one of the first phones to ship with the Qualcomm Snapdragon 865 chipset, and paired with 12GB of RAM, there's really not much left to be desired in terms of performance. Everything runs fast all the time, and I've never had any issues running any games at their maximum settings. It's fast, but that shouldn't be surprising.
I ran benchmarks using Geekbench 5 and GFXBench, the first of which measures the CPU performance. Unsurprisingly, it's very close to the Snapdragon-powered version of the Samsung Galaxy S20+, though it pulls ahead in the multi-core result.
In GFXBench, the story is reversed a little bit, and Samsung's offering seems to pull ahead by a small margin in most tests, but nothing too dramatic.
The Find X2 Pro does support 5G, but only sub-6GHz bands, and even then, bands like T-Mobile's 600MHz spectrum aren't supported. But this phone isn't meant for the American market, which is where you see more carriers using mmWave, so it shouldn't be a big deal. Unfortunately, Portugal doesn't have 5G yet, so I didn't really get to test this.
The battery on this phone is definitely one of its highlights for me. Not so much because the battery itself is great - a total of 4,260mAh isn't that much, especially with a QHD+ display and a 120Hz refresh rate. If I used the phone more heavily, especially when it involved watching videos or playing games for long periods of time, it struggled to last all day (though it usually still did). Of course, you can turn down that refresh rate and resolution to make the battery last longer.
But what's really impressive about this phone is the charging speed. The 65W charger is faster than every other phone I've tried, thanks to OPPO using two separate batteries that charge at the same time. I've actually changed my charging habits because of this, and I just charge the phone quickly whenever it's close to dying. I haven't tested OPPO's claim of charging to 100% in 38 minutes, but it is incredibly fast, so I can just charge it in the morning while I get ready to leave the house, and it will be completely full when I'm ready to go out.
Finally, in terms of software, the OPPO Find X2 is running Android 10, with OPPO's ColorOS 7.1 skin on top. The interface is still very much OPPO, and many features of previous ColorOS implementations are still here, like Eye Care, the Smart Assistant (which is still useless), and screen-off gestures. I do like the updated UI a lot more, though, it's sleeker and cleaner, plus OPPO finally added a dark mode. You also now get a choice of icon styles for your OPPO apps, so you're not forced to use the typical rounded squares. It still includes apps like Phone Manager to manage your phone's status, Clone Phone to bring data from your old phone, and the new OPPO Relax, which gives you breathing exercises and music to help you relax.
Of course, some annoyances are still here, too. I don't like the placement of the confirmation key when entering my PIN to unlock the phone, and I hate that I can't easily use a third-party app to change the wallpaper on my lock screen. The software just doesn't give you a way to do that, and it sucks. Also, OPPO's implementation of the gesture navigation in Android 10 works great with the default launcher, but not as well with third-party offerings like Microsoft Launcher. At least it doesn't completely disable those gestures with third-party launchers, though, which some phones do.
Conclusion
I absolutely love the OPPO Find X2 Pro in almost every way. The design, especially the use of vegan leather on this model, is stellar and made me forgo using a case for the first time in years, it has a gorgeous smooth display, it's fast, and the battery is incredible thanks to the 65W charger. The camera is probably my biggest letdown here, but even then, it's really good most of the time.
However, let me be clear that no phone that currently exists is worth spending nearly €1200 on, and the camera issues I faced, while not the worst I've seen, are a fatal flaw. No camera is perfect, but the only way you can justify a price tag like this is by doing everything as close to perfection as possible, and the camera here falls too short.
With that being said, high price tags like this aren't news anymore, and if I wanted to sell one of my non-vital organs to buy a new phone, the OPPO Find X2 Pro would most likely be my choice over Samsung's Galaxy S20+, which costs €1,259 with 5G and the same amount of storage, according to Samsung's French website.
Pros
- Design - Beautiful and smooth display - Audio recording - Performance - ColorOS 7.1 is better than before...
Cons
- ...but still needs some work - Camera has some issues - Price