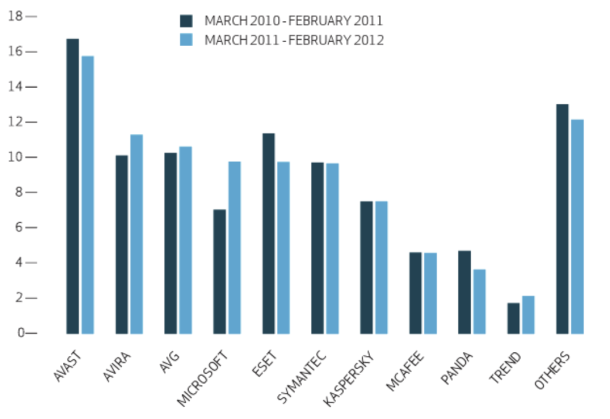 Microsoft Security Essentials, the free anti-virus and security software program, is being used more and more by PC owners. That's the verdict of a new report this week published by the software development and service company OPSWAT. The report is based on information taken from the company's AppRemoval tool from March 23, 2011 to February 15, 2012.
The report shows that the free Microsoft Security Essentials program, first launched in September 2009, is now the most popular in North America with 14.58 percent of the market share for such software. Worldwide, Microsoft Security Essentials is in the number two spot with 9.96 percent, behind Avast Free Antivirus with 11.91 percent.
In terms of overall security software vendors, Microsoft is fourth worldwide with 10.08 percent (pictured in the graph above), but that's a huge jump compared to a year ago when it was at 7.27 percent. In North America, Microsoft is number two in the marketplace, behind Symantec, at 14.92 percent. Again, that's a big improvement compared to a year ago when Microsoft was at 9.94 percent.
OPSWAT's report also gives its results on which PC operating system is used the most. According to their study, Windows XP still leads worldwide at 48.86 percent but Windows 7 is close behind at 46.18 percent. Windows Vista is a distant third at 4.33 percent. In North America, Windows XP is again on top at 46.84 percent but Windows 7 is an extremely close second place at 46.58 percent. Windows Vista is third at 6.01 percent.
Image via OPSWAT