Introduction
Smartphone wireless charging has generally always been considered an overnight affair, it was slow to the point where it often took nearly double the time to charge wirelessly than it did with a cable.
Initially, only Samsung's own wireless chargers supported the new standard that boasted 1.4x the speed of normal Qi wireless charging, but over the last month or two there has been movement from third party charger manufacturers to offer the same 1.4x improvement at a cheaper price.
Today I'll be exploring what Tronsmart's Chocolate has to offer, and see if it really is as good as Samsung's fast chargers.
The Chocolate can be bought on Amazon. The UK price is at a very low £17.99, while the US price comes in at an equally affordable $19.99.
Specifications
Standard charge mode
Input
5V/2A
Output
5V/1A
Fast charge mode
Input
9V/1.67A
Output
9V/1.2A
Dimensions
(L) 100mm / (D) 60mm / (H) 9mm
Included accessories
Micro USB cable
Qi fast charge compatible devices (at time of writing)
Samsung Galaxy S7 edge
Samsung Galaxy S7
Samsung Galaxy S6 edge+
Samsung Galaxy Note 5
Qi standard charge compatible devices
Samsung Galaxy S6
Samsung Galaxy S6 edge
Samsung Galaxy S6 Active
Samsung Gear S2 (Smartwatch)
Lumia 950 X
Lumia 950
Lumia 930
Lumia 928
Lumia 920
Lumia 1520
Lumia Icon(929
BH-220 (bluetooth headset)
Nexus 4
Nexus 5
Nexus 6
Nexus 7 HD
HTC M8
HTC 8XT
HTC 8X
Incredible 4G LTE
LG G2
LG G4
LG G5
LG AS870
Yota phone 2
Priv STV100-4
BlackBerry Z30
Motorola Droid 5
Motorola Droid Turbo
Sony Xperia Z2
Construction
The Chocolate is made from a mixture of Polycarbonate and ABS plastic for the main plastic shell. The top plate is silicone. Tronsmart say that the materials are designed to withstand up to 120°C, with the internal circuitry designed to keep the charger at a steady 40°C.
In practice, I found the Chocolate ran at 33.2°C while charging my S7 edge.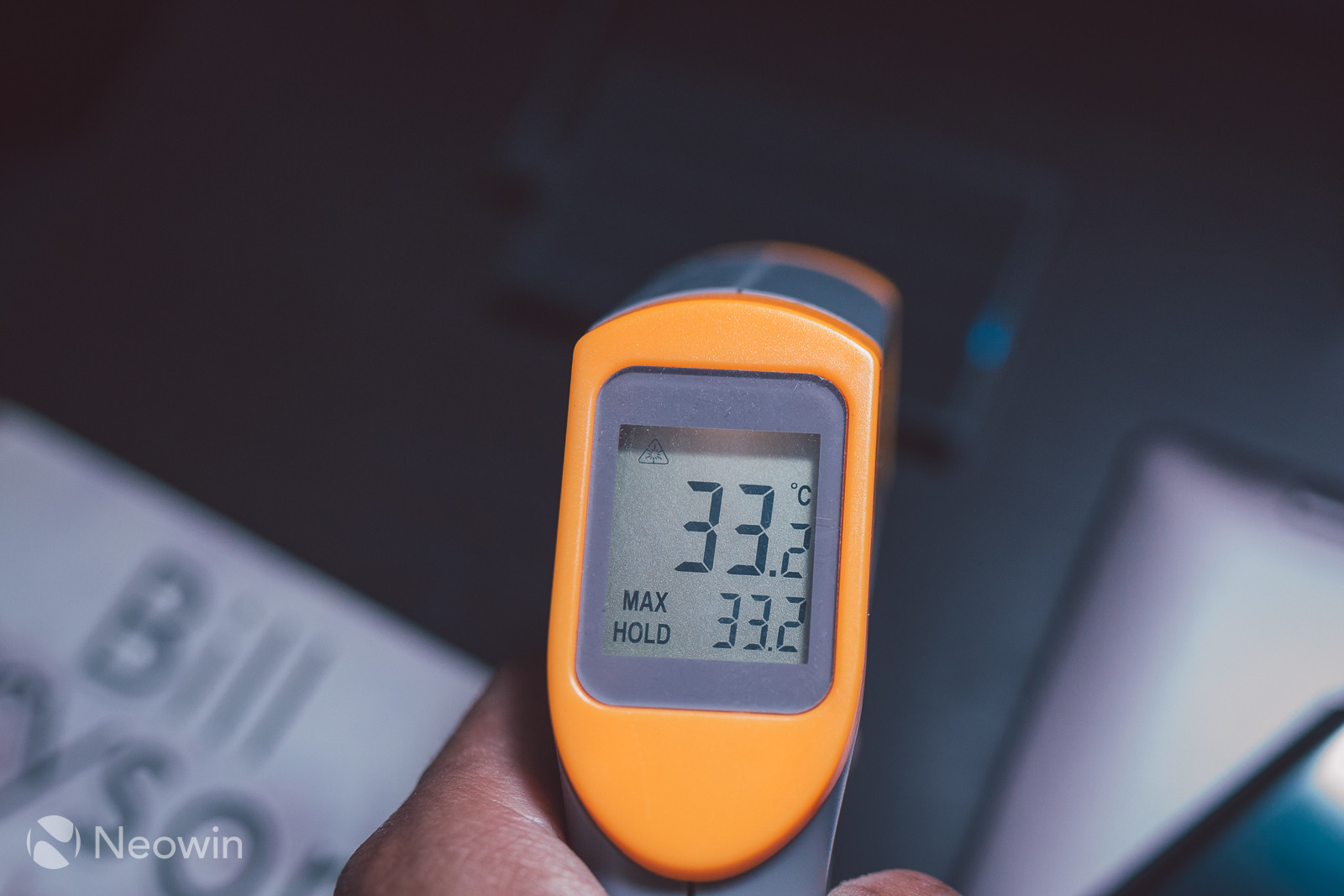 This is not a three-coil Qi charger. It only has a single coil. I found that you do have to find the centre spot sometimes, because the coil area isn't outlined on the surface. With the Samsung charger, as long as the phone is placed inside the silicone circle, you're good to go.
Performance
I already have the Samsung fast wireless charging pad and stand, so this comparison would be very easy. Both Samsung chargers take the S7 edge from 5% to 100% in around 2 hours and 40 minutes. An hour longer than fast charging via cable.
The size is the most obvious difference. It has to be noted that both Samsung chargers do have cooling fans built in. Although I am now questioning the need for them, since Tronsmart opted to not use one, and their circuitry keeps the pad to a maximum 40°C.
I guess Samsung are just covering their backs by adding a fan here, and naturally you are paying an extra premium for this, as well as the name.
I found the charging performance to be no different to the Samsung wireless fast chargers. Given the price, the Chocolate then, is an absolute bargain. I wanted to further confirm the charging performance by hooking up a USB voltage and current draw meter.
The Chocolate is pulling 1.29A from the QuickCharge 2.0 USB mains charger. This gives an output power of 11.72W, slightly higher than Tronsmart's rated 10W. By comparison, Samsung's wireless charger drew 9.04V/1.41A, which is 12.74W.
Even though the output according to the meter varied slightly, I found no real world difference in charging speed to really call one better over the other.
It should be noted that both Samsung chargers will only work with Samsung's own adaptive fast charging mains adapter, whereas the Chocolate will work with any QuickCharge 2.0 or 3.0 certified adapter. And funnily enough, it also works with Samsung's adaptive fast charger.
Final words
The price is just right, the performance is on par with what Samsung has to offer, and the Chocolate also works with all QC2.0 or greater compliant chargers. So if it can get so much right, where does it do things wrong?
There are a few negatives of course. Firstly, the silicone pad offers decent texture and friction to avoid slippage, but tapping the phone while it is resting on it causes wobble. This is down to the chocolate-like styling lines on the silicone. Because the lines are not even on all four edges, the phone wobbled a bit if I was using it while charging.
Secondly, when charging the phone in portrait orientation, it is almost impossible to see the status LED without bringing your eyeball to the desk surface. Quite inconvenient.
Finally, the LEDs are off centre, and a bit too dim under bright office lighting. The blue LED is slightly brighter than the green, though.
One interesting aspect of teh Chocolate is that its form factor lends itself well to being modded into furniture/cars. If you've got the DIY skills to do it, then I can see this being one of those products that people fashion into Qi bases where one isn't readily available.
For example, my car does not have a wireless charging solution in the centre console like on some newer cars, yet the Chocolate could be modded into the console cubby area, with a 12v socket connected to a QC2.0 lighter plug. A sort of lifehack project!
Overall, the Tronsmart Chocolate is a fast wireless charger I am happy to recommend to anyone who has a compatible device. It does the same job that the more expensive models do, while being more portable, and more compatible with all QC2.0/3.0 power sources.
Pros
Charging speed Competitively price Compatibility
Cons
Sweet spot hunting Some wobble in use LED a bit dim