A couple of weeks ago we reported some good news from the RIM stable, as the company issued a positive update on the progress of its next-generation BlackBerry 10 operating system. BB10, they said, was still on track and already in testing with dozens of carriers across the globe. Earlier this week, RIM confirmed that the new OS will officially launch on January 30.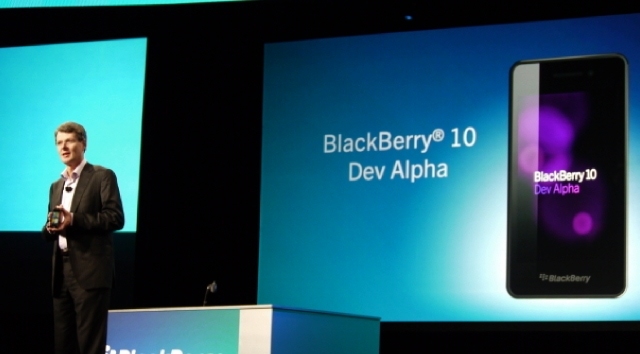 It's been a tough couple of years for RIM, which has seen a catastrophic decline in market share, on the back of lacklustre products, delay after delay, and high profile service outages, much of which came under the curious and widely criticised leadership of its former joint-CEOs, Jim Balsillie and Mike Lazaridis, who stepped down earlier this year. The man who replaced them, Thorsten Heins, has undoubtedly had an immensely difficult job to stablise the company, and get people energised and enthusiastic about it again. There aren't many organisations with the scale and influence of RIM whose CEOs have to publicly deny that the company is in a "death spiral".
This week, Heins has been talking up BlackBerry 10, and spent some time with The New York Times. He told those assembled: "I don't expect things to get much worse", an obvious reference to the company's well-documented woes.
The NYT's Bits blog reports that "the phone will not introduce any significant hardware innovations", but that the BB10 OS seeks to make tasks much easier by intelligently consolidating "bits of information and capabilities that are distributed through separate apps on current smartphones. BlackBerry 10's messaging center for example, can display Facebook updates, LinkedIn messages, texts and Twitter posts along with e-mails. In turn, BlackBerry 10 users will be able to use that hub, as an example, to reply to Facebook messages without opening their phones' Facebook app."
Sounds an awful lot like Windows Phone, but Heins evidently believes that there's enough distinctiveness and appeal to make it a compelling offering: "It is stress relief; it doesn't make you look at all your applications all the time. This is going to catch on with a lot of people." He added that the advantages of BlackBerry 10 will be so obvious to potential customers that "a one-minute sales pitch in a shop" is all it will take to seal the deal and make the sale.
Whether Heins' optimism is warranted or misplaced remains to be seen. The scale of the challenge for RIM is obvious, but we'll have to wait and see whether things can get worse for the company, or if - as Heins and his team will be hoping - the only way is up.
Source: Bits from The New York Times | Image: CNET/CBS Interactive