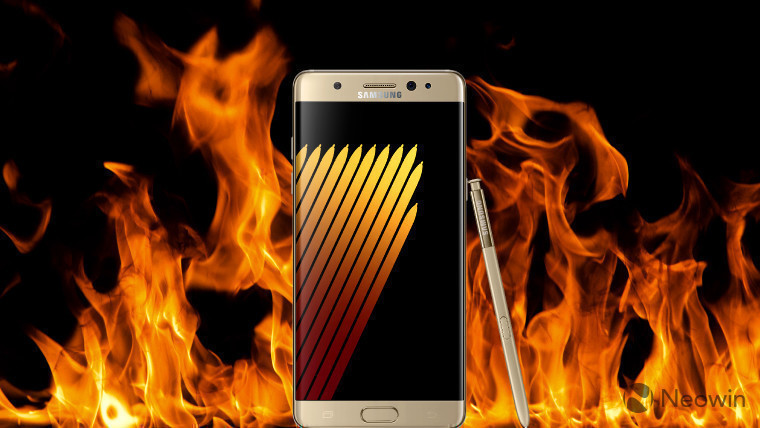 Over the last week or so, Samsung has been issuing replacements units to those who returned their Galaxy Note7 handsets under its recall program. The company recalled the device following numerous incidents in which its battery caught fire, including some in which it exploded. In the US, at least 55 such incidents caused damage to property or vehicles, according to the Consumer Product Safety Commission, and 26 resulted in injuries.
But in recent days, some users who received replacement handsets have complained that their devices have been getting extremely hot. In some cases, the batteries are reportedly struggling to retain their charge, and even continuing to drain while plugged in. Initially, these reports appeared to be limited to South Korea, but according to The Wall Street Journal, some US owners have also reported similar issues.
Some owners in both countries have said that their replacement devices have become too hot to comfortably place next to their ears during a phone call.
One customer told the Journal that "almost immediately" after he received his replacement Galaxy Note7 and started to use it on a Skype call, the phone became extremely hot, and then shut itself down. When he contacted Samsung to complain about the apparent problem with his new device, he said that he was told to immediately power down the phone and return it to the company to be inspected.
In a statement, Samsung acknowledged the complaints, but said that the replacement handsets are working normally:
There have been a few reports about the battery charging levels and we would like to reassure everyone that the issue does not pose a safety concern. In normal conditions, all smartphones may experience temperature fluctuations."
The company added that it is investigating each of the new complaints on a case-by-case basis through its standard customer service channels and warranty provisions. Samsung has promised to provide a second replacement unit in at least one of these reported cases.
In a further incident reported in China this week, a user claimed that his replacement handset exploded less than 24 hours after he received it, causing minor injuries to his hand, and damage to his laptop.
Source: The Wall Street Journal