Introduction
Some eager eyes following the announcement of the S7 and S7 Edge left their computers with the sound of sad Trombones playing when it became clear that different regions would be receiving different one of two variants of the new Samsung flagships.
While the USA gets Qualcomm's highly anticipated Snapdragon 820 SoC, those of us in Europe get Samsung's new in-house Exynos 8890. At Neowin we are pleased to be bringing you reviews on both variants. Collaborative efforts into benchmark scores between them will be updated very soon! In the meantime the Snapdragon 820 powered S7 non Edge has been reviewed at Neowin too.
Meanwhile, I am happy to report that going by everything I've seen and experienced so far, both versions seem to offer excellent performance. Buyers certainly need not worry about not being able to choose one over the other in their respective markets.
This review will focus on core things I always see being talked about online, such as usability, bloatware, tips/tricks and bugs. I will also compare various QuickCharge 2.0 chargers from with voltage and current draw values included further into the review.
Specifications
Model
Galaxy S7 Edge (SM-G935F)
Dimensions

150.9 x 72.6 x 7.7 mm

Weight
157 g
Materials

Gorilla Glass 4 (front, back & camera lens cover)
Metal edge surround

Body features
IP68 rating, dust proof, water resistant to 1.5m depth for 30 minutes
Storage
32GB (internal), 200GB+ (MicroSD)
Display
5.5" AMOLED @ 1440x2560 pixels (~534 ppi)
Rear camera
12 MP, 1.4 µm pixel size, f/1.7 @ 26mm, dual pixel autofocus/metering with OIS
Front camera
5 MP, f/1.7 @ 22mm
USB standard
MicroUSB 2.0, USB host
Battery

3600mAh rated at 9V 1.67A
Fast charging via QuickCharge 2.0, 5-100% in 1 hr 40 min
Fast wireless charging (Qi 1.1 @ 15w), 5-100% in 2 hr 40 min

Notification LED
Yes, RGB
Speaker type
Single loudspeaker, bottom facing
Audio recording
Stereo via dual microphones
Additional features
Fingerprint sensor (4 fingers maximum)
Heart rate sensor, SpO2 sensor
Android version
6.0.1 (Marshmallow) with 1st March security patch level at the time of writing.

Out of the box
Up until the last two years I've owned Samsung flagships both Galaxy and Note. Once I got bored of those I decided to skip the S4, S5 and Note 4/5 series in favour of something new. I chose the Sony Xperia Z3 and Z5 because they had some unique features I was now wanting in a phone I was making use of in more adverse conditions. The sleek styling, excellent battery performance and IPX rating from Sony ticked my top most boxes.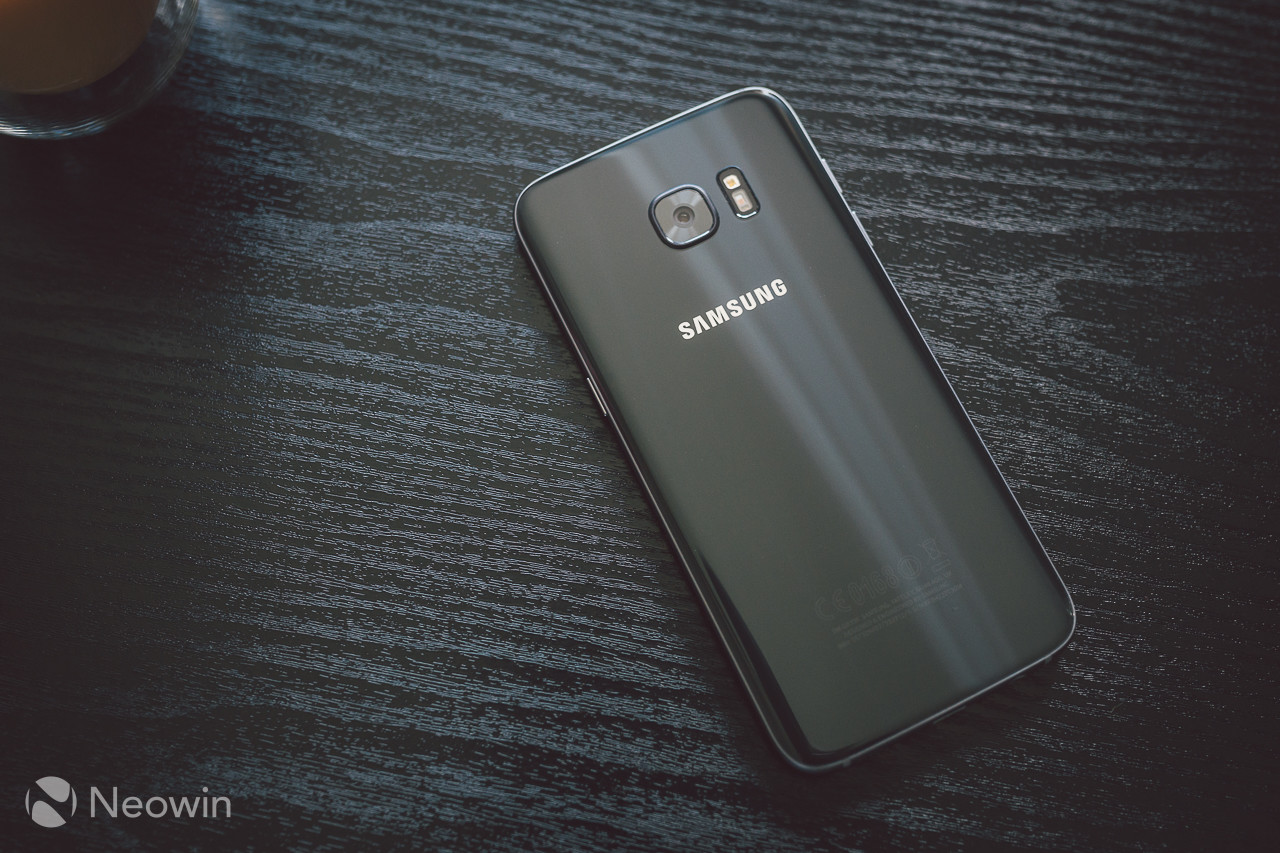 To be brutally honest, I never thought I'd be back owning a Samsung phone again. The lack of feature rich flagships and questionable omissions in the S6 as well as neglecting to release the Note 5 in the UK made me question Samsung's strategy, but commend their marketing arm for pushing these devices out in the markets they were being sold in. Samsung has become a familiar name to the public and in most cases I overhear phones being referred to as either an iPhone or a Samsung.
As soon as the rumours started and the announcement came near, my gut told me that this would be something different. Something that even Sony would need to keep an eye on. And fast forwarding to the present, here we are.
The S7 Edge feels superb in the hand and actually feels smaller than the Xperia Z3/Z5 thanks to the curved edge design and slim width, even though it's slightly thicker on paper.
Annoyingly though, it is a fingerprint magnet, just like the Z3, although the Z5 has a frosted glass back which is great for keeping prints and smudges away. I wish Samsung used that approach for the back, but it seems they like the age old glossy finish and are sticking with that. Dbrand rear skin to the rescue then.
I feel that Samsung used the S6 series as a stepping stone to see how buyers felt about this type of device. The styling was definitely Samsung, but it was new ground in build quality and beauty. Owners only had complaints for sure, and Samsung appears to have listened and remedied in the S7 models.
Immediate changes to the S7 versus the S6 series are:
Brought back the MicroSD card slot
Water and dust protection with open USB and headphone ports
Larger capacity batteries in a frame that's only slightly thicker
All new camera sensor, lens and lens set-up
Personally I have never been a fan of OEM launchers and themes. As minimal and effective as Sony's is, I still ended up applying a Marshmallow system theme which made the colours more stock-like. Samsung devices have always required more legwork to get closer to stock though, and in some cases rooting the phone was a necessity to get the exact look and feel I wanted.
All this has changed. Of the last few releases, Samsung's system theme engine is excellent. I applied the Material Dark theme from the built in Theme Store, installed Nova Launcher, applied some custom icons and away I went with an OS that resembled something much closer to Stock marshmallow than Samsung's TouchWiz.
Users familiar with the stock Android Marshmallow icons and notification toggles will be pleased to learn that Samsung does have an app in the Galaxy Apps store called Good Lock. It does appear to be an early version so is missing more colour options and other small things, but it's a look at how things are moving on from strict OEM themes to allowing the user full control over how they want their phones to look and feel on the software front. For anyone interested, head over to this reddit discussion to find out more..
"But Rob, what about bloat?", I'm glad you asked! The S7 series come with Microsoft Office apps baked in. These cannot be uninstalled, merely disabled. I have no need for Office apps as I use Google Docs, so it was annoying not being able to uninstall these completely. The other baked in apps were mostly Google ones which are fine with me. Oculus services and related apps do feature of course, and those who make use of Gear VR will probably want to leave these alone as they are needed.
Surprisingly, there are far fewer Samsung apps this time round. They are however readily available from the Galaxy Apps store should you wish to use them.
Camera
This has been one of the bigger talking points in the days rolling up to the official announcement. I already knew how good larger sensor pixels could be based on the performance of the Nexus 6P I owned for a short while, so I was very excited to see what the dual pixel system in the S7 could be capable of.
Just like on the S6 series, the camera can be launched by quickly double pressing the home button. At times the app will tell you that you've launched the camera using Quick Launch. If it did this the first two or three times as a reminder I would be fine with that, but it seems to have a mind of its own and wants to tell me this throughout the day when I launch the camera this way. Mildly annoying.
The new camera application is not only faster at loading from cold, but also sports some new feature changes. The Pro mode offers manual control, something which Samsung has generally been good at anyway.
In the photo above you can see the dual pixel autofocus grid working away. The entire sensor area is a big autofocus zone and when you lock focus on a subject, you can see the camera track it across the screen via the green AF points.
The camera also shoots in RAW format, saved as a .dng file. RAW output is only available when shooting in the Pro (manual) mode. A JPEG version is always saved with the dng file, so you can still immediately deal with a captured photo and then later edit the higher quality RAW file.
Here is a comparison of JPEG vs RAW. The photo was taken in Pro mode with only the focus set manually. The camera opted for an exposure value of 1/25s at iso-200. The photos were imported into Lightroom CS6 and exported to JPEG with no sharpening applied.
Full resolution versions: JPEG and RAW.
Notice how the text has had extra sharpening applied to the JPEG output? It seems that even in full manual mode, Samsung opted to overdo the post processing around high and low contrast areas such as text. It is also clear that the RAW sample above shows more shadow detail and has no additional noise removal applied.
Owners serious about mobile photography will definitely want to keep the RAW capture option enabled to get the best out of their images.
I have not had full opportunity to explore everything the new camera sensor has to offer, but below are a few samples including 240fps slow-motion.
Using the slow-motion feature in the camera app results in crisp and highly detailed footage. But once you export the clip with the desired section in slow-motion, the quality of the video does drop a bit. The source video bitrate of my clips were around 72Mbits whereas the exported video ended up being around 10.7Mbits. I have not yet found an option to set a desired bitrate for edited slow-motion exports in the Samsung video editor.
My recommendation for now is to keep the source video and play it back in the phone's video player application instead of third party players, since they won't interpret the stored slow-mo sections whereas the Samsung app does. Only export videos you want to share with others.
It also appears that the Snapdragon 820 powered version of the S7 suffers with frame drops when recording higher framerate footage. This is being discussed over on the GalaxyS7 subreddit.
I also compared the camera low light indoor performance to a phone that is generally accepted as very good in low light, the LG G4 and found that the S7 edges ahead in terms of detail and noise control. Both camera were set to manual mode but exposure controls were set to auto.
It was interesting seeing what settings both cameras picked for the same scene and manually touch focusing on the same object for meter reading. Where the S7 Edge opted for a lower ISO for noise control, the G4 decided a higher ISO was needed for a slightly faster shutter speed even though it's got an f/1.8 aperture. Both phones have optical Image Stabilisation (OIS) of course.
The S7 can focus in much lower light than the G4 can. Even though the G4 has a laser AF system, it's no match for dual pixel AF, especially in low light.
Speaking of focusing, check out the autofocus speed in low ambient room lighting!
To read more about the camera, Samsung News have an interview article up with the folks who developed the new module.
Real world performance
The Xperia Z3 and Z5 showed me how well a non-stock Android phone could perform when the OEM optimise their firmware for the hardware properly. It seems all of the big name manufacturers have had their share of issues with operating system performance in the past, and this has thankfully been improving each year.
The S7 Edge performs as good as it looks. I've had this for 20 days now and have not once found the core OS to be sluggish, or encountered any issues with recently used apps reloading when switching to them from the app switcher.
This doesn't mean there aren't bugs of course. The camera app has crashed several times and I've had two hard locks requiring a reboot via the power and volume buttons being held down firmly. So close Samsung, so close to being near perfect...
I found no issues with the new Edge panel features, but once the novelty of them wore off after a week, I turned every Edge feature off as I honestly was not making use of them since Nova Launcher does the bulk of what Edge Panel apps did through homescreen gestures.
Gear VR
The new Gear VR Lite came free with all pre-orders of the S7 and S7 Edge through Samsung direct. I was eager to see what VR is all about having never tried it before.
The headset is built with usability and quality in mind, it has a touch panel area and volume/back buttons for navigation as well as sizing sections to cater to the Note 5, S6 and S7 range of phones.
The Oculus hub app dominates the VR side of things. The moment you attach the S7 into it, the app launches and everything from here on is done via the Oculus app. I found this to be annoying as many times I just wanted to watch YouTube 360 videos in the YouTube app and not have a poor quality implementation via the Samsung Internet app inside Oculus Home.
The hub contents are growing it seems with plenty to show off virtual reality, but one thing is clear, do not expect HD quality visuals. VR videos are blocky and 360 photos are not sharp. I feel that VR through lens based headsets that magnify the phone screen are not the future of this technology but instead merely give an insight into what is possible with a dedicated headset with small screens in each eye area of the goggles.
LG are on the right track in this regard with their new VR headset with dedicated screens. Needless to say, once I'd spent a day toying inside the Oculus app, I boxed the headset back up and sold it days later for £60. I genuinely didn't care to explore VR in this manner as to me buying sa phone with powerhouse capabilities meant I wanted to explore VR in true high definition, not something that resembled online video quality of the early 2000s.
Storage
A hot topic with the S6 series since Samsung ditched the MicroSD card slot and in turn received plenty of flack from customers. The S7 restores the slot and Marshmallow allows you to make use of it through any app supporting it.
Internal storage capacity is set at just under 25GB after system allocation.
My phone currently has 16.62GB free and 5.5GB is being used by app storage. In total I have some 92 apps installed. All media and personal files naturally go onto the SD card. Solid Explorer makes managing everything a breeze. It is my file explorer of choice, as Samsung's built in My Files app is pretty basic for my liking.
Android Marshamallow has native support for MicroSD cards, and one of the new features of this support is adoptable storage whereby the SD card becomes one with internal storage. Both Samsung and LG have disabled this in their new phones. Samsung say it's because Google does not want OEMs to allow it on devices where the SD card slot can be easily accessed and the card removed which could result in system corruption and/or data loss.
Where there's a will there's a way. PaulOBrien over at Modaco found a method to enable adoptable storage on the S7 and no rooting is required. Head on over to have a look.
Audio quality
The audio output of the S7 Edge is very good. I listen to both wired (Sennheiser IE80) and wireless (Bienna QY8) earphones through GoneMAD Music Player and have had a very pleasant experience once I'd tweaked the EQ and other output settings to those earphones. Some folks have good results using PowerAmp tweaks too. A post over at XDA explains what to do if you're a PowerAmp user.
The built in speaker is good. It's not stereo which is a shame, but it makes up for it by being well defined in bass and tonality. Don't expect the fidelity of HTC's BoomSound though. I have grown used to front facing stereo speakers, so am still adjusting to sound coming out of one side, and often covered by my hand so a little muffled when watching a YouTube video.
The earpiece has been perfect during voice calls. Loud and clear with no issues whatsoever. I end up turning the volume down for most calls as it's sometimes too loud.
Speaking of volume, I liked how on Xperia phones the ringer and notification volumes are linked. On the S7 they are unlinked, so if I rock the volume button down to a lower ringer level, notification tones will still remain at the higher level and need to be independently lowered to match. This is a software issue and can be updated with support for it. I hope Samsung reads this and takes note!
Samsung's DAC has fine tune options too, I opted to use GoneMAD's EQ instead, but those who prefer the OEM approach free to let themselves loose here. I tried it out for a day in Tube Amp mode with a tweaked EQ and found the quality to be very good, but as my ears are tuned to the signature of the above, I went back to that.
It's worth noting that some of these these audio settings also apply to wireless earphones.
Display quality
At first I wasn't sure how I'd get on with the curved display. I knew there would be an adjustment period and I'd be annoyed with it for that time. For the first few days I was accidentally pressing UI elements in apps using the edges of my palm when reaching to press another button. Using the S7 Edge requires you to adapt to a new way of using a smartphone for sure.
Now that I'm used to it though, it's pretty sweet. I love the way media hugs the frame of the phone as the edges wrap round. Watching videos or looking at photos has a futuristic feel to it as the phone has no side bezels in the standard sense, almost as if the subject is popping out.
Samsung's AMOLED panels seem to improve with every new phone release and it's no exception here. 5.5" feels like the ideal size on this phone and with thanks to the curved front and back side edges, it feels like a much smaller screened phone in the hand.
In daylight, the legibility of text on screen is mostly a non issue. I read some comments online that in bright sunlight things are near impossible to read, but I have not had this issue at all.
When sunny, the phone will display a quick message below the brightness slider saying it will use maximum brightness in sunlight, the screen then ramps to maximum.
This is what text looks like in direct sunlight.
Lastly here's a quick tip for those who want to get the very best out of their new S7 Edge (although this works on other Samsung flagships too). Samsung has built in display scaling to condense everything to better make use of all 5.5 inches of screen real-estate. There are a few ways to enable this via third party apps since Samsung has hidden it by default. The easiest way is to install Display Scaling and select the condensed option and simply reboot.
Battery and charging
I've been running GSam Battery Monitor since day 1 and have found the overall battery life to be very good when compared to the Xperia Z3 and Z5 I had previously. For such a spec boost over those Snapdragon 802 and 810 devices I'd have expected at most equal performance, not better.
As it stands, this is my running total.
Note the Averages Per Complete Charge section. The Xperias were hovering around the 17 hours mark for battery life with 2.5-3 hours screen on time. This is based on my unique usage scenarios and cell reception at both home and work. It is important to consider that everyone will have a different result in this topic and to merely take my stats as a guide as I'm comparing against the same usage with the same apps on the same network and in the same areas with previous devices.
The 3600 mAh battery was a welcome surprise for sure, but what impresses the most is how fast this charges. The official spec is 90 minutes for a full wired charge, but in reality I timed it at 100 minutes using the Samsung or any other QuickCharge 2.0 charger.
It takes 30 minutes to hit 50%, from here it will charge slower although interestingly I found that the S7 Edge continues to request 9V at 1.67A from all of my charges no matter what percentage of battery it was at. Normally it's expected to see the voltage/current drop as it approaches 90%. Perhaps the S7 Edge internally controls these, but requests the full spec amount from the charger.
Another thing I can confirm, the S7 does not request 12V at any point during a full charge cycle.
In terms of wireless charging, I have last year's Samsung Wireless Fast Charger which also outputs at 9V 1.67A, but the time to reach 100% is an hour longer at 160 minutes.
I also had the opportunity to monitor the charging voltage and current from a number of QuickCharge 2.0 (and a QC3.0) chargers. Needless to say, they all offer within margins of error and the one you wish to buy ultimately boils down to individual needs. I've been using all of the chargers below and they all seem to offer offer solid build quality with similar charging times.
| | | |
| --- | --- | --- |
| Charger | Voltage / Current | Power (watts = current x voltage) |
| Anker 1xQC3.0 wall charger | 9.10V @ 1.58A (screen on: 9.06V @ 0.57A) | 14.37 (5.16) |
| Aukey 1xQC2.0 turbo wall charger | 9.05V @ 1.63A (screen on: 9.11V @ 0.57A) | 14.75 (5.19) |
| Lumsing 1xQC2.0 4xUSB wall charger | 8.97V @ 1.63A (screen on: 9.05V @ 0.68A) | 14.62 (6.15) |
| Samsung adaptive fast charging wall charger (stock) | 9.17V @ 1.63A (screen on: 8.99 @ 0.57A) | 14.94 (5.12) |
| Samsung fast charge wireless charging pad | 9.11V @ 1.31A (screen on: 9.01V @ 0.8A) | 11.93 (7.28) |
| Tronsmart 5xQC2.0 Titan desktop charger (UC5F) | 9.03V @ 1.63A (screen on: 9.11V @ 0.56A) | 14.71 (5.10) |
| Tronsmart 1xQC2.0 2xUSB (W3CPC) | 9.02V @ 1.63A (screen on: 9.0V @ 0.57A) | 14.70 (5.13) |
| Tronsmart 2xQC2.0 car charger (CC2F) | 9.06V @ 1.62A (screen on: 9.05V @ 0.53A) | 14.67 (4.79) |
It's interesting to note that the charging current drops to half an Amp when the screen is on.
I'd like to thank our friends at Lumsing and Tronsmart for sending their chargers for testing. Lumsing have kindly offered Neowin readers an Amazon discount code to apply at checkout. Anyone interested should apply 4FXD8EWA. This discount code expires on the 9th April.
Likewise, Tronsmart have offered to give away 10x Titans to lucky readers. I will create a separate giveaway post soon so keep your eyes open!
Benchmarks
I'm not really a benchmark fan as they don't really resemble real world performance experiences. Having said that, since two of us here at Neowin have Exynos and Snapdragon S7 Edge handsets, it seems like an ideal opportunity to see how the figures stack up against each other.
S7 Edge (Exynos 8890)
S7 Edge (Snapdragon 820)
3DMark
28389
27835
Vellamo

Metal: 2382
Multicore: 3431
Browser (Chrome): 7090

Metal: 3643
Multicore: 3236
Browser (Chrome): 3537
Antutu
127508
129401
The Snapdragon S7 Edge certainly pulls ahead in most of the scores here, but it's not a night and day difference. Bear in mind that these are synthetic benchmarks as well, so day to day usage will show an even smaller difference in performance.
Timi's review of the Snapdragon 820 S7 Edge will be up soon, and I will update this area with a direct link to it, but for now, here are our comparison scores.
You can call people on it?!
Jokes aside, the phone application has received a facelift and feature additions. During an incoming or outgoing call the S7/Edge will search the number on whitepages and flag known nuisance callers. The block options can be applied to both calls and messages. You can also opt in to submit your name and number to the database.
There are additional features as well, and these are genuinely convenient I found because in the past I would have ot drop back to the home screen and load what I wanted to do during a call.
Email - Asks you which email app to create an email via. Auto fills in the To: field if the call is with a saved contact.
Message - Loads your default SMS app
Internet - If you don't use the Samsung Internet app, then this will ask you which browser of choice to open
Contacts - Loads the contacts app
S Planner - If you don't use the Samsung calendar then clicking this gives you an option dialogue to choose your calendar application to use
Memo - Launches the Samsung Memo app for taking notes during calls. Multiple input types are supported
Conclusion
Not only is the S7 Edge a beautiful device to look at, it is also beautiful to use with features and performance to match. It is everything the Galaxy S6 should have been and then some.
That's not to say it doesn't have its annoyances, because there are a few. But those annoyances are all software based and Samsung can easily fix those with updates.
What more could be asked for? It's a waterproof smartphone with a large battery, fast charging both wired and wireless, a superb qHD AMOLED display with expandable storage and all in a shell that will continue to look modern years down the line.
The camera deserves high praise. The new dual pixel autofocus technology has been licensed from Canon. Focus speed is very fast and accurate in all conditions. Anyone who has used the Xperia Z5 camera will know how good the AF system is. The S7 does it better and faster still.
The implementation all of these things coming together to provide the overall user experience appears to have been well thought out.
Even though my first choice is Android, I have always admired the craftsmanship Apple put into their devices. Aside from the iPhone C, they are mostly slabs of metal and glass that ooze quality and heft. And now I have that same feeling on an Android device that I don't feel I need to root to get the best out of any more.
Going back to the Xperia Z5 comparison again, Sony started something unique with its Omni-balance design in the Xperia Z series. All of the phones still look modern a good few years on, the only relative telltale sign of age being the thickness of the older models.
I feel that Samsung have come a long way in incorporating some of this design language now. We first saw it in the S6 Edge, and now it has matured in the S7.
No longer do we have a flagship phone that is filled with bloatware that slows it down, It glides through multitasking and heavy apps like a greased badger. And it does so for the entire day on a full charge which takes just 100 minutes to reach.
My only wish is that Samsung don't take too long releasing Android N after it is fully released by Google in Q3/Q4 of 2016. I'm just a tiny bit jealous of Nexus 5X and 6P owners currently who get to play with the developer preview right now!
Pros
Build quality Beautiful design OS performance Battery performance Display quality
Cons
Expensive Some software bugs Fingerprint magnet No dedicated camera button No stereo speakers